I always knew about this British pub on a main street in Santa Monica. When I was moving to England, my mom and I ate there a few times to get me used to British cuisine (ironically while I was in England I rarely ate at pubs so it was all for nothing) and I always popped in to the attached shop to survey the British groceries and trinkets. But it was only recently that I discovered that this pub also had a tearoom, and was housing a secret that nearly made me weep for joy.
First Impressions and Service
The tearoom is hidden behind the main restaurant and the attached pub/bar. I imagine that it would be quite amusing to be enjoying afternoon tea during a rugby match or other high stakes sport, since your teatime would be punctuated with drunken brawls. As for service, maybe it was the day of the week (a weekday) or maybe they just brought British restaurant service to the States (notoriously slow), but it took a very long time to receive anything. We were sitting there for 10 minutes before our tea order was taken, then after ordering it took another 20 minutes or more for the stand to arrive. The waitress was nice and checked up on us a few times, but we definitely felt neglected. The rest of the restaurant wasn't busy either so there really was no reason to abandon their two tea girls.
Décor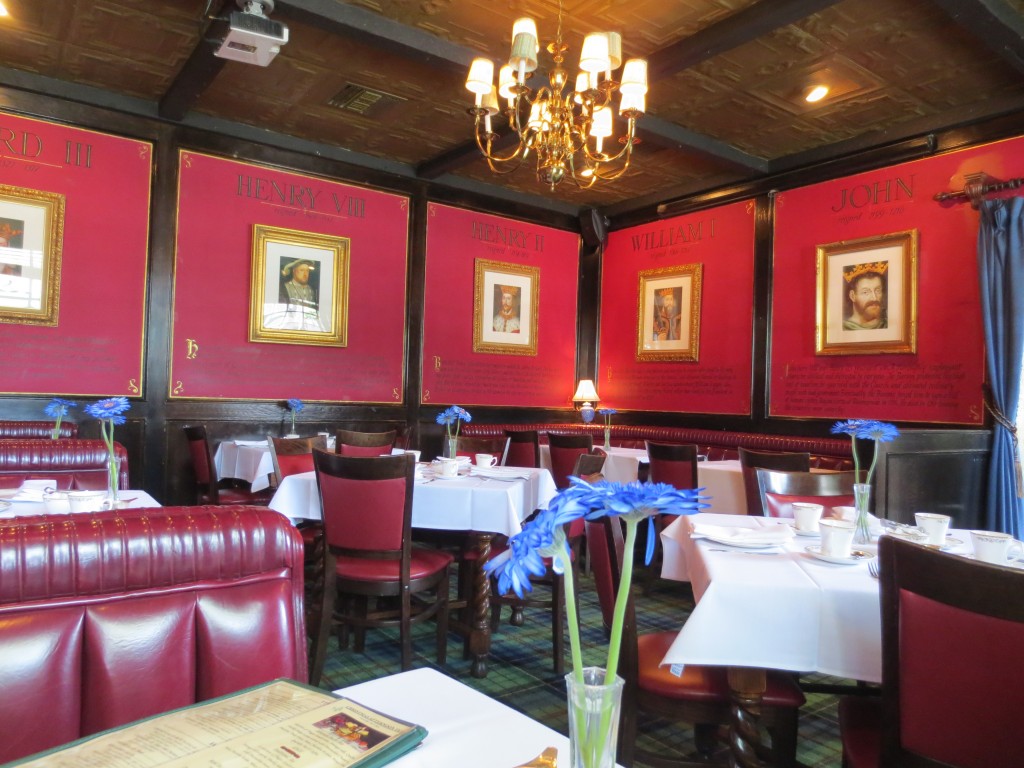 Think the quintessential British pub with white tablecloths. The walls are dark wood paneling surrounding red paint, and each little section has a portrait of a famous British king—including my favorite Henry VIII so the décor gained major points with me. Everything is wonderfully authentically British.
The china all matches and was imported from Stoke-on-Trent. The food came with a little Union Jack stuck in the middle. The whole place is small, slightly dark, and very old-fashioned feeling, so basically like a true British pub outfitted into a tearoom. I couldn't tell you how cramped you would feel or how loud it would be if the place were full; we were the only customers the entire afternoon.
Tea Selection
The tea selection is not extensive, only five teas and really only four since the fifth is a decaf version of one of the others. They are pretty much exactly what you would get if you ordered tea in a general British restaurant and not somewhere that specialized in tea: English Breakfast, Decaf English Breakfast, Earl Grey, Darjeeling, and Green Tea.
Most people in England drink one of these four, so it isn't surprising that Ye Olde Kings Head wouldn't specialize in an extensive tea menu. But in truth, you are coming here for the British ambiance and experience and not a high quality tea. All the teas are brewed loose leaf, but the tea leaves are left in the pot so the tea gets bitter.
You pour it into your cup over a strainer to catch any extra leaves. Thankfully hot water was brought midway through so the tea was warmed back up and lightened to slightly remove the bitterness. We both went with Earl Grey, and can really say nothing other than it was a standard expected Earl Grey. I really don't think any Earl Grey is going to seem special after Buckingham Palace Garden Party.
Food
We shared the Afternoon Tea for Two service, which is basically a high tea as it comes with meats and quiche in addition to the typical sandwiches, scones, and desserts. All of their afternoon tea options that have sandwiches also have the sausage and quiche, so unless you order simple cream tea, be ready for a heartier meal than normal.
Sandwiches
Unfortunately for me, most of the sandwiches contained mayonnaise so I ended up not being able to eat them. The British obsession with adding mayonnaise to everything was a struggle while I was living there, but it also seems to be a trauma I blocked out of my memory as I definitely was not prepared to taste mayonnaise with my salmon. And all the sandwiches were triple decker, supplying more surface area for mayonnaise.
The egg salad with watercress on white bread and the salmon and cucumber both had mayo and the mayo was a very prevalent, overwhelming taste. You can try those and let me know how you like them. Enjoy mine as well.
The turkey, cream cheese, and cranberry on white bread was the first sandwich out of most tea rooms where the meat was so pureed or so thin that you couldn't taste it. Here you are able to identify the meat as turkey because there is a real slice!
The final sandwich was an herbed cream cheese (possibly thyme?) and walnuts on wheat bread. It was pretty bland like most of the other sandwiches and savory offerings.
The sausage was made with beef and pork and surrounded in a pastry. As it was beef, I opted against trying it, but Mom did and said it was okay but needed some mustard. And American mustard at that because I'm warning you now, British mustard has a lot of horseradish in it. Definitely will clear your sinuses before you expect it. The quiche had a strong pepper flavor in the pastry; you can actually see the pepper flakes. The eggs inside are bland and don't hold up to the overly hearty pastry. Unfortunately, their sandwich and savory course here falls into the stereotypical bland British food.
Scones
Here is the moment you have all been waiting for with bated breath; the scones almost made me cry. These were AUTHENTIC British scones, from texture, to taste, to toppings, to size. They were tender and only slightly crumbly. The predominant flavor is the butter not the sugar as in so many American scones. The mix-ins were golden raisins and sultanas! Literally I was brought back to my happy days in England, when my mom would visit me and we would have cream tea throughout the country in every town we visited.
And then there was the clotted cream.
Real, authentic, magically creamy clotted cream from Devon, England. I can't even begin to describe to you the taste and mouthfeel experience of a bite of scone with true clotted cream and strawberry jam. Transcendent may be adequate? Heavenly? Pure? Comforting? Every positive adjective you can possibly think of can describe some aspect of this singular bite.  Who cares about the bland sandwiches? Who cares about the overbrewed tea? Everything melts away with this scone.
Desserts
Only two desserts per person are served (which is totally okay considering for the first time ever Mom and I each ate an entire scone instead of sharing one and bringing leftovers). The chocolate éclair was surprisingly good. The choux was nice and chewy and the vanilla cream light and sweet. The chocolate glaze and powdered sugar were not overpowering either. It was a solid éclair and in the correct portion size (here's looking at you The Andersens).
The petit four was a simple sponge cake with a ball of cream on top of it covered in a sugar frosting. The cake was dense and the cream was pointless and the frosting was pure sugar. The chocolate one was mildly better, but in general the petit fours should go the same way as the sandwiches.
Extras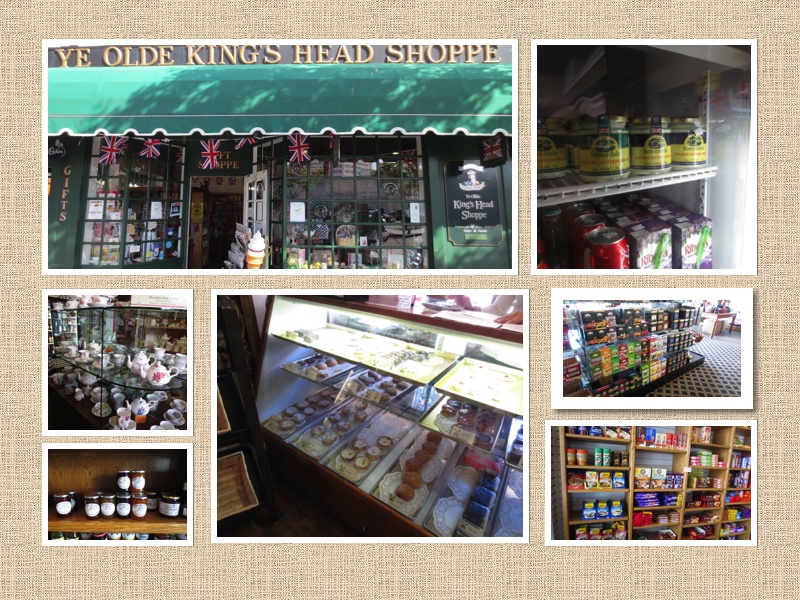 Attached to the entire restaurant building is a British store and bakery that sells anything British. Everything is imported from the UK and almost, almost, feels like walking into a mini Tesco, but more based in knickknacks and candy bars. The bakery sells their scones—we now have 11 in our freezer—and other British baked goods such as Eccles cakes, flapjacks, and tiffins. If you've been to England, the bakery case is like a peek into memory lane. They also sell clotted cream, real clotted cream, so stock up while you're here! There is also an adorable selection of British teacups and teapots that are really difficult to resist.
The tea service is by far not the best as a whole, but I will be returning here for one reason alone: the scones. Don't waste your money on the full shebang of high tea at Ye Olde Kings Head. Come for the scones, stay for the scones, and leave with scones and clotted cream in your bag as well as your belly.
Visit Ye Olde Kings Head at 116 Santa Monica Blvd, Santa Monica, CA, 90401. (310) 451-1402. Cost per person for afternoon tea: $17.98.