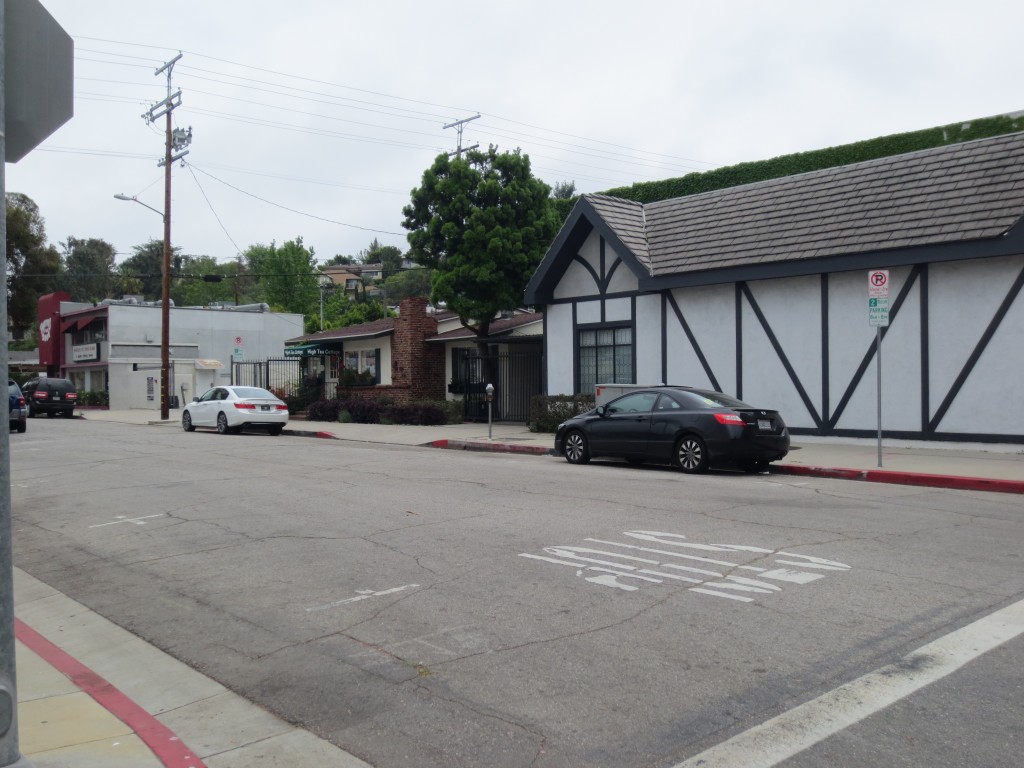 A back alley side street is the last place I'd think to look for a tearoom, but there one is in the heart of Thousand Oaks. Tiny, unobtrusive, and impossible to find unless you know exactly where you are going, this is not a tearoom you find by being a walk-in customer. High Tea Cottage is a tearoom find for the tea connoisseur, or at least the Yelp! tearoom stalker.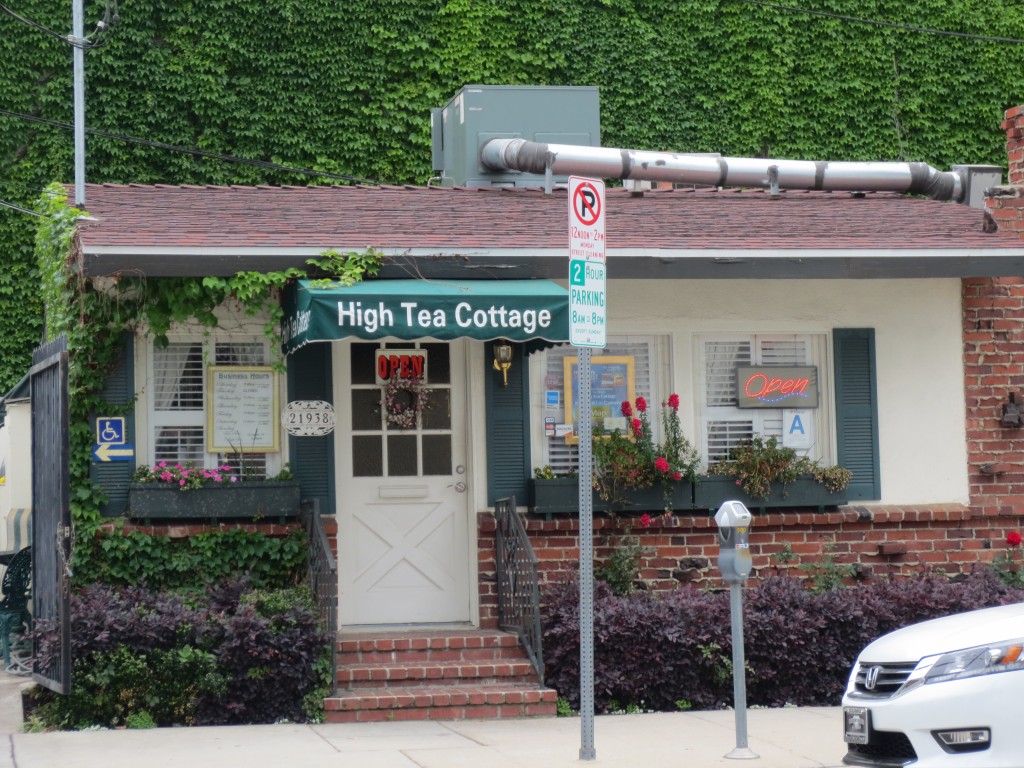 First Impressions and Service
High Tea Cottage is run by a British couple and is available only through reservations. I had to call multiple days before we could get in to try the place, but when we arrived there were plenty of empty tables and they sat us early. But since the husband is the only one managing the tea side of the menu and the wife takes care of all the food and additional service, they definitely could not handle a high volume of guests. I believe in addition to the wife, there is one chef in the kitchen who used to run the restaurant at The Peninsula.
I was excited that the owners were from England, as I am obsessed with England and really miss the country, so I usually relish the opportunity to talk to British people, but the husband made us both feel rather awkward and unwelcome, not the sort of person I'm going to enter into conversation with. His wife, on the other hand, was lovely and we spoke for quite some time after our meal. Whereas anything related to the tea side we felt downright nervous to speak, with the food/merchandise transactions handled by the wife we felt like we were welcomed into someone's home. But if I had to pluck up the courage to ask half of the service team for a simple fork (literally was afraid of the husband's facial expression should I ask for an extra utensil), there is a bit of a problem. Again, though, the wife was a pleasure to interact with and I'm looking forward to future conversations with her.
Décor
The two rooms we could see, the "parlors," were decorated like someone's home. Nothing was over the top and gaudy, just simple, elegant, and what I would expect from a parlor in a typical British household. Some pink but not so much that you feel like you are in a dollhouse, white cabinets and shelves with assorted tea kettles and knickknacks, numerous small tables spaced well enough apart. There was one really cute table with two armchairs facing a window that seemed like it would be the most pleasant seat in the restaurant, also the one that would make you feel most like you were in a sitting room.
The china all matched, which is a departure from most tearooms. The obsessive-compulsive side of me was well satisfied.
Tea Selection
Yet another tearoom with an overwhelming selection, and many of them sounded delicious. To help with your selection, the husband brings over a tea cart with small jars of all the teas for you to smell and choose.
But he warns you rather strongly that after smelling sevenish teas there is no more point to smelling them since your nose won't differentiate anymore. I was paranoid of smelling too many teas after that. We started with the usual Earl Grey selection and smelled all four of their Earl Greys before settling on the best tea I've ever had: Buckingham Palace Garden Party. A lighter black tea, Buckingham Palace Garden Party is an Earl Grey with a hint of Jasmine and cornflower. We bought some to take home and have been enjoying it daily ever since.
Our second tea choice was a vanilla chai, definitely not a stellar choice. I was rudely instructed not to add milk to my tea as that would eliminate the chai flavor. Sorry, but I like a small splash of milk in my chai, though I chose to forgo that rather than get scolded.  In the end I wish I'd stuck with Mom's Buckingham tea.
The tea was left in the pot to overbrew, like almost every place it seems like, but at least the tea was kept warm throughout our meal because they wrapped the teapots in flowery tea cozies. And now I know what a tea cozy is, hereby enhancing my Harry Potter references (insert images of Dobby the House Elf dancing naked wearing a tea cozy, I dare you).
Food
High Tea Cottage offers a wide selection of set afternoon tea service menus designed around regions that partake in the afternoon tea tradition. There is an American, French, British, Traditional, and Australian tea service each with their own assorted selections as well as smaller options and a choose-your-own course menu. We opted for the Traditional Service (finger sandwiches, two scones with spreads, desserts, tea) and split it for an extra charge. The extra charge gets you an extra set of finger sandwiches, but the additional pot of tea is separate.
Sandwiches
With no choice as to sandwich selection (though I believe if you are vegetarian they won't serve you the ham or chicken sandwich), what you are served is what you eat, luckily it wasn't always a bad thing.
The requisite egg (curried egg here) on half white half wheat bread had mayo. I know it's standard for egg salad, but I still won't touch it. Mom said it was nothing special, just tasted like curry powder.
Their chicken sandwich was a cranberry walnut chicken salad (mayonnaise and all) on wheat bread that was actually pleasant. Cranberries, nuts, and chicken is a fairly mild combination of flavors that I doubt anyone without a nut allergy can object to. A standard tea sandwich, and it was done nicely here.
Ham and butter as well as cucumber and butter (cucumber with butter as opposed to cream cheese is a very British swap) were both on white bread and nothing to write home about. Nothing to complain about, but nothing to stand out either. The cucumbers were fresh thin slices instead of the marinated cucumbers we've been seeing lately.
For me, the stand out finger sandwich was the apricot chutney, swiss, and butter on half white half wheat bread. It was a pleasant change of sandwich flavors and the tang of the apricot chutney blended nicely with the slight sourness of the swiss and the creaminess of the butter. I wish there had been another one of these instead of the egg, but again that's based on my egg/mayonnaise phobias.
Scones
The two raisin scones tasted like a revelation compared to the cookie/pound cake scones we've been tasting. These scones tasted like…scones! A novel concept in the tearooms of America it would seem, but the sweetness in these reasonable sized scones came solely from the raisins and not an excess of sugar being added to the dough. Mom doesn't like raisins, but we both agreed that these scones have been the best thusfar. Again, they were not too sweet, but even better was the texture. There was a slightly dense, tender crumb, with the scone holding together nicely for topping with cream and jam. They didn't puff up at all, which is a characteristic I usually associate with British scones, but I'll overlook that for the flavor.
Devonshire cream was automatic, but we were given the option of two from lemon curd, blackberry jam, raspberry jam, and apricot jam. We chose blackberry jam and lemon curd, and both were excellent choices. The cream was more of the correct consistency instead of the sweetened whipped cream that passes for Devon cream elsewhere. It also wasn't overly sweet, sugar being something the British don't seem to require in the same quantities that Americans do. The lemon curd was a subtle balance between sweet and tart, and the jam tasted like the fruit it was made from. The combination of scone, cream, and jam/curd was perfection.
Desserts
Here was where I was afraid to ask for a second fork. It should've made sense to bring an extra dessert utensil knowing we were sharing the service, but apparently not. The first two desserts were from Switzerland: two mini tarts. Both tart shells tasted like nothing more than saltine crackers and butter, and when I say mini I mean mini. One bite mini. One was "filled" with a thimble of caramel and topped with cream and a blueberry; the other was "filled" with strawberry jam, cream, and topped with a strawberry and chocolate leaf. They were too small to even be of notice.
Now, I am a cream-puff girl. I know it sounds odd after my ranting about the Napoleon at The Andersen's, but a well-done bite-sized cream puff is a pleasure in my book. Mom isn't a fan of cream puffs, so I was more than willing to take the entire brunt of the taste testing on this dessert. And it turns out, I wouldn't have wanted to share anyway. It may have been the best cream puff I've ever had. Soft and chewy choux pastry with a lightly sweetened vanilla cream rolled in powdered sugar. The only improvement would've been if it had been chilled, but I'm weird in that I'll eat frozen cream puffs.
The best dessert was a slice of chocolate cake that was lighter than air. Midway through the slice was a layer of the most delicate raspberry vanilla mousse.  One slice of that cake was definitely not enough, though with how excellent it was I doubt that an entire cake of it would be enough.
Extras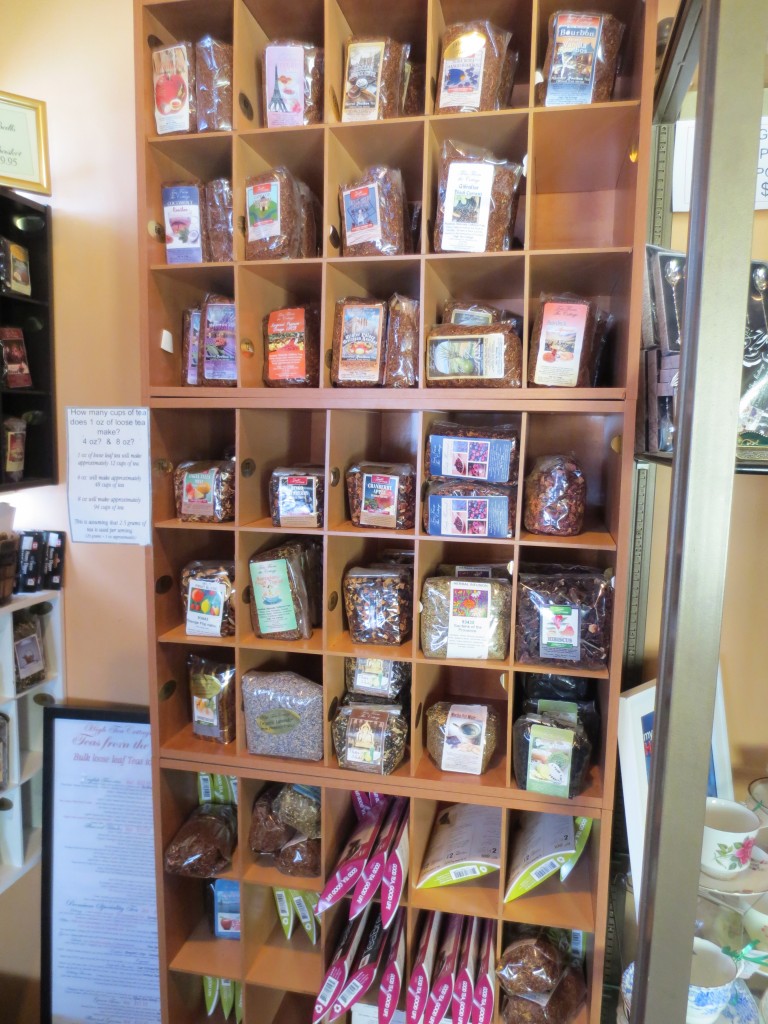 All of their teas are sold loose-leaf in the entrance to the tearoom, as well as an assortment of china teapots and teacups with beautiful floral designs. I believe all the china is imported from England, but I know for a fact that some of them are. If you ask, you can also buy scones to take home with you, and as they had just finished baking a batch of pomegranate scones, we snatched those right up out of the oven for car ride enjoyment. A few days later, I discovered that the pomegranate scones are even better than the raisin.
If you can tolerate the chilly reception from the husband and the hushed noise level, High Tea Cottage is a gem. It's authentic British with a menu that will keep you coping back to try the other country-inspired tea menus. The tea selection is fantastic, but I know I will always choose the Buckingham Palace Gardens. I'll be back here to review the other tea menus for sure, and I definitely won't leave without a chat with the wife and a couple of scones to go.
Visit High Tea Cottage at 21938 Constanso Street, Woodland Hills, CA, 91362; (818) 887-2117. Cost per afternoon tea service: $22.00 for Traditional Tea Time for one with $10.00 split fee. Reservations required, closed Tuesday.