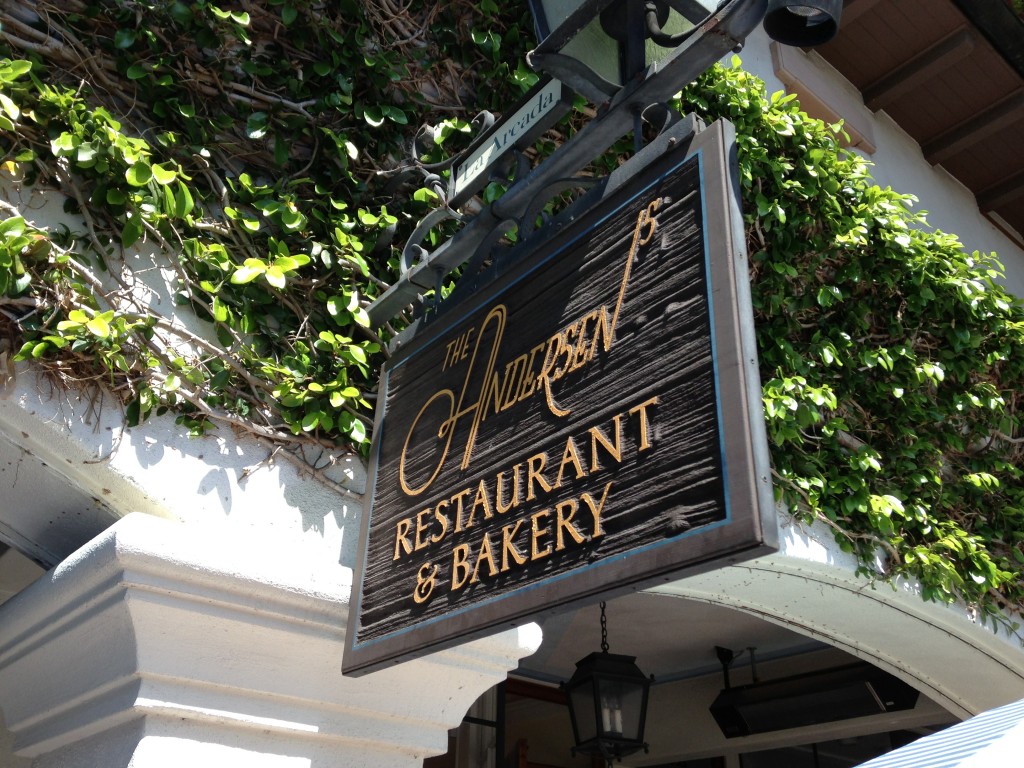 Apparently afternoon tea is not an exclusively British/Commonwealth institution (that or other places just jumped on the Anglophile bandwagon) as there is a Santa Barbara restaurant offering up its unique version of a "High Tea" service. Andersen's is actually a Danish—meaning from Denmark not the Netherlands as my confusion was corrected by a cashier—restaurant and bakery, but every day it serves afternoon tea between 2 pm and 5 pm. A Danish take on a British establishment? A perfect excuse to take advantage of the beautiful Southern California weather and take a trip up the 126 to Santa Barbara's State Street.
First Impressions and Service
Reservations were easy to make, surprisingly because it was a Sunday. Then again, with a breezy beach a mile away, spending time up State Street to have tea might not be a priority. The place itself was shockingly well-staffed! We were immediately greeted by a server and told that we could pick whatever table was empty and they would prepare our high tea in the mean time. Even after we chose our table, multiple servers and bussers came up to us to make sure we had been taken care of. That is a mark of quality service…or lack of communication, but let's agree on the positive.
Adequately borderline overly staffed servers, bussers, food runners, and cashiers at the attached bakeries make an excellent first impression.
Décor
The place is divided into three areas, each with a slight twist on a general Danish décor. When I think of Danish room styling, I picture Holland cherub pink and pastels with white accents, a place where a blonde haired blue-eyed milkmaid wouldn't look out of place. The Andersen's is fits right into that image, with the exception being the outside seating area in front of the restaurant. But to be honest, every storefront on State Street is going to blend with the beachy, laid-back, slightly upscale feel of Santa Barbara regardless of its interior. So where we sat (we chose an outside table, the better for people-watching and Vitamin D production) was a little more modern sophistication and a little less dairy farm.
The inside rooms are both two stories; one room is the pink and the other is the green.  The pink room is directly opposite the glass bakery cases that are filled with the authentic Danish pastries and desserts that make up the bakery part of "The Andersen's Restaurant and Bakery". Tables are rather crammed together but as the inside was pretty empty it wasn't yet a problem. I can see it being loud and overwhelming for breakfast or weekend brunch.
Tea Selection
A location's tea selection tells you a lot about the focus and the overall philosophy of a tearoom's owner. The Andersen's tea menu makes it blatantly obvious that this place's emphasis is not on tea or variety; it is all about the meal experience and the business that serving afternoon tea will potentially drive in the door.  There are not 70 types of teas available for you to mull over, smell, learn about, enjoy…there are not even ten. Nine teas make up the selection, chosen for one because they loosely cover the bases of the average crowd's palate and two because they come in cheap tea bags. When a restaurant doesn't really care about the culture of tea and tea services, you expect there to be tea bags and minimal options. The teas are all STASH brand, and you are limited to English Breakfast, Earl Grey, Orange Black Tea, Chamomile, Chai, Peppermint, Raspberry, Lemon Ginger, and Green Tea. Nine teas that almost anyone who drinks tea could at least tolerate drinking.  We both chose the nothing special Earl Grey amidst the nothing special options.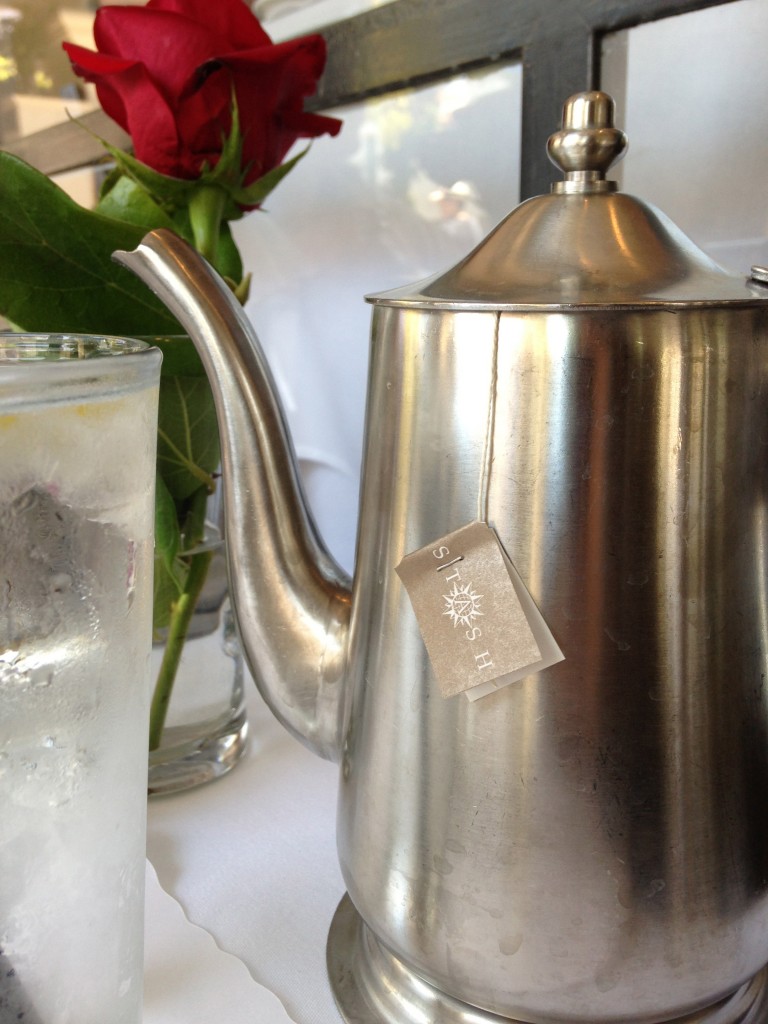 The tea bags were left in the pots of hot water, risking an overbrewed cup, and there was no method of heating the tea during the course of the service. No tea warmer, tea cozy, or hot water was provided. By the time we had finished our finger sandwich portion, the tea was overbrewed and lukewarm. By the end of the scone, it was cold. By dessert, it was abandoned.
Food
The tea service is a set menu, a kind of one-size-fits-all approach that a lot of tearooms take, but unlike other tearooms there are not multiple set menus to choose from. The Andersen's High Tea is served with two small sandwiches, scone, fruit, and Danish desserts. The interesting element to the whole presentation is that instead of coming on a typical three-tiered stand, it consists of two platters placed on the same sort of tier that pizza parlors use to raise the pizzas off the table.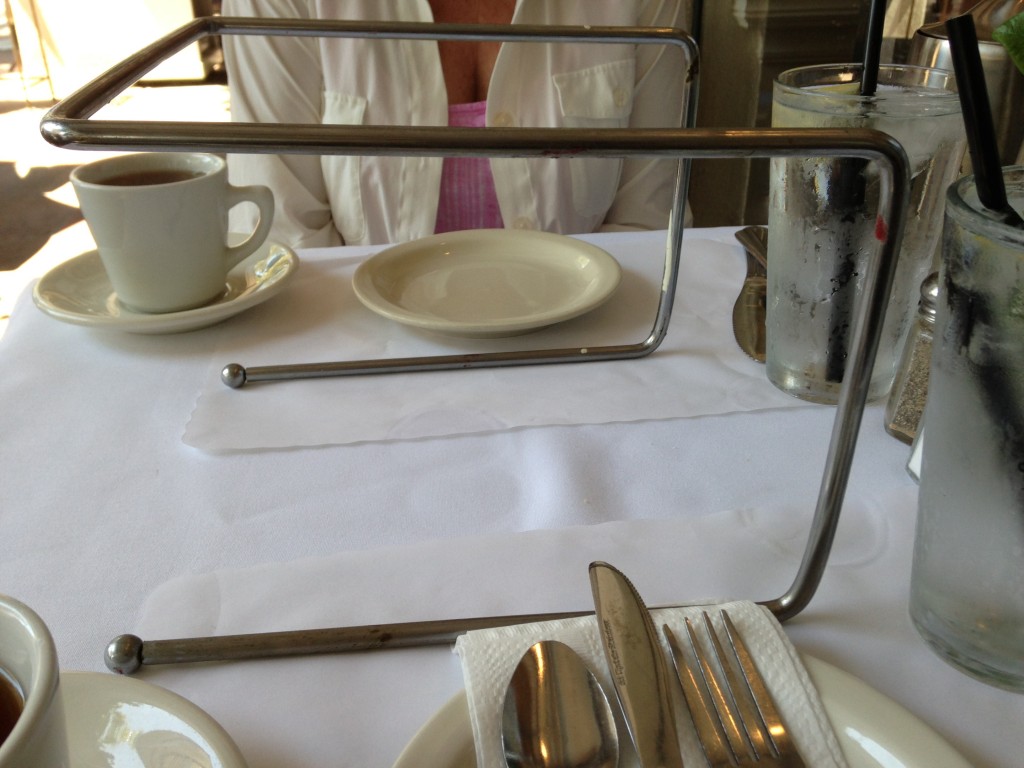 I have never seen that before, and it gave us quite a giggle. The high tea is per person, with no option to split so the menfolk back at home were pretty much guaranteed leftovers. There was no doubt once everything arrived at the table and was obviously oversized. Were they going for Honey I Blew Up the Tea Service?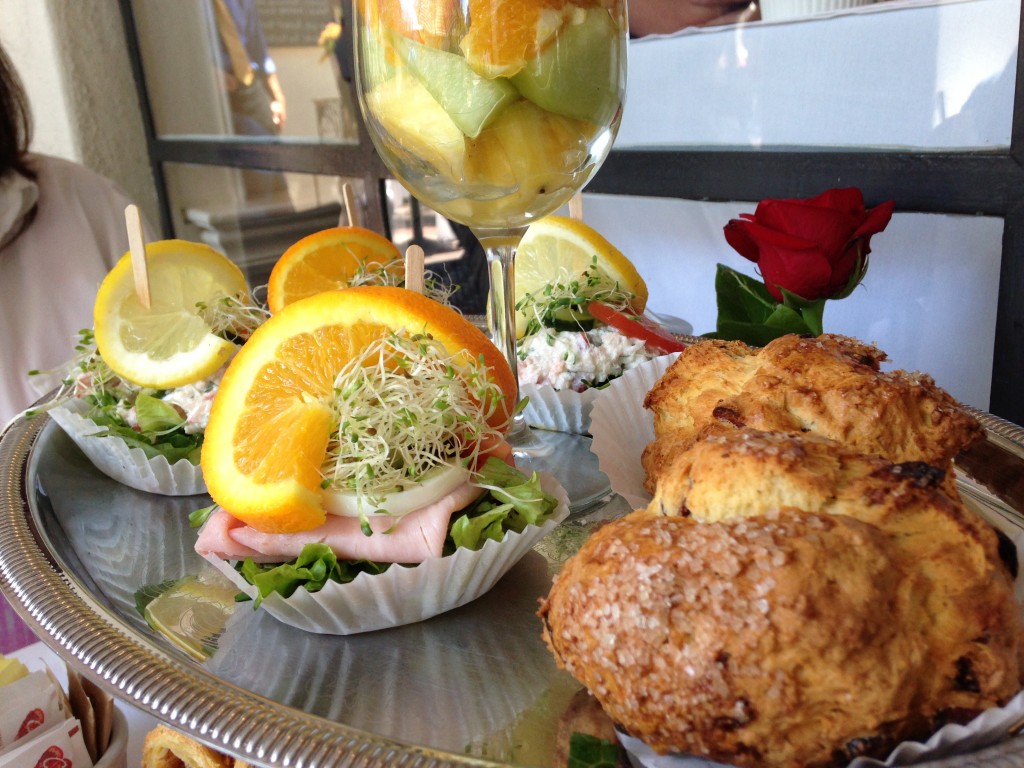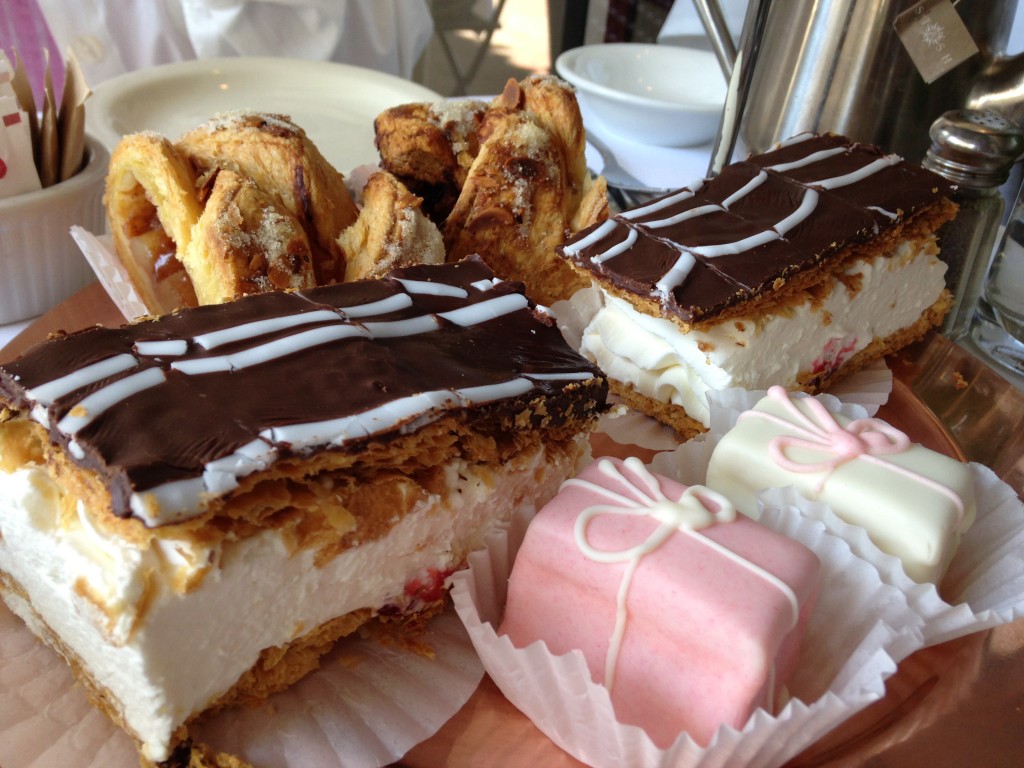 Sandwiches
I hesitate to call these morsels sandwiches because we had a challenge to find bread. Served open faced, the two mounds were more lettuce than bread so it was like eating a salad flipped upside down with the crouton underneath the rest of the ingredients rather than on top.
Mound 1 was a ham, hardboiled egg (which I immediately removed. Even for you, my wonderful readers, I will not eat a hardboiled egg), pickled cucumber (yummy!!!), garnished with sprouts and an orange wedge. All of this was piled over a bed of lettuce covering a two inch square of wheat bread with some tasty spread over it. I love this trend of pickling or marinating cucumbers; it really adds a great additional flavor to a generally plain vegetable. These were sweet and refreshing.
Mound 2 was crab salad, those cucumbers, tomatoes, the lettuce bed, and bread square garnished with sprouts and a lemon wedge. Again, I hate mayonnaise but I did taste it enough to say that I can understand someone else enjoying it (someone else does include Mom). I thought the coleslaw-cum-mayonnaise flavor was not too overpowering in the crab salad mixture, and could be pleasantly masked/brightened by the lemon's juice.
Scones
Like the rest of the menu, there were no options for scone flavors, something I actually liked about this place. The cranberry scones were very large drop scones—as opposed to rolled out and cut—that Mom said tasted like pound cake and I said tasted like a sugar cookie you would buy at a grocery store. The thing about these flavors is that neither are bad flavors, but they also aren't adjectives one would ever use to describe British scones. I guess that's okay because these can be labeled Danish scones? Do they make scones in Denmark? The texture was a good balance between structured and crumbly and held up well to lashings of cream and jam.
The once-again-stiffened-unsweetened-whipped-cream was not overly sweet, so even spreading it on the scone did not mask its flavor but instead complemented it. Texture was still not right by British standards, but the flavor was a lot more on point.
The highlight was the homemade raspberry jam: sweet but with a strong flavor of raspberries with a tang that elevated the jam to nectar. I could've eaten this with a spoon and nothing else.
The orange marmalade was bitter and sweet, reminiscent of those orange-flavored cough syrups I choked down as a kid. I don't like orange marmalade apparently, so this is definitely a personal preference thing. Check it out yourself. And be sure to try a bit with scone, cream, and jam for the best morsel of scone.
Desserts
McDonalds' Super Size has nothing on The Andersen's dessert offerings. The Napoleon, a mile high mass of Bavarian cream between flaky pastry and covered in a thin layer of chocolate, looked like a slab fit for Henry VIII's appetite. And they gave us one per person. One bite was all we both needed to label it as being heavy and sweet without being decadent, which is oddly enough not a compliment. If I am going to eat something that rich, I should feel that thrill of indulgence not a stomachache.
The apple strudel (also a hefty portion but a lot more airy) was basically the best apple Danish I've ever had. It was flaky without being overly buttery so you get this great shatter of dough but no greasy coating in your mouth. The apples were soft and seasoned with cinnamon, which complemented the thin layer of marzipan they hid. But the best bites were those that had an additional hint of almond from the toasted almond and sugar top. This is The Andersen's signature pastry for good reason.
And believe it or not, the marzipan petit fours were delicious. They held their own against the apple strudel! A small square of Grand-Marnier soaked sponge cake and a hefty (shocker) layer of marzipan is broken up by the thinnest layer of that raspberry jam before being coated in white chocolate. It was dense—with that requisite decadent characteristic the Napoleon missed—so the relatively small size was perfect.
We split all the desserts and brought the rest home for Dad and anyone else who managed to snag a bite or two. Dad liked the scone, but he would've chosen the lemon blueberry from Tea Rose Gardens over a second scone from here.
Extras
The bakery case is replete with oversized Danish sweets, and everything seemed to have marzipan in some form. Marzipan tarts, cakes, cookies, rings, strudels, toppings…you name it, the Danish will put marzipan in or on it. Dare them. It's a fun case to peruse, but unless you have a hankering for the biggest sugar rush of your life, plan on splitting the items. And not on the same day as your high tea experience or you'll risk diabetes.
This is not a traditional English afternoon tea, and you should be prepared for that. The focus is definitely on showing off the Danish style of pastries rather than providing an actual meal (plan on needing a lot of protein in the rest of your meals) or even an actual tearoom experience. But the name says it all: The Andersen's Restaurant and Bakery. High tea is just an extra option this restaurant offers up for your enjoyment on a getaway day to Santa Barbara. Was is a good experience? Yes. Are we glad we went? Yes. But will we be back? Probably not for high tea. I'll stick with British on this one.
Visit The Andersen's at 1106 State Street, Santa Barbara, CA, 93101; (805) 962-5085. Cost per afternoon tea service:  $26.95.