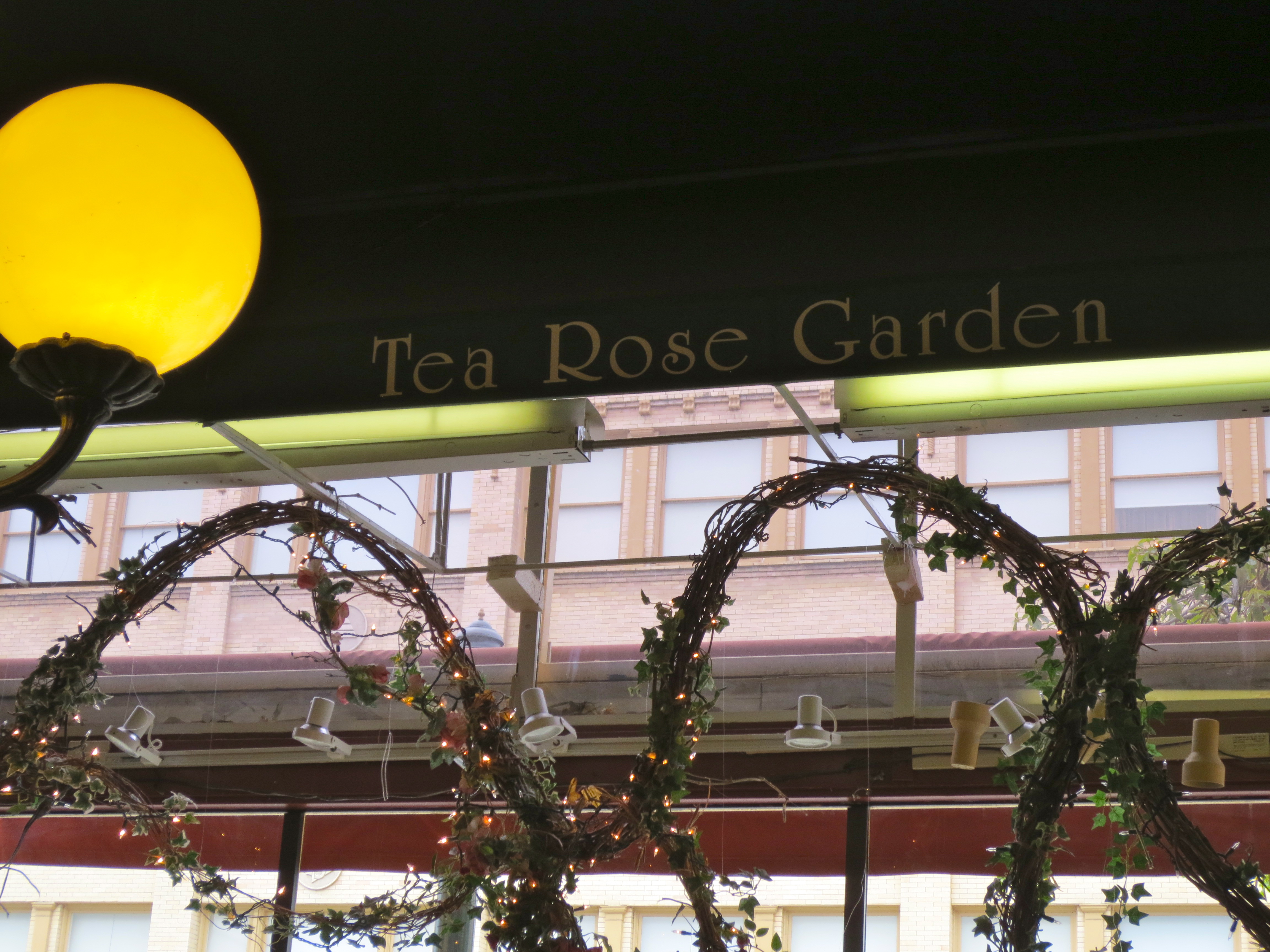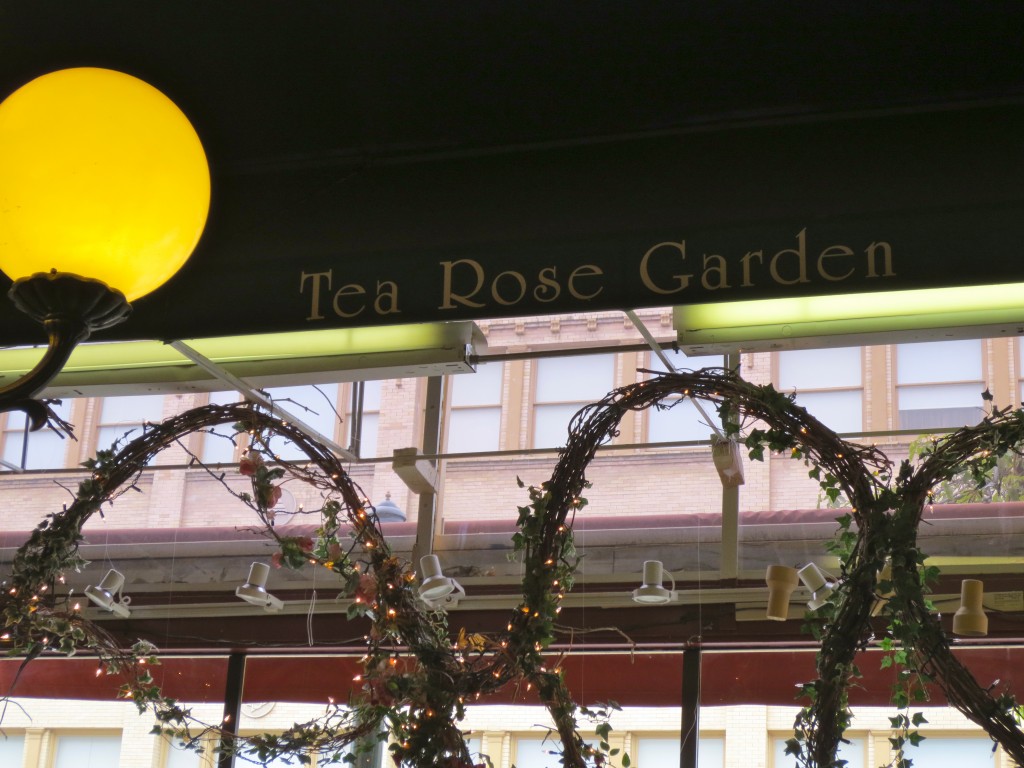 Pasadena seems like the Southern California epicenter for afternoon teas. Whereas in some cities there is a Starbucks on every corner, Pasadena has a tearoom on every corner. Luckily I love Pasadena so having to make multiple trips there to test out all the tearoom is a burden I will gladly bear for everyone's sake. You're welcome. And thank you 😉
First Impressions and Service
I made a reservation for two (Mom is embarking on this tasty and sugary journey with me) pretty easily, and even though it was a weekend when we arrived early they took our table half an hour early. I think this was just luck since the place seemed pretty busy and people steadily came in after we sat down so reservations definitely recommended. Better safe than sorry! Nothing worse than the anticipation of tea being dashed by a lack of tables. Then again, if you're in Pasadena, just try the tearoom down the street.
Unfortunately, Tea Rose Garden was understaffed to handle an afternoon tea lunch rush. There was maybe two servers and one busser? I'm not entirely sure but there was no hostess and one was definitely needed. People would walk in and stand around looking totally confused. A hostess should have been there to greet and seat. And maybe another busser? Tables were being left uncleaned for a bit too long. To be fair there was a baby shower in the rear of the restaurant and large parties often drain a server's time and attention, but with those types of events being reserved well in advance, the manager should have compensated with the staff.
Décor
Think of a garden courtyard: vines creeping up the walls and hanging across trellises, a trickling fountain surrounded by greenery and little flowers, cloth curtains swinging from the windows overlooking the patio. The entire inside was painted and decorated to look like you were sitting in a little garden complete with window hangings camouflaging the air conditioning vents. Though sometimes the air conditioning went on and was really loud and distracting. Then it would turn off and become awkwardly quiet just after you had become used to the noise.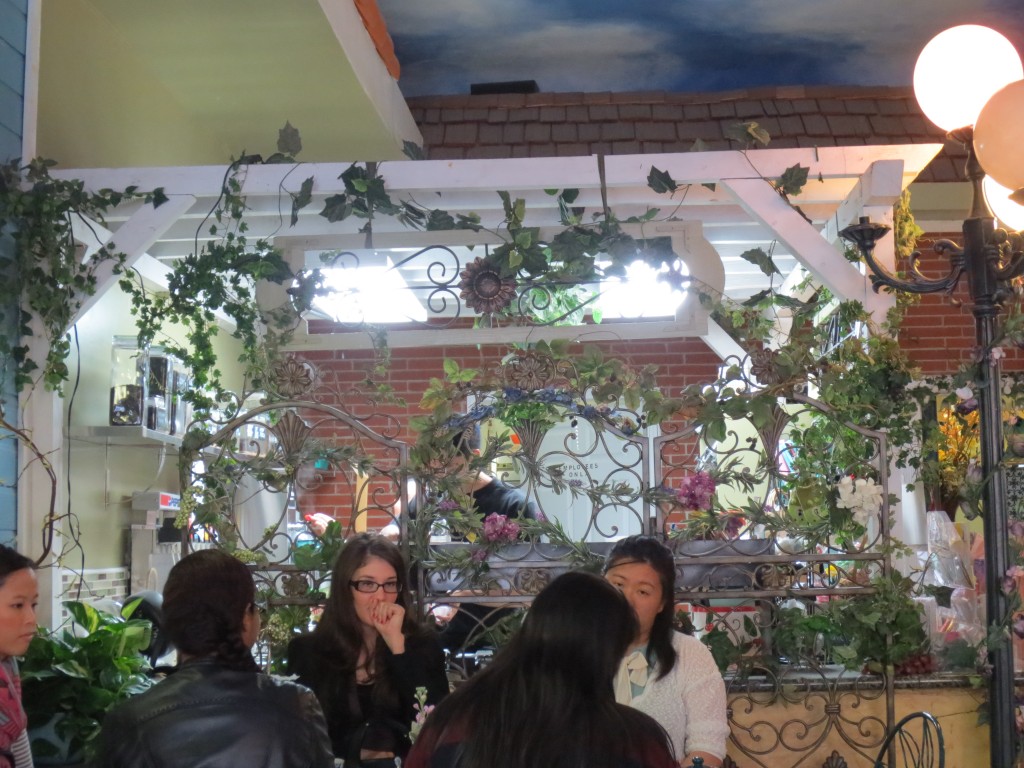 It wasn't overly girly, which many tearooms can fall victim to, but it wasn't modern. It was a great blend of originality and traditional quaintness that you expect from a tearoom. Just without the rain.
The table was set with floral china, some had white tablecloths and glass covers, others did not. Did they only want to do some of the linen laundry?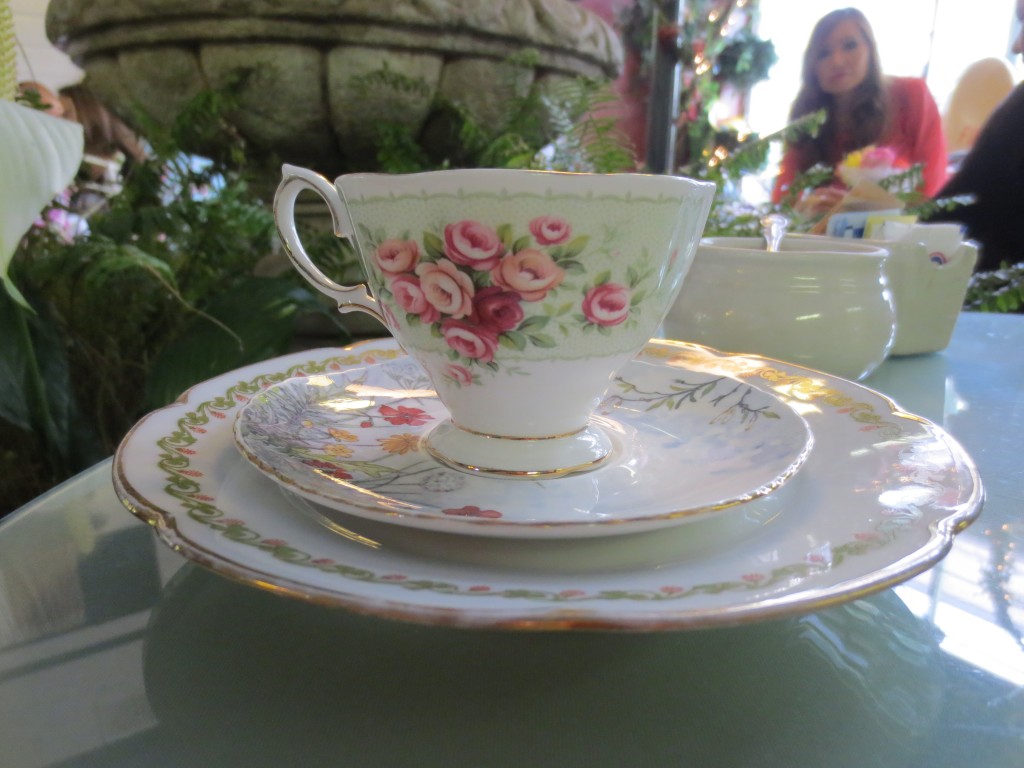 Tea Selection
The tea selection is a solid selection of black, flavored black, green, herbal, and oolong tea. They had a fair number of teas that sounded interesting, but they were out of the first four or five I asked about. We each picked a pot of tea, and since one pot will always be Earl Grey for continuity and reviewing's sake, I chose Cinnamon Plum flavored black tea. The Earl Grey was a solid Earl Grey, just a standard bergamot flavored black tea, not overly special and not overly bland. It was far better than the Cinnamon Plum! At the kindest I can say it was nothing special; it may as well have been straight water that they served. Normally with a good tea I want to drink it for the tea itself, but I finished this pot out of needing liquid with my food rather than out of a particular enjoyment of the tea itself. Maybe one of the other teas they were out of would've been better. They do brew only loose-leaf teas—a must in my book for a tea house to even be allowed to call themselves a tea house—and they bag them to order then leave the tea bags in your pot making it over brew. I noticed it right away so my mom and I spooned out our tea bags so at least our tea didn't get bitter, but it did get cold about halfway through our meal.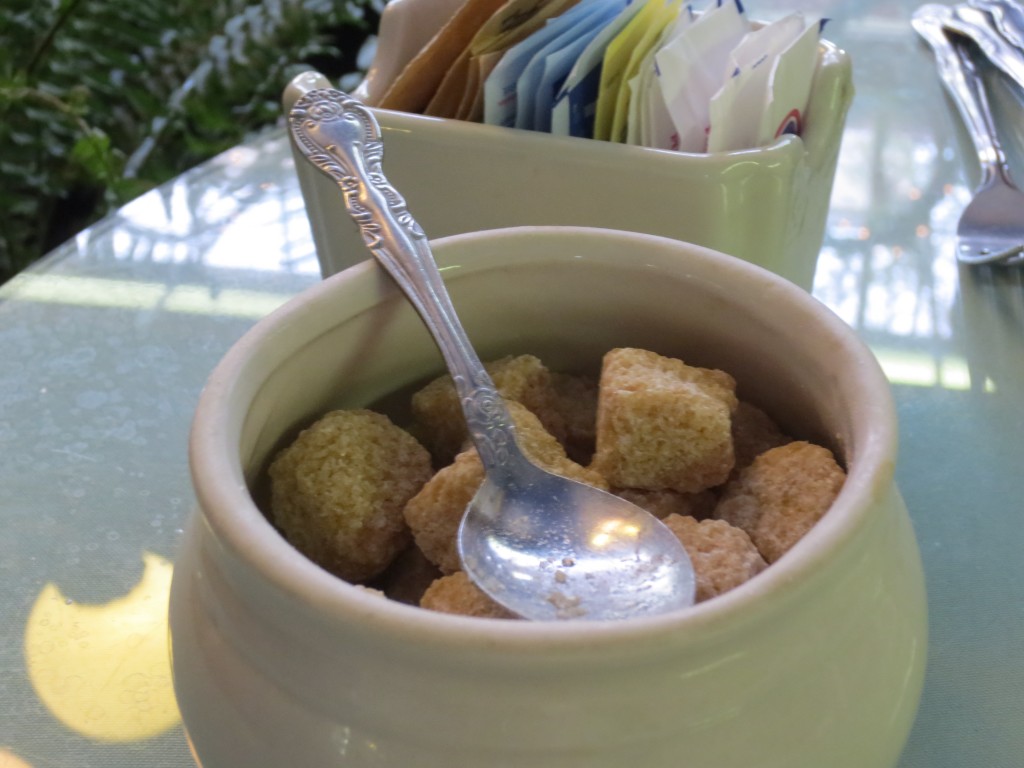 Brown sugar was in cubes, for anything else they had packets. More sanitary but more clean up for them too.
Food
Tea Rose Gardens serves multiple levels of their afternoon tea service. We chose the Tea Rose Afternoon Tea, consisting of finger sandwiches, scones, spring petal salad (their signature item of a spring green and edible flower salad with too much raspberry vinaigrette) fresh fruit, dessert bites, and a rose sugar cookie (another signature item). One pot of tea is included. Since we have learned that one stand is usually enough for us to split, we just added another pot of tea and another scone to round it out. They waived the split charge since we did that, super nice and accommodating.
Sandwiches
You get your choice of three finger sandwiches from their menu, which is quite extensive. Our first choice was the quintessential cucumber and herb cream cheese on white bread, and it shone. This sandwich is a standard tea sandwich and is usually underwhelming, but Tea Rose Gardens marinates their cucumbers in this sweet and slightly sour juice that creates the perfect savory complement to the sweet herb cream cheese. As typical the cucumber slices were too thin for our liking, but because they had that additional flavor they were able to hold their own and instantly became a favorite, craving-worthy finger sandwich.
The second choice was—ironically since Mom was guaranteed to dislike this sandwich—the goat's cheese sun-dried tomato pesto on white bread. I love goat's cheese. I love sun-dried tomato. I love pesto. I love this sandwich. Mom did not. Mom doesn't like goat's cheese, yet somehow she always forgets that and is game to try it anyway. The spread was nice and creamy with a definite tang from both the cheese and the tomatoes.
Finally we went with my almost guaranteed to dislike it sandwich: cranberry chicken. Don't get me wrong, I love cranberries and I eat chicken, but as it is a chicken salad it was almost required to have mayonnaise and I hate mayonnaise more than Mom hates goat's cheese. This one was on toasted bread and had a good flavor from the cranberries and the almonds, but the consistency was off. The mixture had been pureed into a spread, too many passes through the meat grinder? The flavors were pleasant and taste was fine, but the texture completely detracted from the promise of a good tea sandwich.
Scones
Ah, the area in which we are pickiest and harshest! The lemon blueberry scone tasted like a lemon loaf cake with a crunchy exterior. The plain "traditional English" scone tasted like a buttermilk pancake. Neither scone tasted all that fresh, but the lemon blueberry was definitely staler than the plain. Both completely fell apart…no structural integrity, making it difficult to top with their slightly sweetened whipped cream that they claim is Devonshire cream. As usual, it's not. The cream was too sweet and overwhelmed even the lemon blueberry scone's flavor. The accompanying raspberry jam was tasty, but generic. Though it did a decent job of cutting the sweetness of the cream and contributing to the overwhelming of scone flavor.
Sadly, still a far cry from true traditional English scones. My dad liked the lemon blueberry one we brought home for him.
Desserts
Here Tea Rose Garden shone like the sun. There were four little "tea bites" samples of their full sized desserts and a rose sugar cookie that didn't hold a candle to the little bites. That cookie was nothing more than a vanilla honey graham cracker masquerading as a crunchy drop cookie. Neither of us likes crunchy cookies, so sorry cookie but you are voted off the dessert tier.
The apple cobbler bar was wonderful: the perfect little morsel of an apple pie filling (not too sweet!) with a buttery crust bottom and a brown sugar crumble topping. You could actually taste apple and butter instead of sugar! Fantastic.
The brownie with nuts (beware allergies) was a generic brownie, nothing all that noteworthy. Funnily enough Mom said it was too fudgy and I said it was too dry and not fudgy enough. Who was right? Try it yourself to find out.
The crème brulee cheese bar had actual flecks of vanilla bean. How many places make vanilla cheesecake with vanilla bean? I'm not sure but Tea Rose Garden does and with its pastry crust and almost custardy consistency, they did it right. It wasn't really bruleed at the top, or else it had been sitting long enough to lose its brulee, which was kind of a disappointment, but not a detraction.
The lemon bar, I will dream of for teas to come. Perfectly tart cut by the powdered sugar topping and a shortbread crust, both of us nearly died from lemony heaven. If you've never been to lemony heaven, you are missing out, but this bar will at least give you a taste of that wonderful citrus world. Go there. Eat a lemon bar. Thank me for all eternity for telling you about it. Save me a bite.
Extras
The middle room is an actual flower shop, and I think behind that they have an outside party room you can book for special events. I don't know how much actual flower business they do since it was definitely disorganized. They sell the typical tea and knickknack merchandise, but nothing to really catch your eyes as anything other than additional decoration.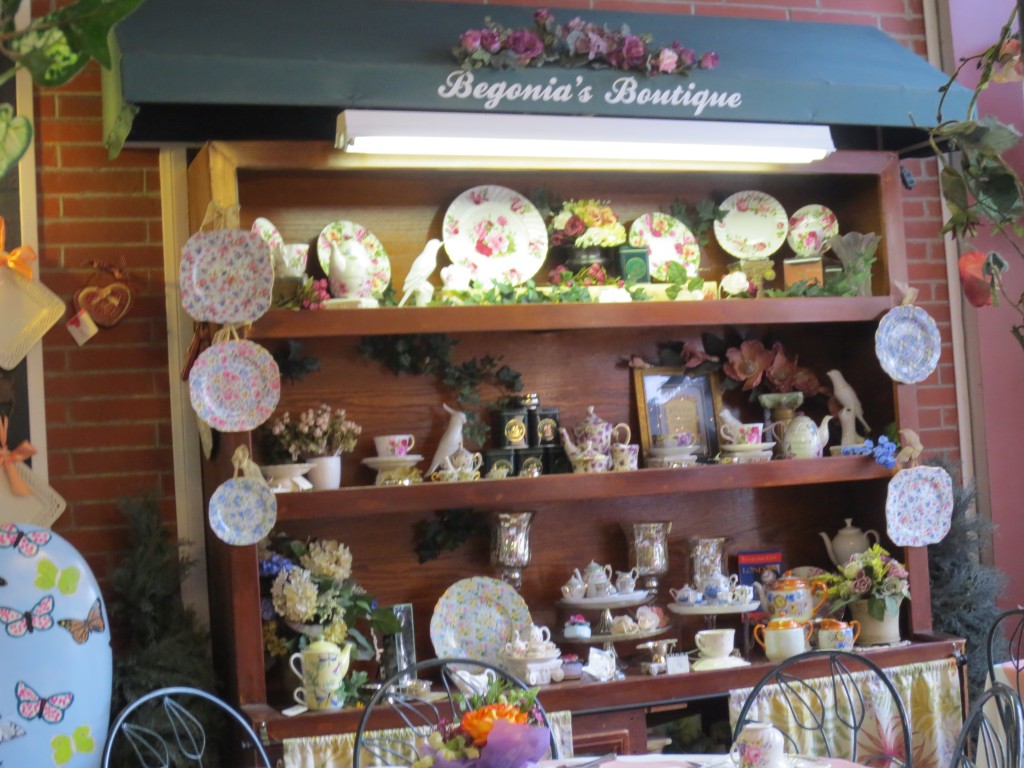 One thing I really disliked was that their checks and orders were written old-fashioned style on a piece of paper and rung up as "food…price" with no specific itemization. Picky? Perhaps, but as I waitress myself I am always looking for restaurant management and operation. They need a serious update.
Overall this is definitely a solid choice for an afternoon tea in Pasadena. The décor and the desserts set Tea Rose Gardens apart from other tearooms for their attention to detail and balance of tradition and unique touches. Definitely a tearoom we will revisit, and maybe buy some extra lemon bars for the drive home.
Visit Tea Rose Gardens at Old Town Pasadena, 28 South Raymond Ave., Pasadena, CA 91105; (626) 578-1144. Cost per afternoon tea service: $18.95