Let's take a one week break from creative combinations and untraditional flavors. Eventually (meaning once I've had my fill of experimenting) I am planning on doing a whole series of plain or sultana/currant scone recipes. Every book about tea or scones has its own version of the basic scone. So I have a lot of recipes to try out to find the perfect and most authentic plain British scone!
And for consistency's sake, I also have authentic British scones in my freezer to compare during this eventual series, courtesy of Ye Olde King's Head.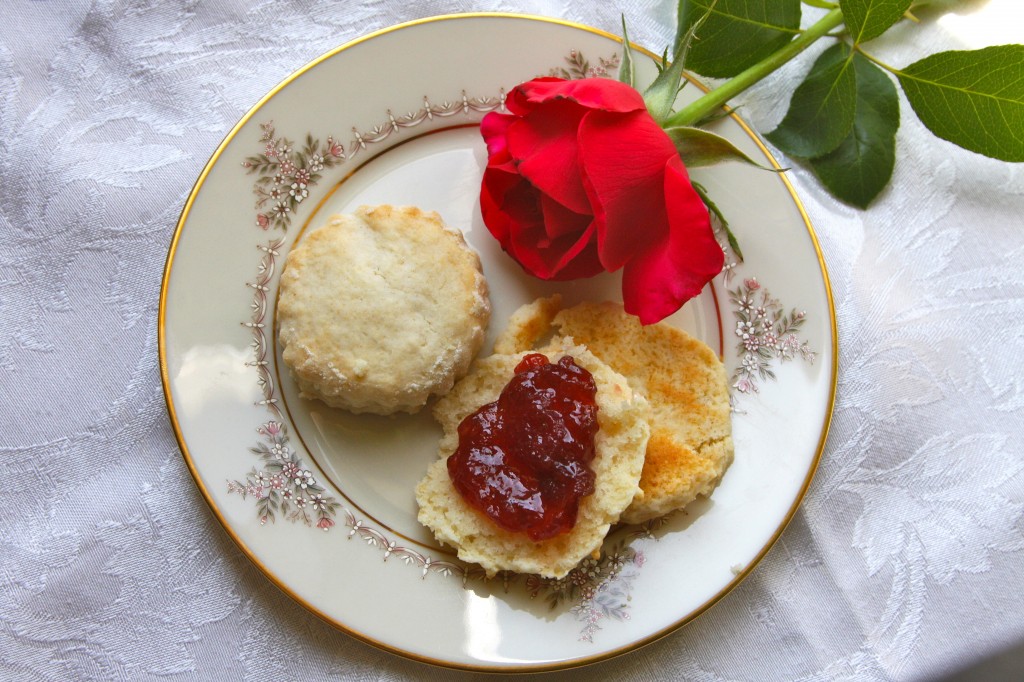 But for now, let's take this week easy and laid back. These cream scones are one of my current go-to recipes for trying new mix-in as they lend well to sweets with their slightly salty taste. They are also hands-down my plain scone recipe known to convert non-scone lovers to willing-scone eaters. When giving these scones to tasters used to American scones, though, be sure to express the caveat that these are more like British scones, less sweet and more vehicles for clotted cream and jam.
Of course if you serve these with authentic clotted cream and jam, even the pickiest scone eater won't be able to resist.
Sometimes we just need an easy scone, a simple scone, and in those moments reach for this four ingredient recipe and relax in the perfect blend of flour, sugar, and cream.
Cream Scones
Ingredients
200 g self rising flour
1/4 teaspoon salt
50 g ultrafine baking sugar
150 mL heavy whipping cream
Preheat oven to 220°C (450°F). Place rack as high as possible in oven. Sift flour and salt together in a medium sized mixing bowl. Add the sugar and 150 mL cream then work in by hand by rubbing in the cream trying to incorporate as much air as possible until fully mixed. DO NOT OVERMIX. If the mix is too dry, now add one tablespoon at a time of extra cream until the dough is wet enough to hold together.
Place dough on a heavily floured surface and knead a couple of times until relatively smooth. Dust top with more flour and pat down to desired height (we did 1 cm). Cut out 5 cm circles with a crimped circle cutter and place on a baking tray lined with parchment paper. HINT: dip the cutter in flour before cutting out each scone. Knead the extras back together and repeat until most of the dough is used up.
Bake for 6-8 minutes (we did 8) until they have risen and are slightly browned around the edges and on top. Serve with clotted cream if you are lucky enough to be in England or have made it out to Santa Monica, but with red fruit jam no matter where you are.