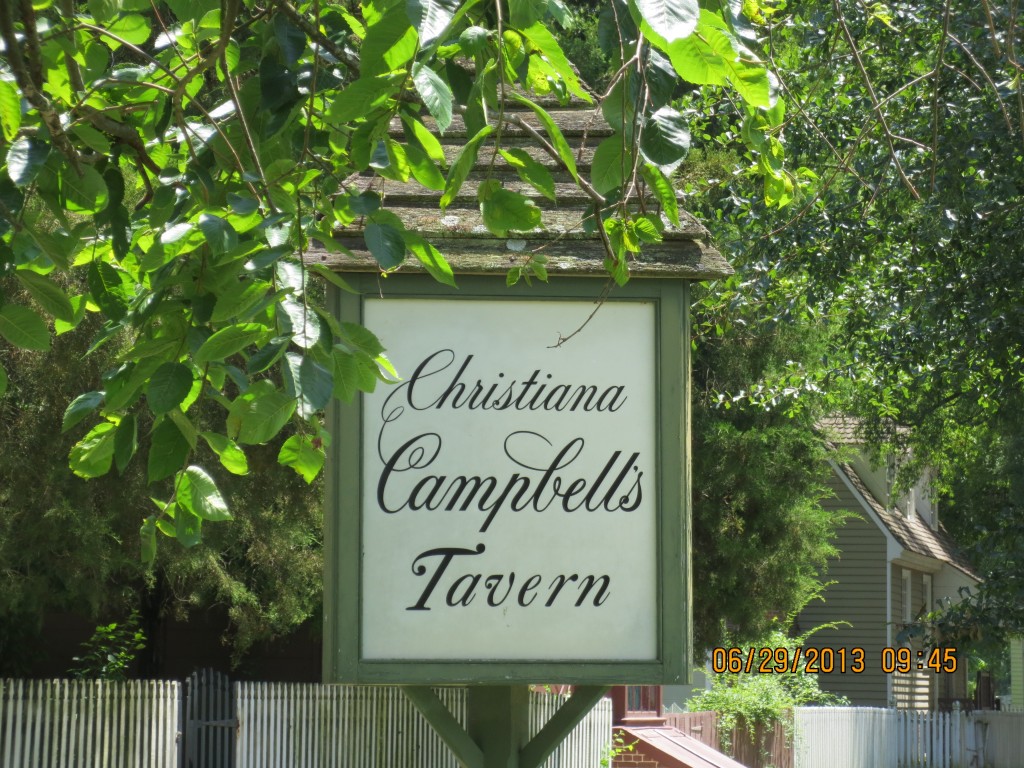 One of the best parts of afternoon tea is its link with tradition. You get to indulge in a practice that has been around for hundreds of years, connecting with the past through a simple teacup. And though afternoon tea is mostly considered a British tradition, it has also been an institution in America since the colonial era.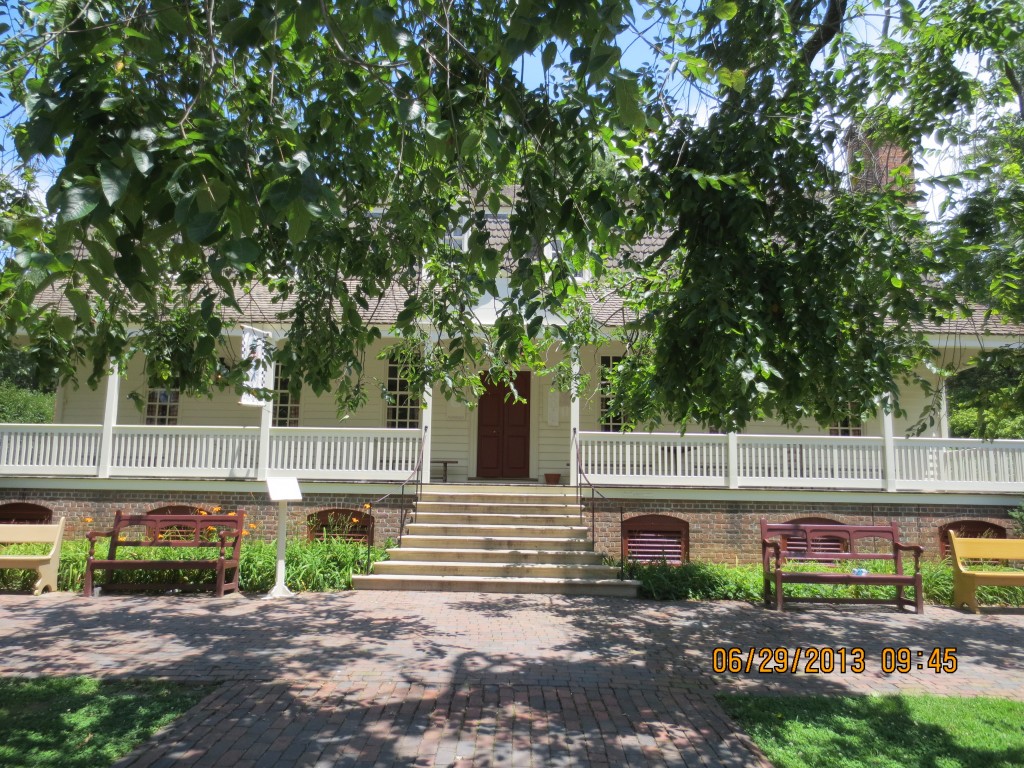 This is where Mrs. Campbell's Tavern in Colonial Williamsburg comes into play. Marking the edge of Virginia's historic colonial town, Mrs. Campbell's Tavern allows you to step directly into an afternoon tea party held during the Revolution. So get ready to enjoy a splash of history with your tea!
First Impressions and Service
When Colonial Williamsburg claims authentic, they mean authentic. Every employee is dressed in period outfits, and the tavern is no exception. The only daily seating isn't until 2:00 pm, but while you wait outside on the wraparound porch, Mrs. Christiana Campbell and her friends will come out to keep you company while her slaves and servants ready your dining room. Don't expect to talk about iPhones or what happened latest on your favorite television show; I was roped into a lecture about why I wasn't carrying a fan and how carrying a fan was of paramount importance if I ever wished to find a husband.
Once inside, you are served by Mrs. Campbell's small household staff in three courses. Service is pretty limited to taking your tea order and delivering the food, but you are more part of a presentation than a customer. Throughout the meal, Mrs. Campbell and her friends wander through the dining room telling stories of the current events and daily lives of the colonists. One person sings songs about the Boston Tea Party, and you really wish she wouldn't. Mrs. Campbell instructs you on the proper etiquette of tea including how to properly hold your teacup. I tried her way, and although it is wrong I'll stick to mine!
Décor
Restored to look as exactly like it did in the 18th century as possible, the dining room is all wood paneling and plain paint. Thank goodness the tavern didn't use the eyesore bright colors you'll find in the wealthy homes in Williamsburg. Considering you are partaking in a meal, those bright colors might have upset your stomach.  The tea set and other table settings are all accurate recreations of what would've been on your table in Revolutionary America.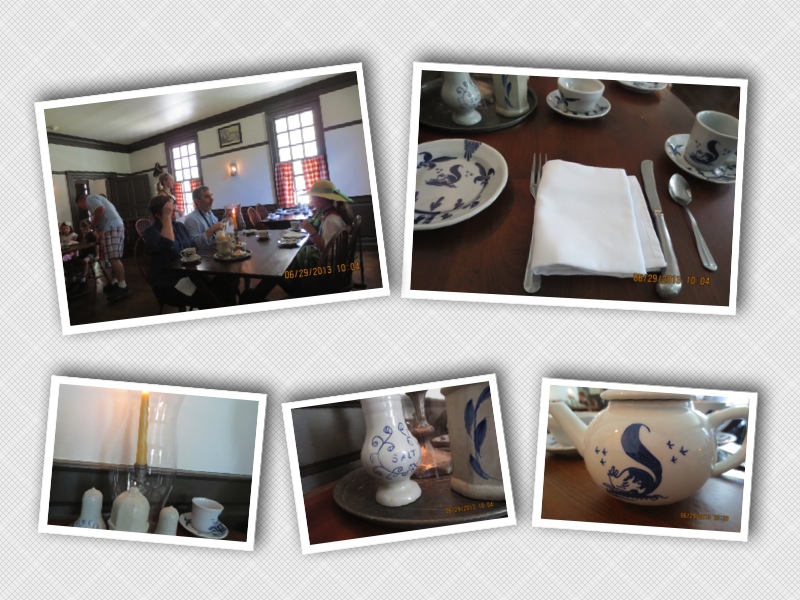 Tea Selection
The teas are all done in bags, and here is where I'm not sure how authentic the selection is. You get two tea bags (so you can do both the same kind of tea or two different types) at the start of the meal and they bring hot water out again halfway through. Mom chose the Earl Grey as always, but since I had a cold I went with a mango green tea. I really enjoyed mine, but I wish they had brought out more hot water when I asked because I was drinking my tea like there was no tomorrow. You'll have a few options of black teas, a few green teas, and a few tisanes and herbal teas.
Food
The server reviews with the room as a whole what is served in each of the three courses. Unless there is an allergy the menu is pretty set. Instead of a tiered stand, each course is brought out one at a time and once the room has finished eating, it is cleared away and the next course is brought out. This takes pacing almost completely out of your hands, making you feel a bit rushed if you aren't quite ready for the next course (I eat slow at tea time). But as it is more of a meal and a show, pacing is kind of determined based on the performance and less of your own stomach.
Sandwiches
Since only one of the offerings is really a sandwich, it's almost incorrect to label the savory course as sandwiches, but I am always one for consistency. Only one of the four pieces is a vegetarian option, but since no one in our sitting was a vegetarian I have no idea what they do to accommodate vegetarianism.
There was an asparagus tart with some sort of mayonnaise or mustardy cream and a few pieces of yellow carrot. Not the most appetizing option, the creamy filling overpowered any vegetable taste and the crust was a simple butter and flour pastry.
Next was smoked ham salad on a puff pastry. Between the smokiness of the ham and the relish and pickles, this one really reminded me of BBQ. Did they have BBQ in the colonial era?
It almost seems a requirement that there be a chicken salad on a croissant. I have the usual complaints (mayo) but the croissant was nice and buttery and the chicken was in chunks not pureed which is always a plus.
The salmon was less of a sandwich and more of a piece of salmon rolled on top of a cucumber slice with some dill. When salmon is involved, bread is superfluous anyway right?
Scones
The scone course had more than just a little scone on it; there was also a berry muffin and a cranberry tea cake. A dollop of TRUE clotted cream (you go Mrs. Campbell!) and red fruit jam rounded off the plate. The scone was small but had a perfect scone texture. The flavor was a but reminiscent of a buttermilk pancake, so I think they made the scones with buttermilk, but buttermilk pancakes are preferable to sugar cookies any day.
In the usual contradiction: Mom liked the muffin while I liked the tea cake. The muffin tastes like a cupcake with some fruit mixed in the batter and a sugary streusel topping. It is very moist but definitely sweet as a cupcake. I love how there were actual chunks of the fruit and not just fruit jam stirred in. The tea cake is your requisite pound cake; it was also moist and fresh. Not as sweet as the muffin, the cake had pieces of dried cranberry in it.
Desserts
It would seem like you just had a dessert course, but apparently cupcake-muffins and pound cake didn't qualify as dessert back in the days. Instead you get a lavender shortbread cookie with a delicious dipping of white chocolate, another cake topped with almonds and glaze and with a hint of marzipan flavor, and an absolutely decadent chocolate truffle that you will try not to eat the whole thing but won't be able to stop yourself. None of the portions are unreasonable, so you can totally clean your plates and still be hungry for dinner by 8.
Extras
As I said, this is basically tea and a show, so be prepared for a history lesson along with your cup. But that is kind of the entirety of Colonial Williamsburg, and that is definitely part of its charm.  You'll kind of wish that you were in colonial attire too, so luckily if you've bought tickets for entry in the main street of Williamsburg, you can rent some costumes for the little ones at least.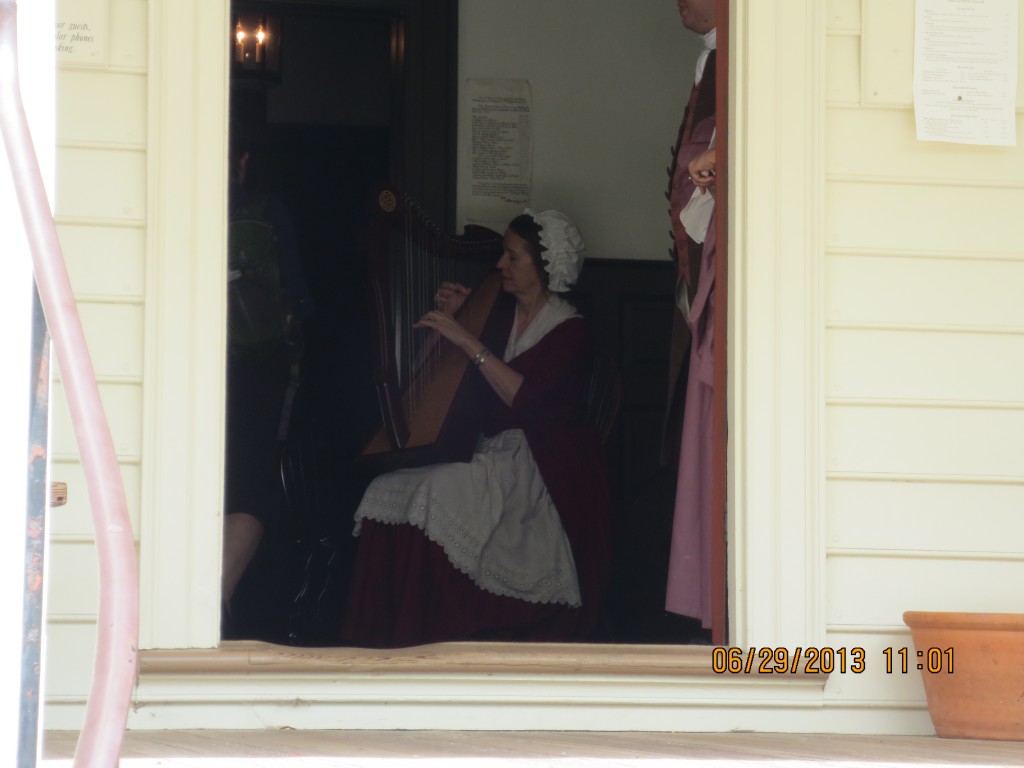 Mrs. Campbell's Tavern is a must experience for anyone in Virginia, but particularly if you are at Colonial Williamsburg. You won't find another afternoon tea like this one!
Christiana Campbell's Tavern 101 South Waller St., Williamsburg, VA, 23185. (757) 229-2141. Reservations required. Cost per person $23.95 tax and gratuity included.