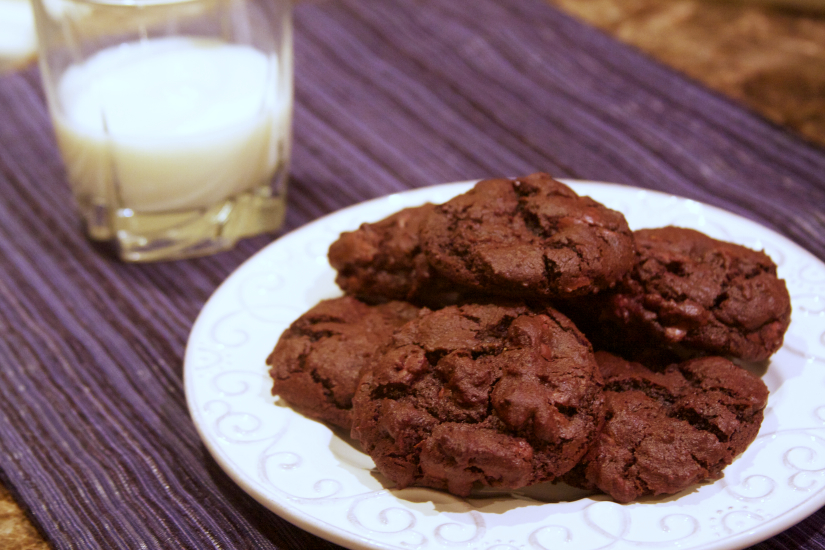 You know what we've had a dearth of on this blog lately? Chocolate. Sure we throw various chocolate chips into our scones and cookies. Heck sometimes we even melt some down and spread it all over our cookies. But true, unadulterated chocolate? Definitely lacking.
The holidays aren't just about all things cinnamon, eggnog, peppermint, pumpkin, white, and cranberry. They are about thinking about the people in your life and what you can do to make them feel special. Isn't that what presents are? Our acknowledgment that the receiver was in our hearts and minds and that we want to give them something specific to their unique tastes? Well, the same goes with Holiday Cookies. I may love peppermint and cranberry anything, but my mom craves anything eggnog. My brother just asks after pumpkin pie. No cookies, just pumpkin pie. And my aunt? She looooooooooves anything chocolate! See? Everyone has different tastes in their sweet treats, and making a type of cookie specifically with them in mind is a great way to show people how much you love and understand them.
And the best excuse to make a million batches of cookies EVER. Come on, we can't always be selfless.
Hershey's has introduced this new line of chocolate chips called Morsels. They are slightly bigger than regular semisweet chocolate chips, but they are filled with deliciousness! So far I've found peanut butter, mint, raspberry, and caramel and I snatched up a few bags immediately before I even thought of what to make with them. I have a habit of doing that. My original idea was to just swap out regular chocolate chips in my family chocolate chip cookie recipe with the Morsels because anything in my mom's chocolate chip cookie recipe is a winner. But with mint? Why not appeal to a new audience with the richest, most fudge, brownie like chocolate cookies chipped with Mint Morsels?
You're welcome! And simultaneously, I'm sorry. You'll need to make quite a few trips to these baking aisle once everyone gets ahold of these Chocolate Chocolate Morsel Cookies. I mean, they taste like a soft, thick Thin Mint! And who doesn't love Thin Mints? Or brownies? Everyone does, so everyone will love these cookies. The mint is present, but neither too overwhelming of the chocolate nor too overwhelmed by the chocolate. Let me know if you get that one 😉 I also made these with the peanut butter Morsels and those were a hit too! Chocoholics unite!
Don't be scared off by the heavy and sticky cookie dough. How else are you going to get thick and fudgy cookies? Just chill the dough for a little while to reduce the stickiness before dropping them on the cookie sheet and you'll be reaching for that necessary glass of milk in no time.
chocolate chocolate morsel cookies
ingredients
1 cup (125 g) all-purpose flour
2/3 cup (80 g) unsweetened cocoa powder
1 tsp baking soda
1/8 tsp salt
½ cup (115 g) unsalted butter, room temperature
½ cup (100 g) brown sugar
½ cup (100 g) granulated sugar
1 egg
1 tsp vanilla extract
2 tbsp lowfat milk
1 package Hershey Morsels (1 batch with mint, 1 batch with peanut butter)
 directions
Preheat oven to 350°F. Line 2 cookie sheets with parchment paper. Set aside.
In a large mixing bowl, whisk the flour, cocoa powder, soda, and salt.
In the bowl of stand mixer fitted with the paddle attachment, cream butter and both sugars on medium, about 2-3 minutes. Beat in the egg and the vanilla extract. Make sure you are always scraping down the sides as needed.
Slowly add the dry ingredients to the wet ingredients, mixing on low speed. Once combined, add the milk. Fold in the Morsels. Dough will be heavy and sticky. Chill if necessary.
Drop cookies on sheet in 1 ½ tbsp dough balls 3 inches apart. Bake for 10-13 minutes, less time for gooier cookies. Remove to a wire rack to cool immediately.