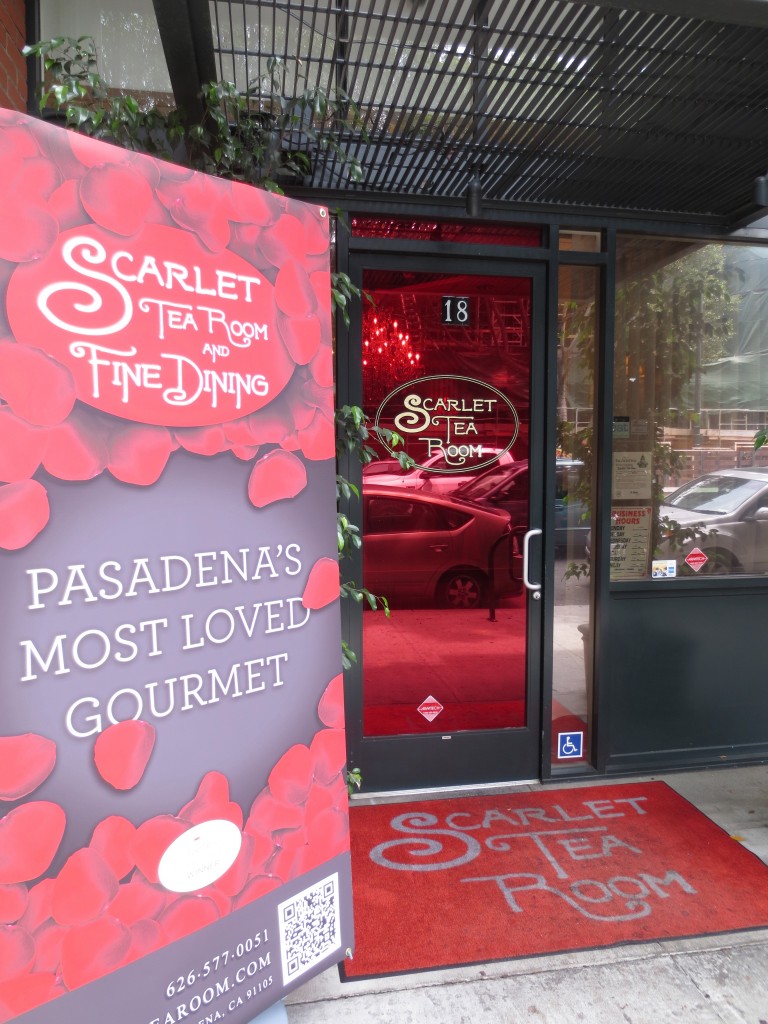 Yet another street in Pasadena, California…yet another tearoom. I swear Pasadena has more tearooms per capita than any other city in the country. Guess that just means I'll have to make plenty of trips out there, and if I run out of tearooms I can always come back to this gem.
First Impressions and Service
The Scarlet Tea Room gains immediate points for its red glass door. I mean, how much fun is that? It bathes the entryway in a red glow that quickly dissipates in the airy interior. The place was pretty packed, and the hostess was obviously stressed out because every party that came in asked to change their table. Apparently no one wanted to sit in the entrance room (where we ended up being seated), but as many of the tables were blocked for reservations changes weren't able to be accommodated without a lot of effort. People were not happy but that definitely wasn't the hostess's fault.
The problem was caused by their reservation timing being off. I don't know if it was because they use OpenTable to make reservations online and over the phone, but the restaurant would be nearly empty, fill up within fifteen minutes with a rush of reservations, and then empty out again all at once. For their servers' and their hostess's sake, they should have staggered those reservations more. Having these waves of people put the tea brewers behind, the kitchen behind, and thus the servers behind and the guests complaining.
Our server, Rebekah, was absolutely fantastic. Even though she was busy, she was sweet, friendly, funny, and very knowledgeable about tea. I really like when servers actually know about tea! Particularly when the name of the restaurant says "tearoom" I feel it is important to have at least some focus on tea and tea knowledge. Rebekah was also attentive, checking up on us frequently and making sure our drinks were never empty. When you make your reservation here, request Rebekah for the best experience.
Décor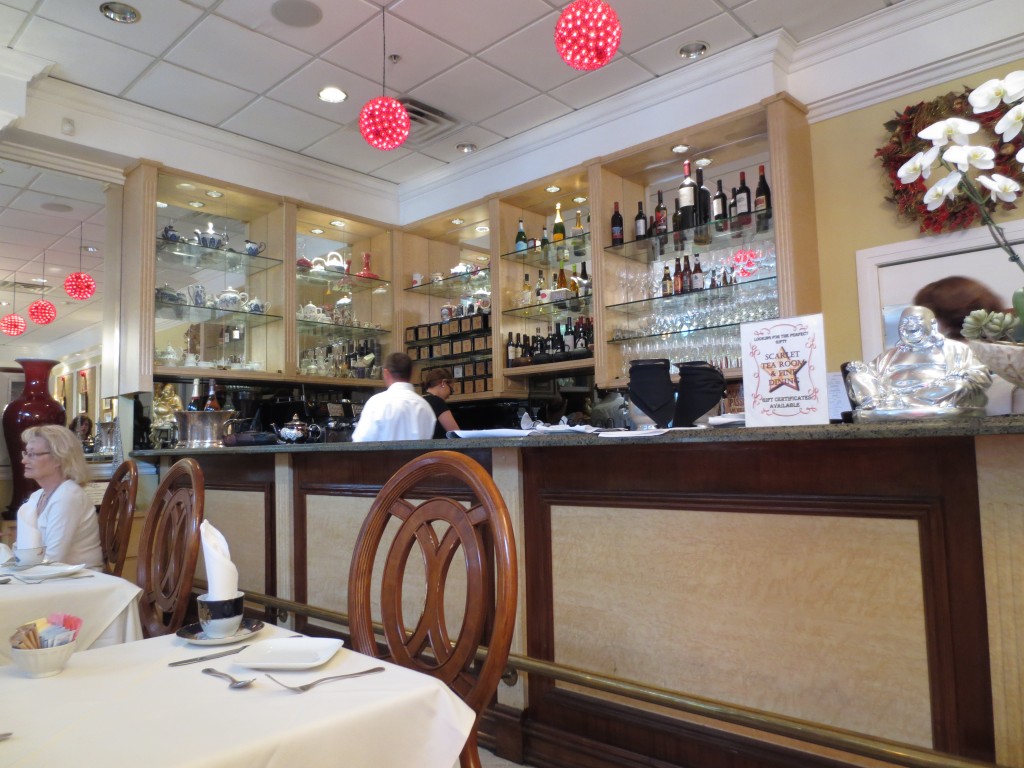 The décor is nice and light, simultaneously airy and rich from the combination of creamy paint and dark woods. They have a bar area where they brew the tea to order and a piano near one of the windows. Think a fancy like a hotel but traditional like a tearoom. The space is subtly divided into three rooms: the entrance room in front of the bar, to the right a columned area, and to the left a mirrored and more ornate dining room.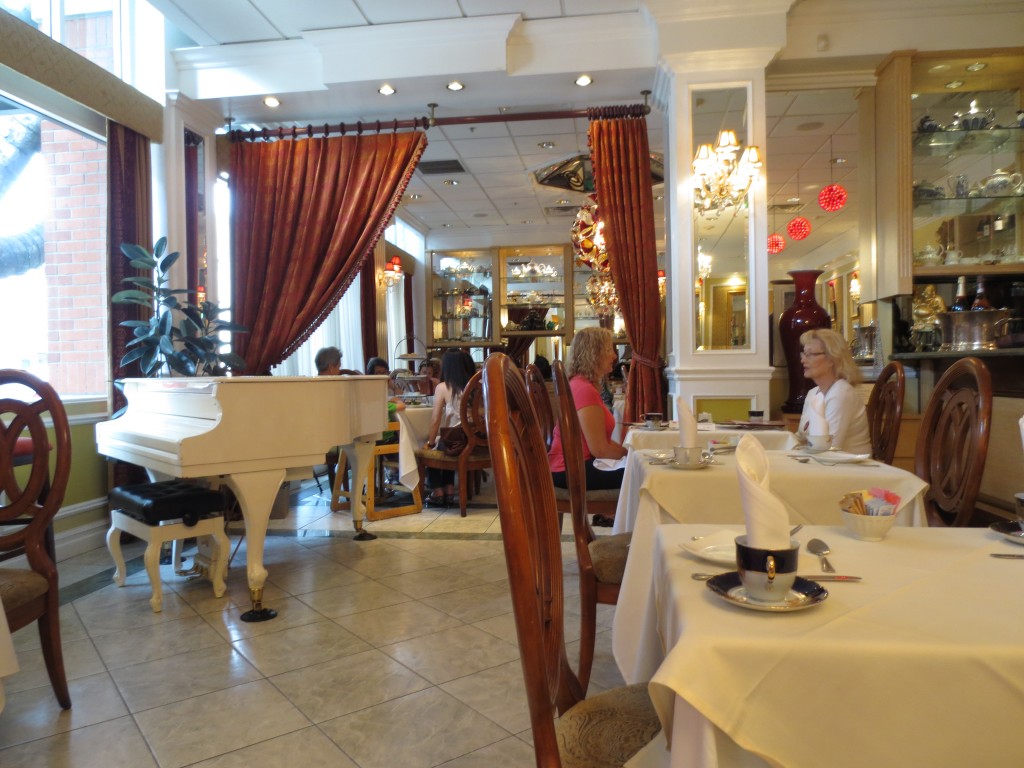 Everyone wanted to sit in that mirrored room, but again reservations were given priority.
Tea Selection
They have an entire page of tea offerings including black, green, oolong, white, and tisanes. All their teas are brewed loose leaf and they add hot water half way through your tea service to keep it warm and not bitter. The tea descriptions list both where the tea is from and some tasting notes to help you make a selection. But this tea page is only for their hot teas; they do have one or two iced teas prebrewed for the day if you would prefer cold tea to match the weather. Mom chose the iced Peach and Mango green tea and thought it was very refreshing.
I went with the Mademoiselle Grey—a twist on Earl Grey that added roses to the traditional bergamot and lavender—and absolutely loved it.  Another point in Rebekah's favor was that she knew to recommend which teas with milk and which ones without it.  You can purchase any of the teas for $4 an ounce to take home.
Food
Apart from a lunch menu serving salads and sandwiches, Scarlet Tea Room has two levels of traditional tea service. The five-course menu consists of a sorbet, scones with cream and jam, finger sandwiches, berry Romanoff, and little desserts. We had the three-course menu of just sandwiches, scones, and the berries. I bought a little foursome of petit fours to try at home as well.
Sandwiches
The sandwiches are done in a you-pick-four manner and are each pretty sizeable, so if you come with a friend it is doable to choose eight different sandwiches and cut them in half. So many of them sound tasty that you'll want to try them all!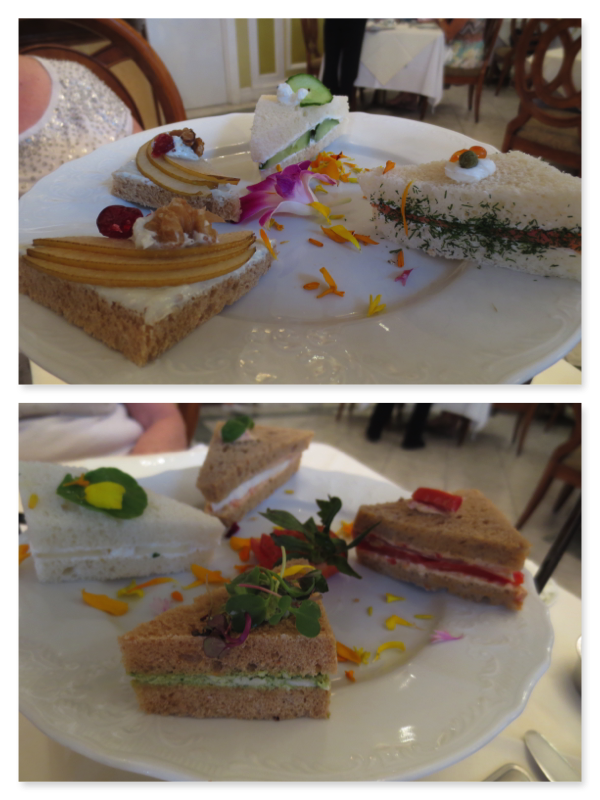 Each sandwich's garnish is like a little homage to the overall ingredients of flavor of the sandwich, making for a delightful presentation.
The refreshing cucumber watercress has thick slices of cucumber! Since the cucumber is fresh and not pickled, thicker slices are the main way to achieve any cucumber taste when it is placed against cream cheese. But this sandwich not only had the perfect size cucumber slices and a light amount of cream cheese, it also had actual leaves of watercress. This meant you could taste the watercress, something that eludes most cucumber watercress sandwiches despite their supposed ingredients.
The walnut pesto chicken had a strong chicken flavor even though the chicken was minced. Maybe that flavor was able to come out because the chicken wasn't pureed into a paste? The pesto was very heavy on the basil, and chunks of walnut gave a crunchy and chewy texture contrast.
Unfortunately, the promising Brie, walnut, and watercress sandwich needed a stronger flavor to stand out among the overall creamy taste. This sandwich is the perfect example of when a texture becomes a flavor note. Perhaps if they had added a fruit, like sliced grapes, this sandwich would've been bolder and worked better.
The mozzarella and sundried tomato cream cheese spread was my favorite. There were thick slices of mozzarella to sweetly contrast the tangy sundried tomato, but it all melded together in this savory splendor. Add the basil leaf garnish and I could've had a few more of these finger sandwiches easily.
Mom's favorite was the prosciutto and roasted red pepper. She loved the red pepper slices and how they were not overshadowed by the salty prosciutto. Most of the sandwich's flavor essence came from the pepper, which meant that the kitchen had struck the perfect balance between savory and sweet.
The salmon and chive also had dill, and we all know that I consider dill one of the finest herbs to grace a sandwich, especially at teatime. And there was a substantial quantity of herbs on this sandwich as well as two thick slices of salmon! They did not skimp on ingredients here.
Finally, the pear and Gorgonzola proved what a pear and Gorgonzola sandwich should taste like. We were a little worried after the disappointment at the Langham, but this one was absolutely fantastic. In fact, when choosing our favorite sandwiches, Mom and I had to place the caveat of "aside from the pear and Gorgonzola" to make it fair. Trust me, this one should be your first pick. The great thing about this sandwich was that the flavors complemented each other 100%. You can taste each ingredient, both the flavor and the texture: creamy cheese, crisp pear, crunchy walnut, chewy cranberry, and soft bread.
Scones
Let's start with the topping offerings. The signature "Scarlet Cream" was by far the most disappointing thing about this tea experience. It is a vanilla sweetened whipped cream that tastes like a buttercream frosting. The texture is nice and stiff, but the cream is just too sweet to top a scone with. The lemon curd was too tart, but the strawberry jam had a nicely robust strawberry flavor. Even so, these scones shone best when eaten plain.
The candied ginger scone had a strong ginger flavor that clashed with any topping, though it was wonderful on its own. A little spicy and a little sweet, the scone was unique and delicious. The cranberry was also yummy, and also best plain. Both scones melted in your mouth, but had the slightest crunch from a raw sugar topping. These were excellent scones.
Desserts
The three-course meal comes with fresh berries topped with the Scarlet Cream. Although too sweet to spread on a scone, the cream was quite lovely with the fresh fruit. It was a lighter dessert offering, but as the sandwiches were heartier than those at most other places, you really don't have room for heavy desserts as well.
I did try their petit fours, but I thought they were overpriced for tiny squares of marzipan and chocolate marzipan. They can be skipped without missing out.
Extras
We used a coupon from TravelZoo for this tea. It was a two-for-one deal on their three-course tea menu that could only be used on a Tuesday. They do not sell any merchandise here, though they sell their loose leaf teas.
So far, this may have been my favorite tea place. The food was fantastic, our server was fantastic, and the atmosphere was pretty fantastic as well. There was very little we did not feel was worthy of a rave review.  If you only have one place to go in Pasadena, make this your first choice.
Visit The Scarlet Tea Room at 18 W. Green St., Pasadena, CA, 91105. (626) 577-0051. Cost per person : $27.00