The standard for tearooms in Pasadena and Los Angeles—according to the casual partaker of afternoon tea—seems to be the tearoom at The Huntington Library. When people discover that you are a tea aficionado and are trying all the tearooms you can find, they usually ask if you have gone to The Huntington yet. So at the behests of Once Upon an Afternoon Tea readers, I took the plunge and made reservations for this must-do afternoon tea.
First Impressions and Service
The first thing I noticed when we entered the one room restaurant was the noise, followed by the beehive of servers running around like rabid dogs were nipping at their heels. I understood that it was a Sunday and the place was full, but was it necessary to seem so panicked? A good server who is overwhelmed knows how to hide that from the customers. Server 101, Lesson 1: Your guests should never know that you can't handle your section. Once seated, the server situation only felt worse.  No sooner had we sat then she ran over with a breadbasket of mini scones, rattled off the flavors, and pushed us into ordering the house tea. The entire hour we were there (and note most afternoon teas we do take between 90 minutes and two hours from start to finish) we felt like they wanted nothing more than for us to scarf down food, pay our check, and leave so they could flip our table to another party. It became an act of defiance to sit there and sip tea slowly. I personally would rather have an almost nonexistent server than one who overzealously tries to push me out the door.
Décor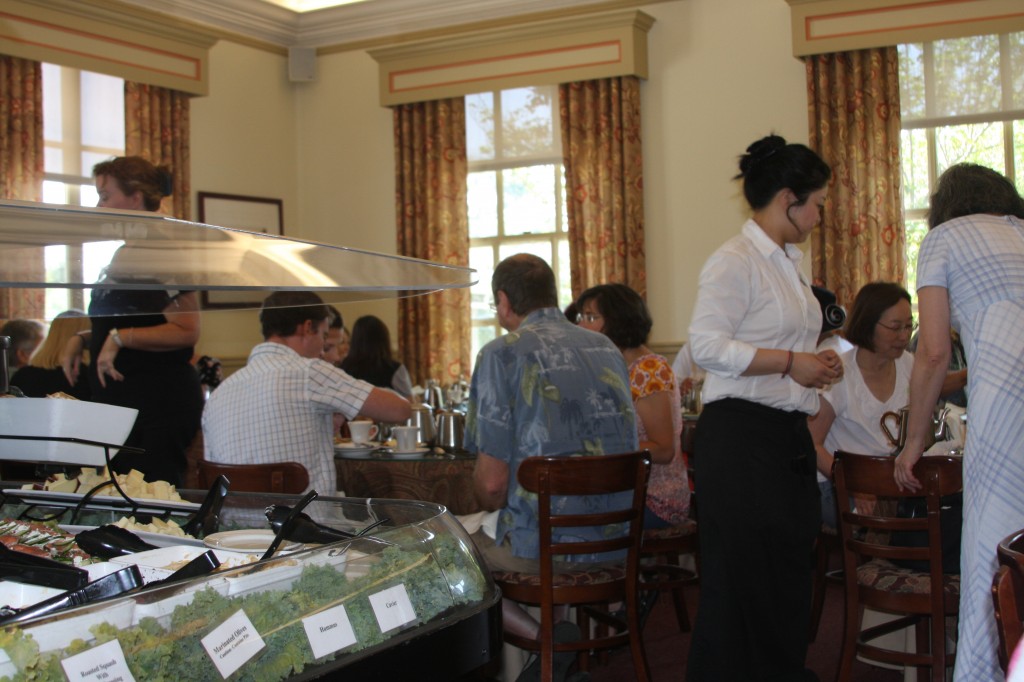 The walls, curtains, and upholstery were all in shades of "old crazy cat lady" yellow, tan, and peach. The curtains were an ancient floral pattern in desperate need of updating. But the worst part of the décor came not from the paint or fabrics, but from the room's arrangement. You are literally less than six inches from the nearest table with only the narrowest of walkways behind your chair for the mad servers to run behind. China is no china at all, but plain white porcelain? Whatever the material that typical restaurant plates and coffee cups are made out of? Nothing felt comfortable or inviting in the slightest. It was less a tearoom than a room that serves little sandwiches and desserts and whose only beverage is tea.
Tea Selection
What selection? If The Huntington had a tea selection, we had no knowledge of it. There is no tea menu (there is no menu at all) and our aforementioned pushy server immediately did a hard sell for the house tea. She never said anything about other options of tea, so we kind of assumed that there wasn't another option until we heard her tell the table next to us—or rather on top of us—that if they weren't going to succumb to her forcing the house tea on them, they could choose Earl Grey. By then we were almost done and the blackberry black tea was fine enough to drink. I wonder if she makes commission on how many tables order the blackberry tea?
On top of that, warming up the tea consisted of adding hot water to the tea already brewing and becoming bitter in our table's teapot. I don't understand how people really believe that adding hot water makes a difference in the bitterness of over-steeped tea, because it doesn't. The tea is just as over-brewed with extra water as it was before the second pouring.
Food
The Huntington Tearoom does not do a traditional afternoon tea service, no matter what they claim on their website. Instead of the typical three-tiered stands with finger sandwiches, scones, and little desserts, they have a buffet in the middle of the room.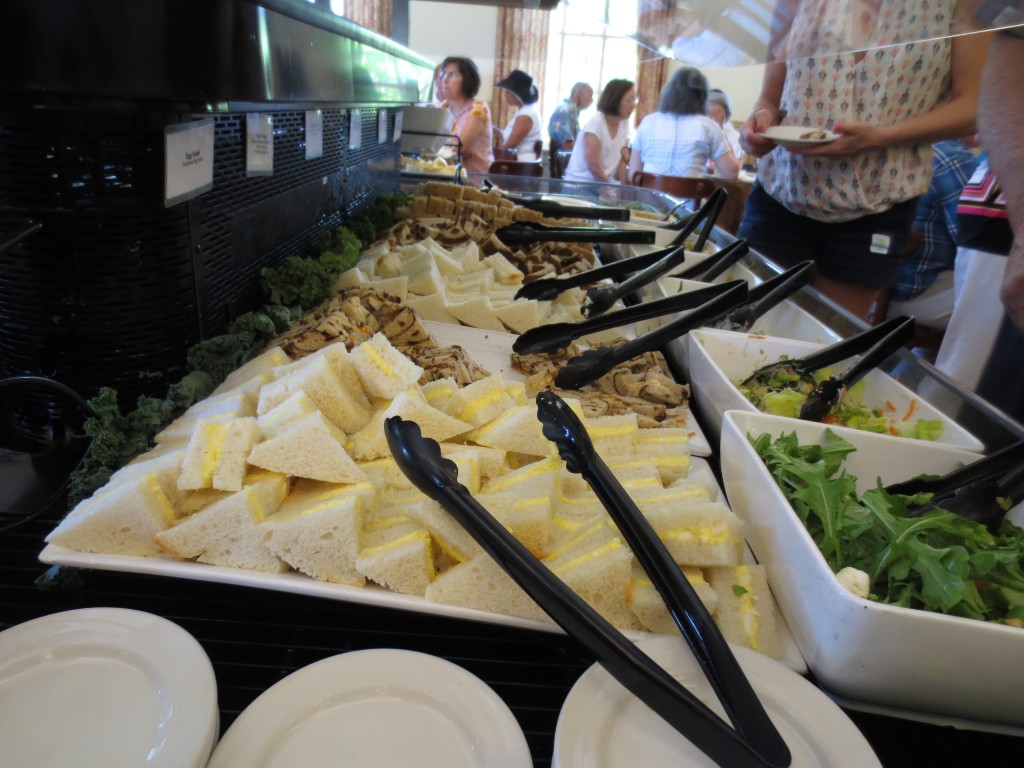 While great for those with appetites that surpass a usual afternoon tea quantity, a buffet only serves to enhance the feeling of being rushed through like cattle for the rest of us. Note, however, that at the end of your meal the server will bring by a plastic bag for you to bag your scones to-go in, so eat your fill of the sandwiches and desserts and save the scones for later to get the most out of your money.
Sandwiches
The advantage of a buffet is that there are more options than most tearooms offer for finger sandwiches and if you like particular ones you can have more of those and not waste your stomach on those you dislike (no mayo for me! Extra smoked salmon!).
A debate between Mom and me arose with the Tarragon Chicken Sandwich (chicken, tarragon, mayo, walnuts, and celery on wheat bread): She tasted tarragon; I did not. I felt that there was too much of a mayonnaise and relish taste to the sandwich, but Mom still insists that there was tarragon mixed in with the nicely not pureed chicken salad. We did both agree that the bread tasted very fresh.
The Carrot Ginger Sandwich (chopped carrot and candied ginger with cream cheese on fig walnut bread) was definitely a new favorite that I want to recreate. It was sweet, more like a finger sandwich best served for breakfast than lunch, and the fig-walnut bread was a sophisticated take on cinnamon raisin bread. I had two of these!
Mom's assessment of the egg salad on white bread was that the bread was once again soft and fresh, but that the salad needed more flavor. There was no seasoning or herb mixed in, so the egg sandwich literally taste like simply egg and bread.
The Cucumber Mint (freshly sliced cucumber and mint with cream cheese) fell victim to the not enough cucumber trap of cucumber sandwiches. Although the mint was strong and refreshing, without any cucumber for substance the sandwich was just too airy.
The smoked salmon (smoked salmon with cream cheese Dijon spread, dill dollop, and cucumber garnish on marble bread) was surprisingly good. I think dill is the best herb to pair with smoked salmon, but not enough places combine the two, choosing capers instead for that briny taste. But dill brings a touch of the pickled sourness of capers with a more refreshing note. This open-faced canapé was tangy, creamy, and worthy of seconds and maybe thirds.
Scones
Every table gets a breadbasket of mini scones in different flavors. The flavors are luck-of-the-oven, completely dependent on what the kitchen is churning out in mass quantities when you sit down. The table next to us received maple bacon scones and chocolate chip scones. We were given almond, cranberry, and apricot scones.
In hindsight, I don't think it really matters what flavor you are brought, since they all sort of tasted the same. I liked how they were brought warm to the table, but since you should take them home anyway it doesn't really make a difference. All the flavors were rather bland with only little pieces of their mix-ins for not much added flavor. When topped with jam and cream, they all taste the exact same. The texture was nice, particularly noteworthy since they were mini scones, which tend to end up over baked and dry.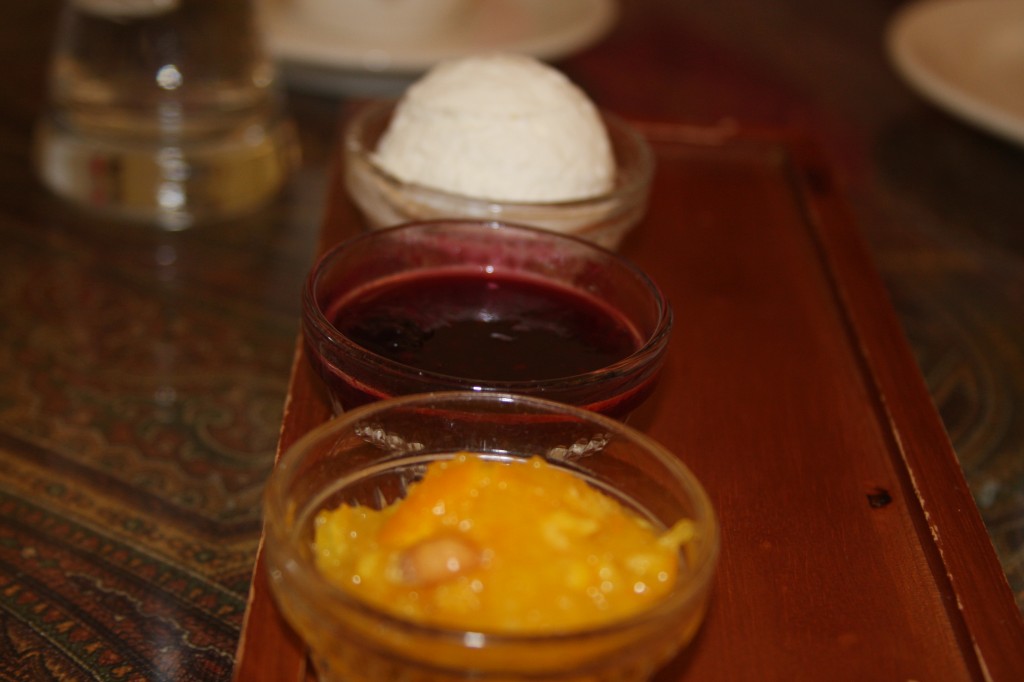 The whipped cream is very sweet and fluffy (which I don't like, see my clotted cream rants). I can't comment on the marmalade because as I discovered at one of my first tea places, I really don't like marmalade. These two toppings set me up for disappointment with the watery jam, but I actually was surprised at how tasty the raspberry jam was. It had a great flavor, not too sweet and not too tart, and its only problem was consistency.
Desserts
The brownie and the chocolate mousse cup were laughably polar opposites. While the brownie was rich, thick, and basically a block of fudge (nothing wrong with that 😉 ), the mousse cup was light and airy and shatters in one bit. Talk about dessert antithesis.
The fruit tart's custard was rather bland, no strong vanilla flavor like so many excellent fruit tarts have, so it tasted more like a raspberry topped cookie than a fruit tart. I will say, though, the fruit they used was wonderfully ripe and fresh. You can taste that it was made that day and not defrosted from mass baking earlier in the week. The nature of a buffet probably makes a difference with that aspect as the food turnover is high.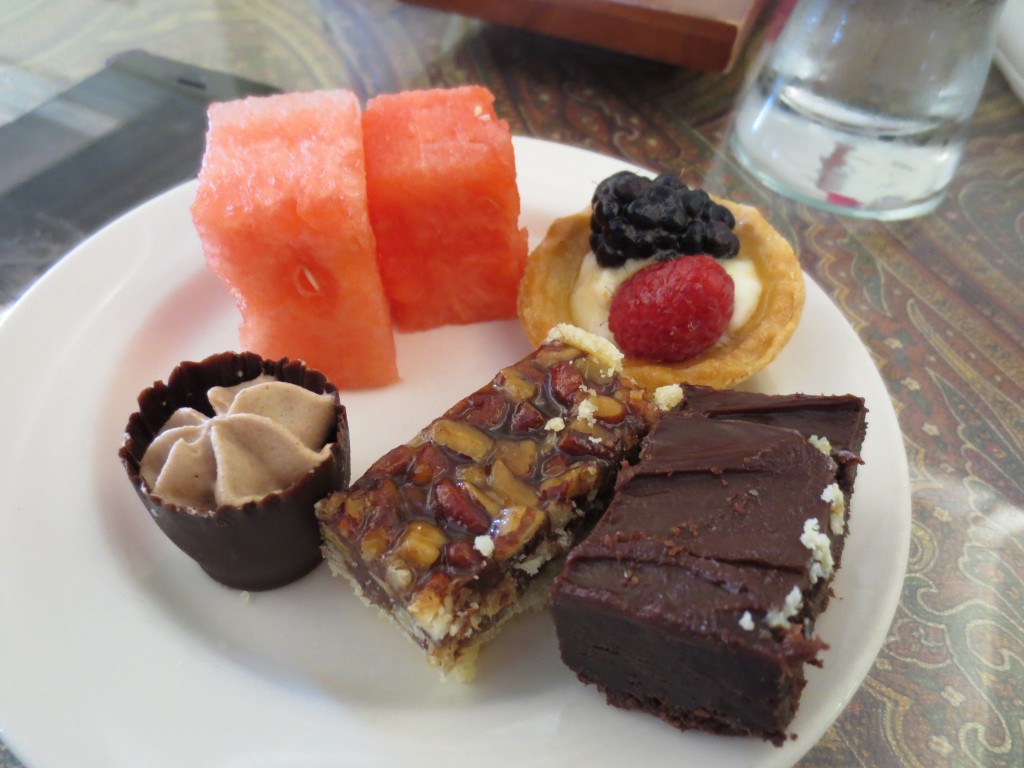 The pecan bar was a disappointment, especially as I just recently learned at my job that I like pecan bars. Maybe that liking only applies to the pecan bars at work? This one was heavy on the pecan, but there was something about the filling that just didn't work. I don't know ingredients of pecan bars yet so I couldn't put my finger on where it went wrong. And my crust fell off which is always sad.
Grab extras of the tea cookies. They are nice and crumbly like Russian Tea Cakes without all the powdered sugar and if you sneak a couple extras into your scone basket before the plastic bag comes, they'll blend right in and you'll have dessert to go.
On the dessert side was also an assortment of fresh fruit and cheeses. I like the addition of fruit because it allows me to trick myself into thinking that afternoon tea is healthy.
Extras
Stroll around the gardens before and then again after your afternoon tea. The Huntington has the most beautiful themed gardens and right now the roses are in bloom. And since you have to pay for admission to the Library in addition to your tea, you may as well get your money's worth.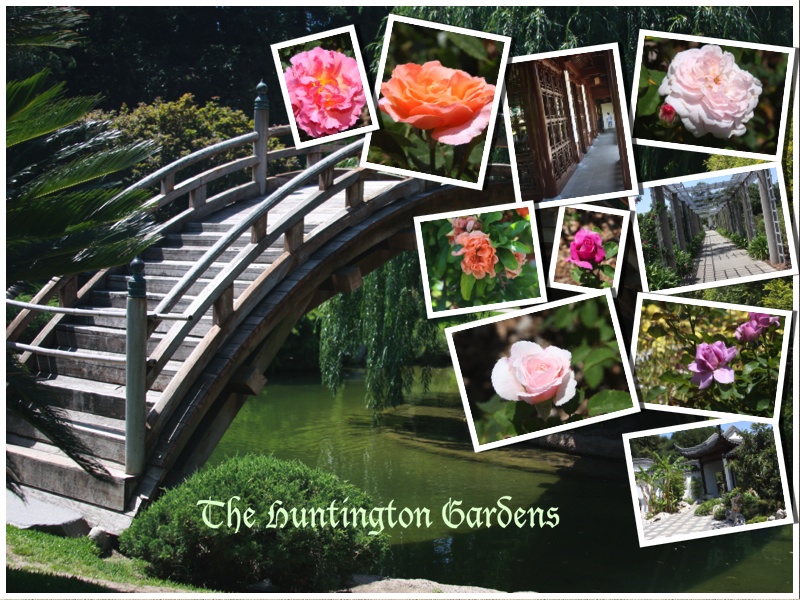 I can officially say that all those who rave about The Huntington Tea Room need to try some of the other places I've reviewed. A few food items stood out as good offerings, but between the buffet style service and the being rushed and pushed throughout the whole meal, this place no where near lives up to its reputation as a must-do tearoom. With so many better tearooms minutes away in Old Town Pasadena, unless you are coming for the gardens, The Huntington can be skipped at no loss.
Visit The Huntington's Rose Garden Tea Room at 1151 Oxford Road, San Marino, CA, 91108. (626) 683-8131. Closed Tuesday. Cost per person $29.50 plus cost of admission to The Huntington Library.