Walt Disney World's The Garden View Tea Room at The Grand Floridian Resort
Afternoon tea is not the first thing that comes to mind when one thinks of Walt Disney World. You think of Mickey and Minnie Mouse, monorails, princesses, and Mickey shaped EVERYTHING. I expected that if there were a tea in WDW, it would be a character princess meal catering to the little ones. So imagine my surprise and delight when I learned that The Grand Floridian Resort—one of the most beautiful hotels I've ever seen—had a traditional afternoon tea! And of course, in Disney fashion, the tea quickly surpassed all previous teas to take the top spot of Favorite Afternoon Tea.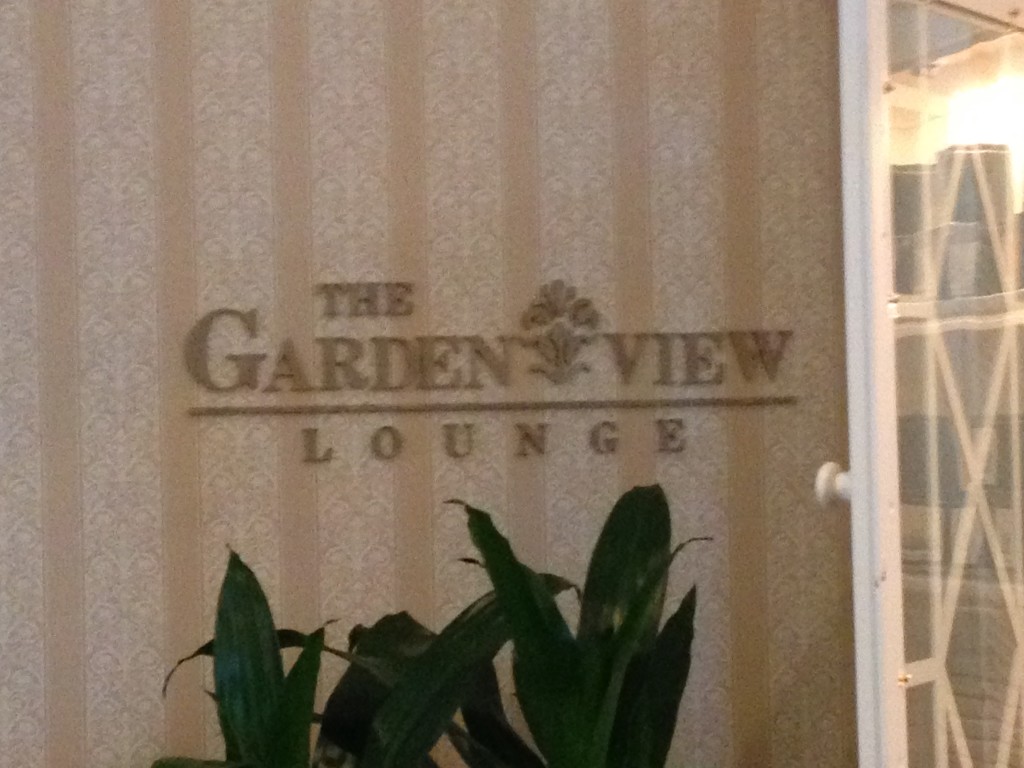 First Impressions and Service
I didn't make the reservations so I can't speak to how difficult they were to get, but I do know you can begin booking your dining 6 months before your arrival in the World. (Travel Tip: Take advantage of that!) We were half an hour early and had no problem getting seated. The lounge also never filled up to where I would call it crowded. Unlike many tea rooms, there was a lot of space in between the individual tables so you aren't bumping elbows with your neighbors and more importantly you feel comfortable having a conversation without feeling eavesdropped on. Quiet but not crushingly so. Be safe and call ahead, but don't rule it out if you haven't made a reservation. It's worth a try to get in.
Our server was Maria and for all of your sakes I hope she still works here because she was amazing. Knowledgeable, attentive without being rushing, great recommendations…and so sweet. No matter what, this was an excellent tea, but Maria made it the best. Great service is something Disney is known for and does extremely well on almost every occasion; afternoon tea was no exception.
Décor
The lounge is at the end of the main hotel building.
The tile directly outside the entrance is adorable marble inlaid characters—Mrs. Potts and Chip from Beauty and the Beast, which is fitting considering you are here for tea.
You walk up a few stairs and you can see the entire resort sprawling in front of you thanks to the entire wall of bay windows. I would've loved to have a table by the window but they seem to be for parties of 4 or more.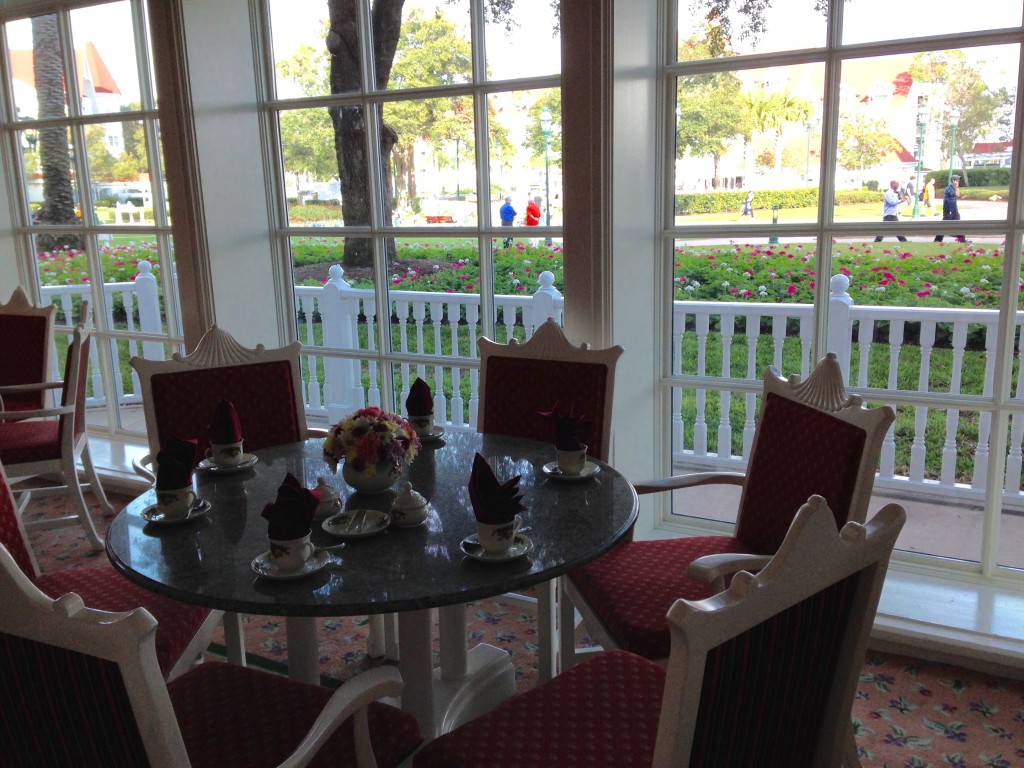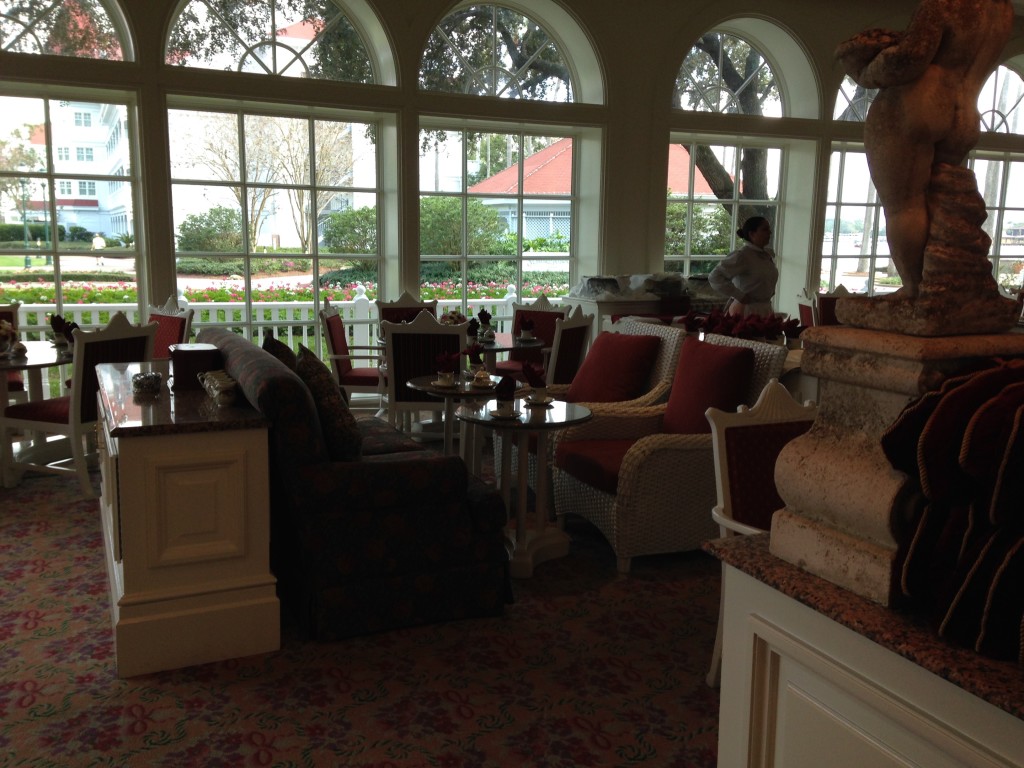 Not to worry though since there is enough room between tables where you can still see the view. The furniture all matches in the hotel's signature white and red. If you've ever wanted to feel like you were in Gone with the Wind, this is your chance. In the center of the room is a banquet table with your scones and cream being kept warm for you. I saw them replaced often enough where you know they are fresh!
Also I'm pretty sure I have that matching china…
Tea Selection
It is quite the extensive tea selection, serving seasonal teas, housemade blends, green and whites, black, oolong, and herbals. Those descriptions make it really hard to choose because everything sounds so yummy, so we went with Maria's recommendation of the Masala Chai alongside our usual Russian Earl Grey. The loose leaf tea is brewed and removed before it arrives at your table, kept warm by a velvet Grand Floridian tea cozy. If you happen to finish your 6 cup pot, don't worry you can ask for more. White sugar cubes and 2% milk are served in matching china.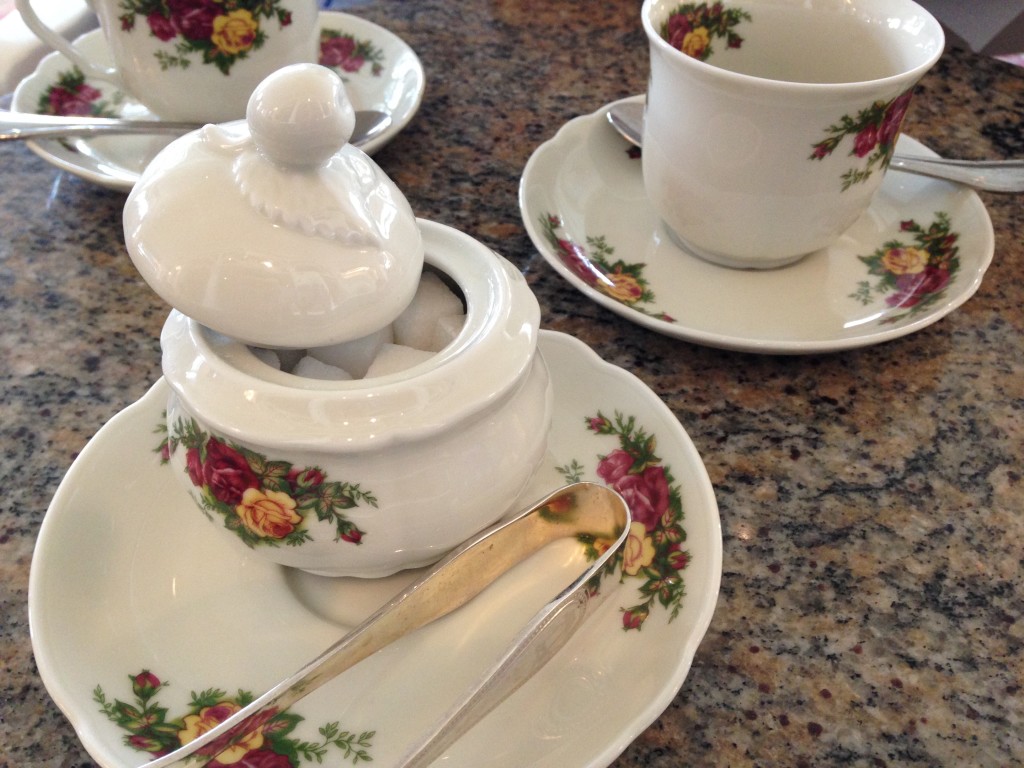 On to the teas themselves! The Masala Chai was quite the sturdy black tea, with a very strong clove aroma. Some teas are smooth and almost creamy; this chai was definitely robust and would hold its own against a bit of milk and sugar. On the other hand, the Russian Earl Grey was very smooth and sweet though not with a vanilla sweet like some Earl Greys are (those are usually labeled as Earl Grey Crème or Vanilla Earl Grey), and the citrus was just a whisper. It was a very elegant and refined Earl Grey that we would definitely order again.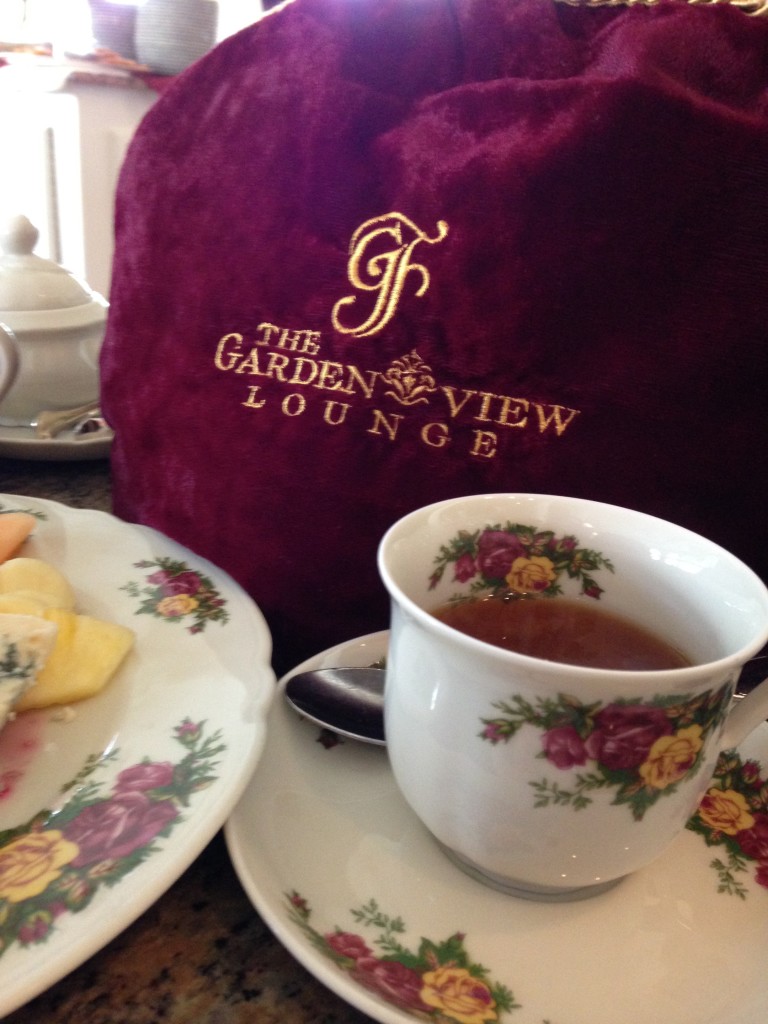 Food
The Garden View Tea Room serves multiple levels of tea services named after counties in England. Per another great recommendation from Maria, we ordered one Bedfordshire Tea and one Cheshire tea. The difference between the two is the Cheshire has an opening course of a cheese and fruit plate that was easily shared between the two of us. Unless you are seriously hungry I would recommend the same. Each service comes with a pot of tea. Other services vary only slightly: The Yorkshire tea (meant for 2) opens with a caviar course and champagne, the Berkshire tea has caviar but no champagne, and the Derbyshire tea has champagne but no caviar. There is also a Mrs. Potts' Tea for the little ones under age 9.
A note before I get into the food reviewing: in between each course, your plates are all removed and replaced by fresh ones so you never have to worry about dirty plates!
First Course: Selection of Exotic Fruits and Imported Cheese
We had fun mixing and matching the fruits and cheeses to find the perfect combinations. The fruit offerings were pineapple, cantaloupe, star fruit (which I found out tastes like a grassy mild apple), kiwi, cactus pear, raisins on the vine, and honeycomb. The blue cheese (St. Petersburg Bleu) was crumbly, sweet, and full-bodied needed a fruit that could hold its own so it was best paired with the cantaloupe and the honeycomb. The brie (Champignon brie) was buttery and creamy. Some bries are rather flavorless but this one wasn't and it worked well with the star fruit of all things; the pear was a complete flavor waste here. The cheddar (5 County Cheddar) was a mild standard yellow cheddar, but with a sweet nuttiness flavor coming out mid-taste. We didn't have a favorite fruit to match here. Overall, the plate was the perfect size for sharing.
Second Course: Finger Sandwiches with Fruit and Cheese
This was quite the extensive sandwich plate that wasn't very sandwich-y. The first, pickled yellow beets and goat cheese on white bread, was disappointing. The bread was actually dense and the flavor of the beets overpowered the goat cheese. I love goat cheese so I had higher hopes for this sandwich. Mother Dearest on the other hand passed over the goat cheese to review the egg salad on white bread for me. She said the bread was soft but not too soft, the egg salad was perfect with just the right amount of mayo, and the green onion taste was a balanced forward flavor. The ubiquitous curry chicken salad on marble bread avoided the sad face list despite the chicken being almost pureed. It is a sweet rather than spicy curry—though it could've used a bit more kick—and the bread was sturdy but not dry. Best part in my book was there was no mayo taste! If you hadn't told me that the cucumber and dill cream cheese was on rye bread, I never would've known it. It was such a light flavor but it was surprisingly good!
The cheddar served here was creamier with more bite to it. Spreading it on the lavash bread (which tasted like a fresh wheat thin) with a grape was OMG YUM. The Irish know what they're doing (it was Irish cheddar). The Sache Derby cheese was also creamy with an herb flavor we couldn't quite place. Lastly on the plate was a one-bite morsel caramelized onion tart. Sweet and creamy with a nice crunchy butter crust…as Mom said: "What's not to like?"
Third Course: Scone and Jam Tart
I don't know if I can even describe this course and do it justice. The golden raisin scone was so fresh and warm that I would actually recommend letting it sit for a minute or two so it isn't so soft it falls apart. But the flavor…I forgot for a moment that I wasn't at The Rose in Oxfordshire (my favorite scone of all time that is unfortunately across the pond). By far the freshest, most authentically British tasting scone I have had in the US. It is served with house made lemon curd, house made strawberry jam, and clotted cream. The lemon curd was too sweet and kind of grainy but the strawberry was perfect. And as for the clotted cream……REAL DEVON CLOTTED CREAM! I am not kidding you, this is the real deal, the amazing thick creamy gold that changes your scone life once you've been to the UK. Now, how did this hotel make such amazing thick creamy gold in the United States? Well we asked the chef (or rather Maria did) and he confirmed my thoughts: Because Disney doesn't half-ass anything, they import the real Devon clotted cream from England to serve here. I nearly cried. A perfect scone with authentic clotted cream will do that to you.
After that overwhelming emotion and deliciousness, you don't care about the basic and sweet pastry shell with a thicker strawberry jam in it.
Final Course: Assorted Pastries and English Trifle
You get your option of dessert courses, so we ordered one pastry plate and one trifle. The raspberry trifle was wonderfully fruity and the cream and fruit soaked sponge was to die for. And can we just pause for a moment and appreciate how adorable the powdered sugar GF is on top? Like seriously.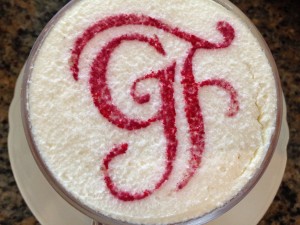 The pastry plate consisted of a standard chocolate éclair with a chocolate cream filling enrobed in more chocolate. Nothing special. A standard white chocolate covered strawberry was also nothing particularly special. But what was special was the orange cream swan. It was so lovely you don't want to eat it, but the dreamsicle-esque light cream filling is worth undoing the work of art.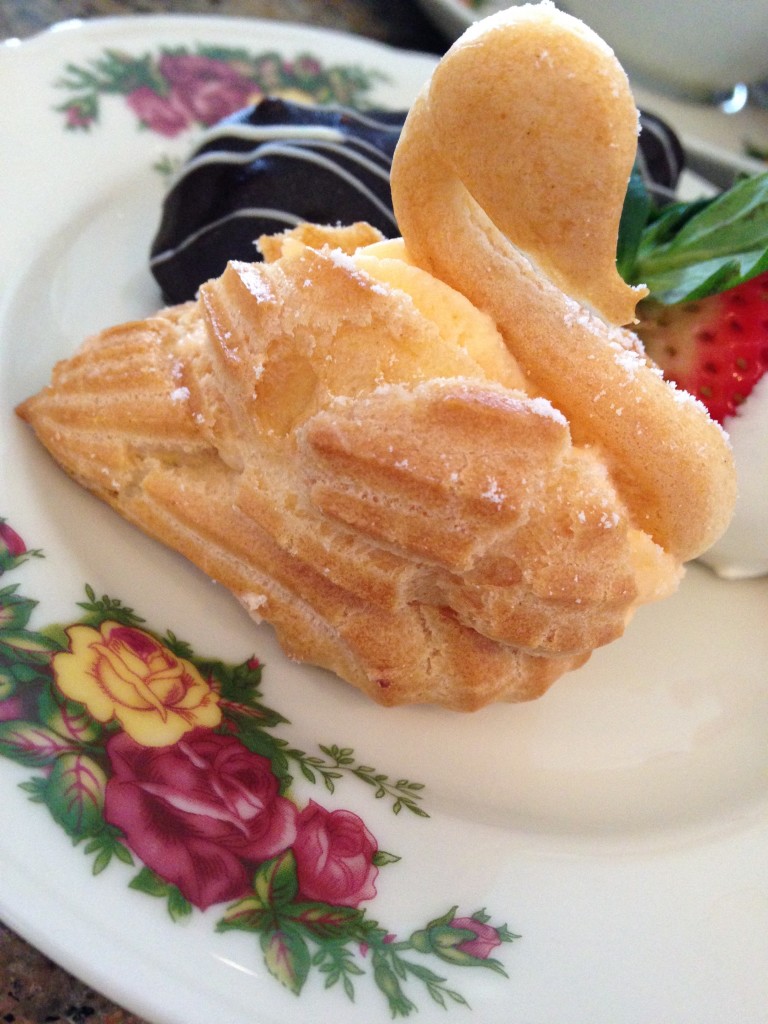 Extras
For a pretty expensive price, you can do a Princess Tea (special reservations required as this is an actual event). You can also buy some of the house blended teas in canisters at the front check in counter. Also of note, you do not have to be a resort guest to enjoy the tea!
This tea was by far a highlight of our trip to Disney World (which is actually kind of unfortunate because we did this our first day) and if I had all the money in the world to spare, I would fly out to Florida just to have this tea again. I can give no higher praise than that. Once again, Disney takes the crown.
Visit The Garden View Tea Room at The Grand Floridian Resort, Walt Disney World. (407) 939-5277 for assistance making reservations. Cost per afternoon tea service: $30-87.50 per person