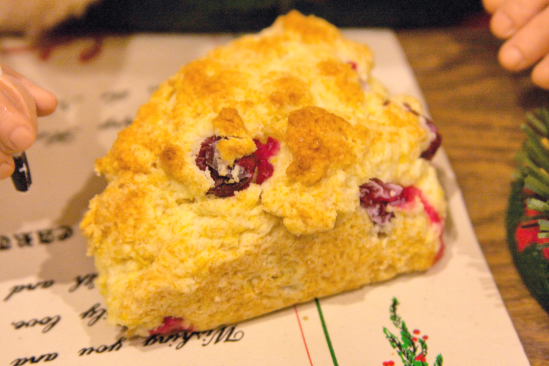 You better watch out, you better not cry, you better not pout, I'm telling you why:
cranberry orange scones on Once Upon an Afternoon Tea today!
I mean, look, even Santa put them on his Nice List.
Cranberry and orange is one of those flavor combinations that is super common because it just works. Like peanut butter and jelly or lemon and poppyseed. It works so well that you see it absolutely everywhere. Every cafe or coffee shop in town seems to have a version of the cranberry orange scone. Some use dried cranberries, others use a cranberry jelly filling, and all of them use way too much sugar. Don't get me wrong, I am all for eating cookies or cake for breakfast–let's be real, the best part about Thanksgiving is the days of leftover apple pie for breakfast after–but when I want a scone, I want it to taste like a scone.
So I set out to make my own version of the classic scone. You'll see pretty quickly that this isn't based on my traditional cream scone. Cranberry orange is one of my dad's favorite flavors of scone (and he isn't a huge fan of British style scones; he prefers the American version), so I wanted to make a version that I knew he would love to eat on a dreary winter morning. As if winter in California is ever dreary!
I dug through the old recipes my mom taught me how to make when I was a kid because there I would find the first scone recipe I ever made. From back before I became obsessed with British scones and British toppings and British everything. I took this plain but delicious breakfast scone recipe and spruced it up with fresh cranberries and fresh orange zest and orange juice. Then I came up against the age old breakfast scone debate: streusel or glaze? Well every coffee shop does a glaze and I had a hunch that the streusel would tip the scone away from the cookie/cake sweetness and towards a more refined breakfast scone.
Needless to say, Dad definitely approved

and he told Santa that as long as I made him Cranberry Orange Breakfast Scones every Christmas, he should keep me on the Nice List.
cranberry orange breakfast scones
Scone
2 cups all-purpose flour
¼ cup granulated sugar
2 tsp baking powder
¼ tsp baking soda
¼ tsp salt
¼ cup chilled unsalted butter, cut into small pieces
¾ cup whole fresh cranberries
zest and juice of ½ an orange
up to 1 cup heavy whipping cream
Streusel
½ cup rolled oats
½ cup packed brown sugar
1 tbsp butter, melted
1 tbsp all-purpose flour
directions
Preheat oven to 450°F.
Combine flour, sugar, baking powder, baking soda, and salt. Cut in butter with a pastry blender, 2 knives, or by hand until mixture resembles coarse meal. Toss in cranberries and zest.
Pour orange juice into a measuring cup and pour in cream until amount of liquid reaches ¾ cup. Slowly add to dry ingredients, combining until mixture is moist and dough is shaggy. Add up to ¼ cup more cream.
Turn dough out onto baking sheet coated with cooking spray. Form dough into an 8-inch round circle. Set aside. Alternatively, divide dough evenly into a triangle scone pan.
In a small bowl, combine all the streusel ingredients. Gently press mixture onto scone disk. Cut dough into 8 wedges but do not separate the wedges. Bake for 12-15 minutes until the tops are lightly browned. Remove from baking sheet or scone pan and serve warmed.