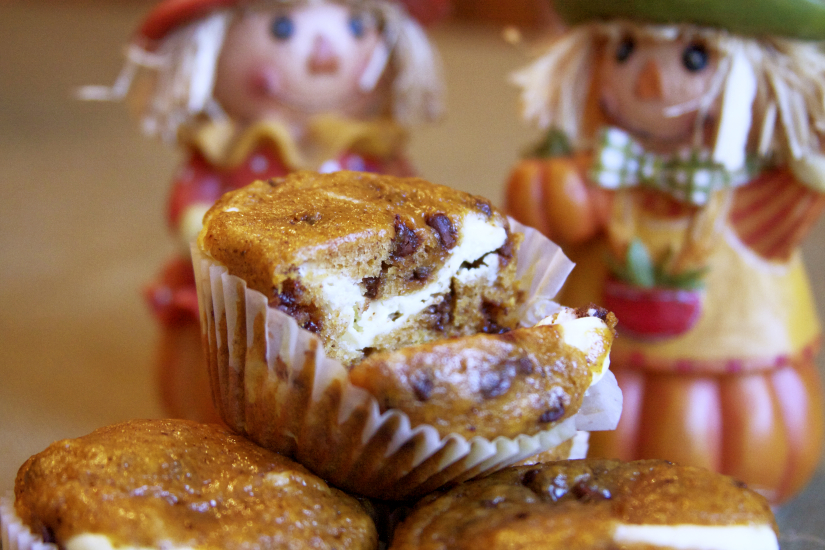 Last year I hinted at a future incarnation of my Pumpkin Cinnamon Chip Cheesecake Bread and I am nothing if not a keeper of promises. Though, this is probably not a promise you all remembered from one little post in November 2014, but just in case one of you did remember and has spent the last 12 months anxiously awaiting that new, equally delicious version of that loaf cake I have now kept my promise!
That previous pumpkin bread recipe was so perfect that it would've been borderline sacrilegious to alter it too much. With a thick, rich pumpkin flavor countered by creamy, tangy cheesecake layer, this bread was an instant favorite for the fall holiday season. And what is the one additional flavor that makes everything better? Yep. Chocolate!
We only needed a few alterations to turn the cinnamon chip deliciousness into chocolate chip yumminess. Obviously swap out the cinnamon chips for chocolate chips (mini semi sweet, regular semi sweet, and dark chocolate all work well). Alter the spices ratios a bit. Attempt not to eat the whole batch at once…oh that's not a recipe change? Well it should still be noted.
Again this base pumpkin bread recipe is dense, so it can withstand a strong contrasting flavor of cheesecake. But even though it is sturdy, the cake remains moist and almost gooey from the quadruple threat of eggs, applesauce, oil, and pumpkin. Make sure all your ingredients are at room temperature before you start (most importantly the cream cheese). And then when you take the loaves out of the oven, let them come completely to room temperature before removing them from the pan or else they might break under their own gooeyness. Feel free to lay that cream cheese layer on thick; you definitely won't run out!
This recipe makes enough for 2 large loaf pans or 36 muffins, or 1 loaf pan and 18 muffins.
pumpkin chocolate chip cheesecake bread/muffins
ingredients
Pumpkin Bread:
1 can (15 oz) pumpkin puree
4 eggs
½ cup vegetable oil
½ cup natural unsweetened applesauce
2/3 cup lowfat milk
2 tsp. vanilla extract
1 ½ cups sugar
3 ½ cup flour
2 tsp. baking soda
1 1/2 tsp. salt
3 tsp. cinnamon
2 tsp. nutmeg
½ tsp ground cloves
1/2 tsp. ginger
1 cup mini chocolate chips, regular chocolate chips, or dark chocolate chips
Cheesecake Filling:
16 oz. cream cheese, room temperature
1/4 C. sugar
1 egg, room temperature
1 Tbsp. milk
 directions
Preheat oven to 350°F. Spray your pans of choice with nonstick baking spray. (I did one loaf and 18 muffins.)
In the bowl of a stand mixer or in a large bowl by hand, combine pumpkin, eggs, vegetable oil, applesauce, vanilla extract, and sugar. In a separate bowl, whisk together the flour, baking soda, salt, cinnamon, nutmeg, cloves, and ginger.
Add the wet to the dry ingredients, folding in until just combined and there are no more streaks of flour. Stir in mini chocolate chips.
Back in the stand mixer, beat the cream cheese, sugar, egg, and milk together until smooth and fluffy.
If using a loaf pan(s): Pour some batter into the bottom of the pan, about ¼ of the way up the pan. Cover with a layer of cheesecake filling. Spread it out as much as possible over the pumpkin batter. Repeat layers with batter, cheesecake, and batter again, filling the pan 2/3 to ¾ of the way. 6. Filling: Beat cream cheese, sugar, egg and milk together until smooth.
Bake loaf pans for 60-80 minutes (mine took 65) until an inserted knife comes out clean. You may have some chocolate smears but that doesn't mean it isn't done! Use your baking judgment. Remove to a wire rack to cool before turning out onto serving plate.
If using muffin tins: Spray the muffin tin cups fully! Muffins will probably stick to a liner (mine did). Fill each muffin cup about 1/3 of the way full with pumpkin batter. Spoon in a scoop of cheesecake filling. Top with another spoonful of the pumpkin batter to about ¾ of the way full.
Bake muffin tins for 15-18 minutes (mine took 17) until a toothpick inserted into the center comes out clean. The toothpick may have chocolate and cheesecake smears but are still baked through. Remove to a wire rack to cool before removing from muffin cups.