When I was a kid, I always loved banana splits. (Hold on Mom, I know I never had banana split, I'm about to clarify.) Or more accurately (see what I did there, Mom?) I loved the idea and the look of banana splits. I'm pretty sure it all had to do with my favorite Curious George book and the massive ice cream sundae that adorable monkey made.
I'll admit, I still have never had a true banana split. I did finally have banana split flavored ice cream and loved it, so I'm going to assume it's basically the same thing. It's the banana split that was the original inspiration for this cake, until I forgot a few of my planned modifications and turned a banana split cake into…Vanilla Cake with Strawberry Banana Filling. Just goes to show you that sometimes mistakes still result in a delicious cake. (And I'm not giving up on my banana split cake, just you wait.)
Fun fact about this cake: This was my first cake sold in the US! I baked and sold a few breakfast cakes in my favorite coffee shop in England, but this is the first time I had a cake on display in a coffee shop here in LA. Steampunk Kitchen and Coffee Bar, of the standout afternoon tea fame, became the home of the Vanilla Cake with Strawberry Banana Filling, but only for a short while as it was all sold by 2 pm. Thanks for the encouragement and support Steampunk!
This cake does have a fair number of steps when it comes to assembly, but I promise the baking part is nothing more challenging than my found-tried-and-true vanilla cupcake recipe and vanilla buttercream frosting. I've put in step-by-step assembly pics for you!
Here it is: a delightful mistake? A twist on a classic flavor combination? Doesn't matter, just grab a fork and get ready to smile!
vanilla cake with strawberry banana filling
ingredients
INGREDIENTS FOR CAKE
5 cups (630 grams) cake flour
1 ½ tsp baking powder
¾ tsp baking soda
1 ½ tsp salt
1 ½ cups (3 sticks) butter, melted
3 cups (600 grams) ultrafine baking sugar
3 eggs
¾ cup (180 mL) vanilla Greek yogurt
2 ¼ cup (540 mL) milk
6 tsp vanilla extract
chopped or sliced strawberries
2 sliced bananas
1 bag mini chocolate chips
INGREDIENTS FOR FROSTING (makes one batch)
¾ cup unsalted butter, softened
3-4 cups sifted powdered sugar
3-5 tbsp heavy cream
1 tsp vanilla extract
pinch of salt
directions
Preheat oven to 350°F. Prep three 8-in round cake pans with shortening spray (nonstick baking spray), parchment paper, and wet cake straps.
Make the cake batter in three batches (trust me). For each batch, whisk 1 2/3 cup (210 grams) cake flour, ½ tsp baking powder, ¼ tsp baking soda, and ½ tsp salt together in a medium mixing bowl. In the bowl of a stand mixer with the whisk attachment, whisk together ½ cup (1 stick) melted butter, 1 cup ultrafine baking sugar, 1 egg, ¼ cup yogurt, ¾ cup milk, and 2 tsp vanilla extract. Whisk until well combined. Slowly add the dry ingredients, scraping down the sides as needed, combining until no lumps remain.
Pour 2 ½ cups cake batter into pan. Repeat with remaining 2/3 of the ingredients. You can use the leftover batter to make a few mini cupcakes. Bake for 25-30 minutes until a toothpick inserted into the center comes out clean. Remove to cool on a wire rack for 10 minutes. Then place in the refrigerator to cool fully before frosting.
Make the frosting. Beat the softened butter in the stand mixer for 1 minute, until fluffy. Add 3 cups powdered sugar and beat for an additional minute. Add the heavy cream, vanilla, and salt and beat on high for 2 minutes. Add additional cream to thin out this batch of frosting (to frost the entire cake you'll need a second, thicker batch).
Assemble the cake. Remove the cakes from the refrigerator, turn out onto cutting surface. Trim the tops of the cakes so they will stack evenly and straight. Place one cake layer on a board. Spread a thick layer of the thinned batch of frosting over the cake, then top with half the strawberries and 1 sliced banana. Repeat with a second layer of cake, frosting, and fruit. Top with final cake layer.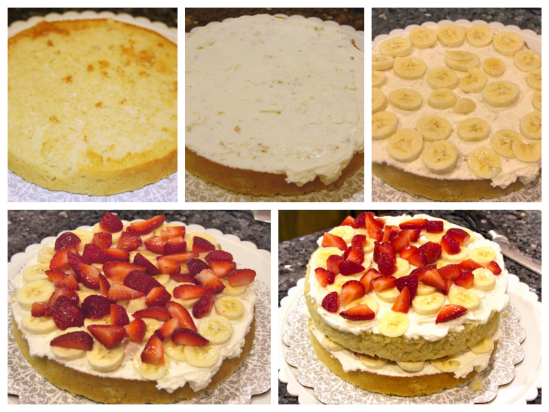 Use the remainder of the thinned frosting to crumb coat the cake and fill in any holes. Place assembled cake back into the refrigerator so the crumb coat will harden while you make a second, thicker batch of frosting.
Apply a thick layer of frosting smoothly over the cake. Press mini chocolate chips onto the sides of the cake. Decorate with remaining frosting and fruit as desired!