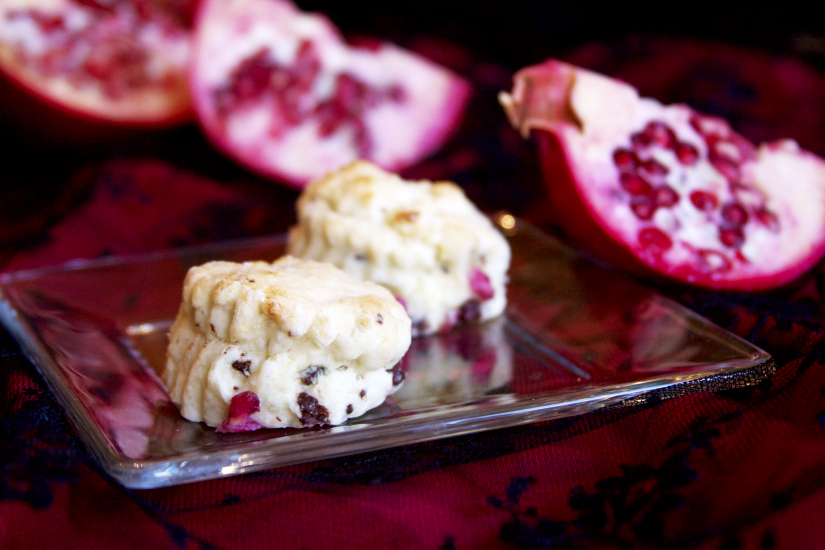 Feeling a little inundated with cookies right about now? Between Christmas parties, office afternoon teas (is it just my dad's office that does that?), your holiday traditions, and yes I'll admit to some blame myself, you have been surrounded by cookies for weeks now! Cookies are delicious and traditional for this time of year, but I totally understand needing a moment to step away from the cookie sheets. I won't judge. In fact, I'll join you! I'll join anything to have another batch of these pomegranate dark chocolate scones.
I mentioned EONS ago that I wanted to try these Chocolate Covered Pomegranate Scones with fresh pomegranate arils instead of the pomegranate flavored fruit jelly covered in dark chocolate. So as soon as "winter" hit, I traipsed to the stores to buy packages of pomegranate arils. Okay fine! You caught me! The girl who refuses to make anything from a box mix, who insists on candying her own pecans and making her own salted caramel from scratch, bought pomegranate arils already removed from the juicy pink fruits. But, in my defense, have you ever tried to get those arils out of a fresh pomegranate? Magenta juice gets everywhere and stains everything; the time ticks away faster than you think it will as you try to remove every little seed from its white protection. And the number of arils seems never ending. It took me an hour once to de-aril a pomegranate.  Never again. I'll take this one shortcut thank you very much.
The pomegranate flavor is much more subtle when you are using actual arils instead of the candy version. Think of a mildly acidic red berry. Combine that with the rich, luscious creaminess of dark chocolate. Put it in a scone. Sophisticated, no? Yes, these scones definitely fall into the sophisticated category. Kids tend not to like the little seed-like centers of pomegranates, but adults appreciate the balanced combination of pomegranate and dark chocolate.
These scones are perfect for any afternoon teas you might be hosting before the holidays, and really all winter long. And they actually make a nice addition to your cookie gift boxes. I am always making up boxes of cookies for family and friends and even mild acquaintances this time of year, and if you make these scones with the 5 cm cutter I usually use, they are the perfect size to package right along with the cookies we've been making! Scones are a nice break from the super-sweet and strongly flavored cookies and adding two or three to the box will definitely make yours memorable!
Keep toppings simple, creamy, and light. A small lashing of clotted cream or lightly sweetened/unsweetened whipped cream will suffice and delight.
pomegranate dark chocolate scones
ingredients
200 grams all-purpose flour (about 1½ cups + 2 tbsp)
2 tsp baking powder
¼ tsp salt
50 grams ultrafine baking sugar (about ¼ cup)
½ cup chopped dark chocolate chips
3/4 cup fresh pomegranate arils
150-225 mL heavy whipping cream
 directions
Preheat oven to 220°C (450°F). Place rack as high as possible in oven. Line a baking tray with parchment paper and set aside.
Sift flour, baking powder, and salt together in a medium sized mixing bowl. Add the sugar, pomegranate arils, and dark chocolate, mixing until well distributed.
Add 150 mL cream then work in by hand by rubbing in the cream trying to incorporate as much air as possible until fully mixed. DO NOT OVERMIX. If the mix is too dry, now add the extra cream until the dough is wet enough to hold together.
Place dough on a heavily floured surface and knead a couple of times until relatively smooth. Pat down to desired height (we did about ½ inch). Cut out 5 cm circles with a crimped scone cutter and place on the baking tray. HINT: dip the cutter in flour before cutting out each scone. Knead the extras back together and repeat until most of the dough is used up.
Bake for 8-12 minutes (we did 10) until they have risen and are slightly browned around the edges and on top.