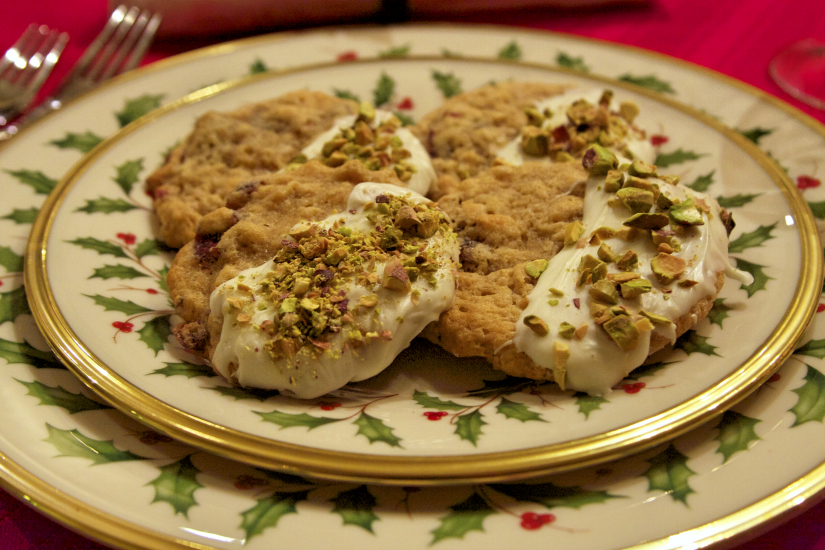 Wow. Four cookie recipes (I'm counting the peppermint bark since remember our gluten-free cookie sneakiness?) in a week. Come to think of it, have I ever posted four recipes that quickly? Must be all the sugar I'm consuming in testing these recipes that has me writing at the speed of the convection oven. Regardless, these cookies have been and will be all delicious so it's totally worth the Costco sized block of butter you'll go through making all of them.
Butter=Deliciousness. Mathematical proof right there.
Last year I tried out a basic oatmeal cookie filled with white chocolate chips, chopped pistachios, and dried cranberries. Sounds like it'd be a  lot of conflicting flavors overwhelming each other, but somehow they all worked together. Best bites were definitely the ones where you got all three mix-ins in one bite. But this year, that just seemed too…simple. Anyone can throw chocolate, nuts, and fruit into a cookie and call it a day. It'll be one of the yummiest days of your life, true, but where is your sense of adventure? Your desire for difference? Your craving for creativity? Your need to overcomplicate everything?
Channel all that realness into these multi-step and gorgeously decorated variation on that simple cookie idea. Put the chocolate and nuts aside for now. Start with a basic but perfectly soft and chewy oatmeal cookie with tart dried cranberries. If you want plainer cookies, feel free to stop there. I wouldn't turn my nose down at a cranberry oatmeal cookie. But you want to move on? Okay.
Melt the white chocolate just like we did with the peppermint bark bites at the beginning of this recipe marathon. Spread it all over half of the red-studded cookie and quick! Before it dries sprinkle on those pistachio pieces we set aside too. Once they dry, you have a wonderfully red, green, and white cookie with one of the best presentations you will ever see. If you brought these to a party or cookie exchange, no one would believe you that they are homemade. Until they tried one and realized they were too fresh and buttery and creamy and delectable to have come from a store.
The flavor combination is definitely a mature, complex taste, which makes it a welcome foil to the simply sweet and plain sugar cookies we see so often this time of year. I love my traditional and simple cookies–as you can and will see this month–but sometimes a girl wants to feel sophisticated and gourmet, and what better way to do that than smothering a cranberry oatmeal cookie in melted white chocolate and chopped pistachios? I'm feeling more mature already.
white chocolate and pistachio dipped cranberry oatmeal cookies
ingredients
1 cup unsalted butter, room temperature
1 cup packed brown sugar
1 cup granulated sugar
2 tsp vanilla extract
3 eggs
½ tsp salt
2 ½ cups all-purpose flour
2 tsp baking soda
2 cups rolled oats
1 cup dried cranberries
12 ounces white chocolate
1 tsp canola or vegetable oil
2/3 cup chopped pistachio meats
directions
In the bowl of a stand mixer fitted with the paddle attachment, cream butter, sugars, and vanilla extract until light and fluffy. Add eggs, one at a time, beating each one until it is fully incorporated before adding the next one. Scrape down the sides as needed.
In a medium mixing bowl, whisk together the salt, flour, and baking soda. Add to the butter mixture in two parts, mixing until well incorporated. Add the oats. Stir in the cranberries.
Chill the dough for at least 1 hour.
Preheat oven to 350°F (175°C). Line up to 4 baking sheets with parchment paper. Drop 1 ½ tbsp sized balls of dough a few inches apart on the baking sheets. These cookies will spread! Bake for 12-15 minutes until the edges are golden but the centers still look a little underbaked. Cool on baking sheets for 3-5 minutes until cookies have set before removing to a wire rack to cool completely.
Line a work surface with wax paper. In a medium glass bowl, combine the white chocolate and canola oil. Microwave for 15 second intervals, stirring vigorously with a rubber spatula in between, until the chocolate has melted and is stirred smooth. Use the spatula to cover half of the cookie with the white chocolate (as if it is frosting) and immediately sprinkle with chopped pistachios.
Let white chocolate set completely before storing or serving.