Growing up, apple pie was my favorite dessert. Yeah I'd eat cake or cookies or ice cream, but if you put a slice of apple pie in front of me, you'd be my best friend for life–or at least until someone else gave me a slice of pie. My love even went as far as having an apple pie instead of a birthday cake for my 13th birthday party.
I should have made this cake that day, since it is the best of both worlds, a hybrid of apple pie and the best cake I've ever tasted. And I make a lot of cakes. If only I had come up with this recipe back then! Alas I wasn't such a crazy baker back in my tween years so I had to wait a decade to develop the perfect apple pie cake.
I was going to wait to post this cake after the rest of my queue of recipes, but it has been so well-received by taste testers that I couldn't hide this deliciousness any longer. I know pies are more traditional for Thanksgiving, but this cake is PERFECT. for your dessert course. The cake itself is light and soft while the apple filling adds some texture and spice. It's like sticking apple pie filling in the middle of a cake and topping it with cinnamon roll liquified into icing. Oh yeah, did I mention that this frosting in a cinnamon cream cheese frosting? OHMIGAWD IT'S SO YUMMY. And it requires a lot of taste testing to make sure the frosting is juuuust right (or at least that's what I told my mom when I got caught stealing swipes of frosting multiple times).
Let's talk for a second about the cake itself: I took my basic vanilla cake recipe and doctored it up a bit, a little sugar swapping here, a dash of cinnamon there, and oh let's just grate and throw an entire apple into the batter as well. 'Cause we can. You'd think that the apples would make the cake denser or weirdly textured like the carrot shreds in carrot cake, but this cake stays fluffy and delicate and extra moist thanks to the liquid in the apples. The apples and brown sugar caramelize in the oven and add a richness to the usual sweetness of my vanilla cake recipe.
Then we create a barrier of that drool-worthy frosting so that the apples we have cooked and are about to drop on top of the cake don't spill out the sides. And who is going to complain about more of that frosting??? Exactly. No one. You're more likely to find that your extra frosting has been stolen and someone has it hooked up to their veins via IV. Cream Cheese Frosting Addicts.  Be kind to them, and be generous when "crumb coating" the in-between parts of the cake. You have plenty of frosting and none of it should go to waste.
You can make this cake into a layer cake like I did in the pictures, or you can bake it in two 9×9 square baking pans (like the metal ones you'd bake brownies in) and turn it into two single layer "sheet cakes". Spread more of the frosting on the top of the cake and use a decorative tip to make a "fence" around the cake before pouring on the apples. I even did it with mini squares cut from the bigger cake!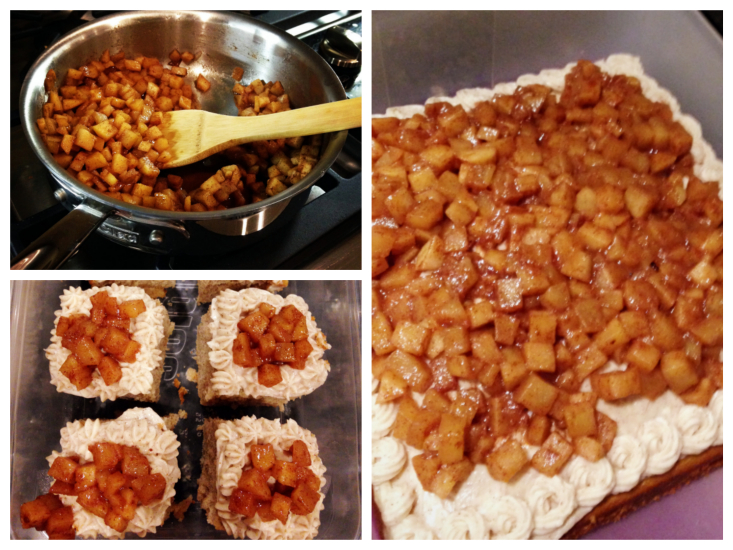 Make this cake on Thursday and everyone will have a Happy Thanksgiving, including 13 year old Me.
apple layer cake with cinnamon cream cheese frosting
For the cake:
3 1/3 cups (420 g) all-purpose or cake flour
1 tsp baking powder
½ tsp baking soda
1 tsp salt
1 tbsp cinnamon
1 cup (2 sticks or 230 g) unsalted butter, melted
1 1/3 cups (267 g) granulated sugar
2/3 cup (133 g) light brown sugar
2 eggs
½ cups (120 mL) vanilla Greek yogurt (you can also use plain Greek yogurt or regular yogurt)
1 ½ cups (360 mL) lowfat milk
4 tsp vanilla extract
1 apple, peeled and grated (I used honeycrisp but Granny Smith would also work)
For the filling:
1 ¼ lbs apple, peeled and chopped into 1/3 inch pieces
2 tbsp granulated sugar
½ tsp cloves
½ tsp nutmeg
1 tsp cinnamon
2 tbsp butter
For the frosting:
2 (8 ounce) packages full fat cream cheese
½ cup (1 stick) unsalted butter, softened
1 tsp vanilla extract
2 cups confectioners sugar
1 ½ tsp cinnamon, more to taste
Make the Cake: Preheat oven to 350°F. Prep two 8-in round cake pans with shortening spray (nonstick baking spray), parchment paper, and wet cake straps.
Grate one apple using a food processor or by hand (because my mom is a bada**).
Whisk cake flour, baking powder, baking soda, salt and cinnamon together in a medium mixing bowl.
In the bowl of a stand mixer with the whisk attachment, combine the two sugars, making sure that there are no clumps of brown sugar. Add in the melted butter and whisk on medium until combined. Then add the vanilla extract and yogurt. Mix again until combined. Lightly beat the two eggs; whisk those in as well. Finally add the milk while whisking on medium. With each additional ingredient, make sure to mix until just combined and then stop. The key to fluffy cakes is not over-mixing.
Slowly add the dry ingredients to the wet, scraping down the sides as needed, combining just until no lumps remain. Again, be careful not to over mix. Fold in grated apple.
Pour 3 cups cake batter into each pan. Bake for 25-30 minutes until a toothpick inserted into the center comes out clean. Remove to cool on a wire rack for 10 minutes. Then place in the refrigerator to cool fully before frosting.
Make the Filling: Toss chopped apples in the spices. Over medium heat, melt 2 tbsp butter in a sauté pan. Once melted, add the apples to the butter and continue cooking for 3-5 minutes until apples have softened but not turned to mush.
Make the Frosting: Beat the cream cheese, butter, and vanilla until well combined. Add cinnamon. Slowly add confectioners sugar until the frosting is fluffy to your desired consistency. Continue to add cinnamon to taste.
Assemble the Cake: On a cardboard cake circle, place the first cake layer. Using a serrated knife or a cake leveling tool, level the top of the cake. Crumb coat the top with a moderately thick layer of your frosting, then pipe a thick border around the circumference of the cake top. Spread the apple filling inside of the border
Level the next cake layer and crumb coat the top. Place that layer—crumb coated side down—on top of the apple filling. Crumb coat the entire cake. Place in the refrigerator for 10-15 minutes to harden the crumb coat.
Once the crumb coat has hardened, use the remaining frosting to get creative and decorate your cake!
Alternative serving: Instead of 2 circular cake pans, divide batter evenly between two 8×8 square baking pans. Bake for 35-40 minutes until the middle is baked through and the edges are golden brown. Frost as desired.