It all started when some friends and myself needed food after a round of mini golf and found ourselves driving past a tearoom that wasn't on my To Review list. So when my best friend and fellow tea aficionado came back from a trip to England, what better way to catch up than over afternoon tea at this little find?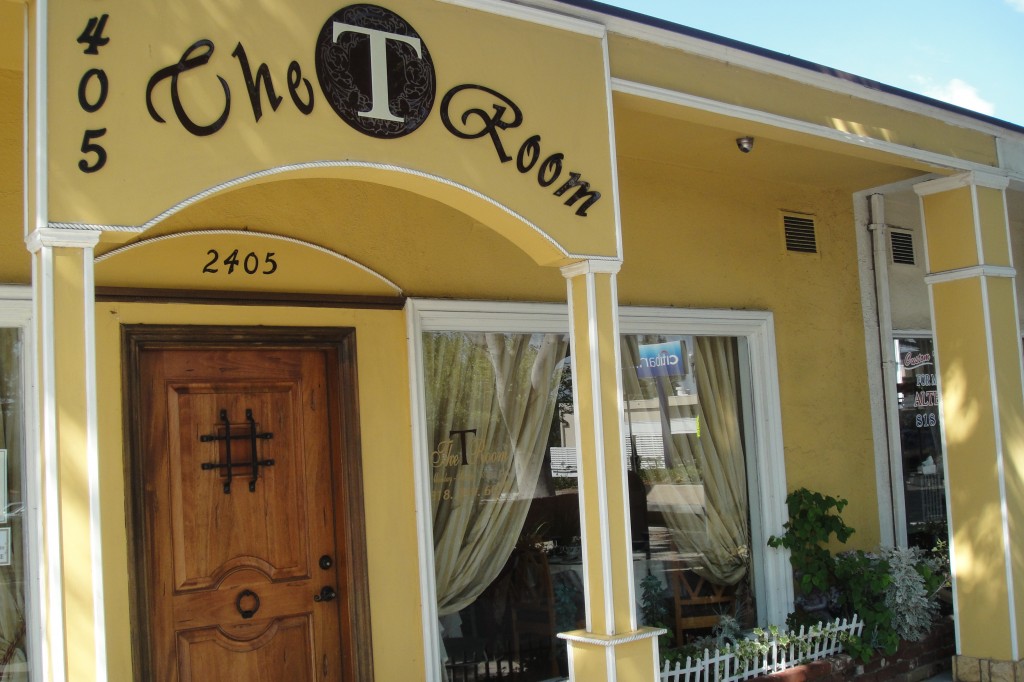 First Impressions and Service

One of my favorite parts about being a blogger and reviewing tearooms is talking to the owners and learning their stories and philosophies. The T Room in Montrose has a pretty sweet story. It all began when the owner's mother emigrated from Russia a decade ago. The mother opened up a catering company, which soon transitioned into the bakery and tearoom now run by her daughter, The T Room. What sets The T Room apart from the other tearooms is its intense dedication to homemade everything with organic, natural ingredients. Every ingredient used is certified organic. Also they use no corn syrup of any kind and no sugar except on the table to sweeten tea; all their sweetness comes from agave syrup.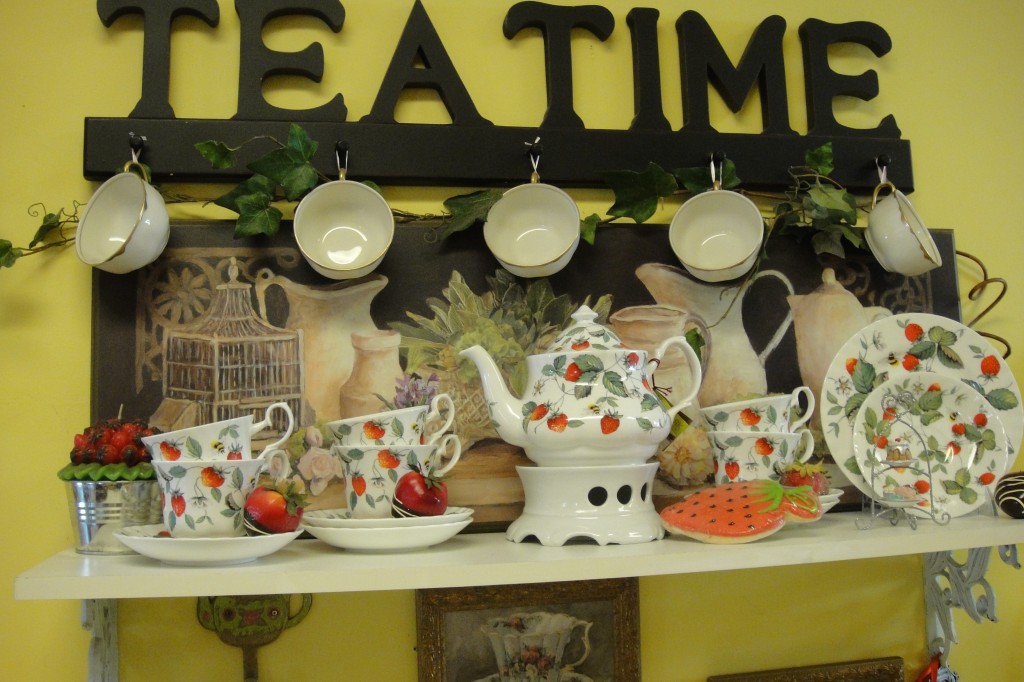 We made a reservation, of course, but really didn't need to. At 2:15 on a Tuesday afternoon they were basically empty. They close at 4 pm though, so I recommend getting there no later than 2:30. As there were only two parties there including ours, the only server was the owner herself. Having such an empty room allowed us plenty of time to chitchat, learn about the tearoom, and ask all my annoying questions about food and tea. I'd like to come back when they are busier to see how they handle a rush. And please, on a hot day turn on the air conditioning. It became too warm in the empty room.
Décor
Décor may be my favorite out of all the tea places I've been to. The walls were a cheerful but not overpowering yellow and all the wall hangings and decorations were these adorable tea sets and classy green vines. White tablecloths, matching china (each table's china matched each other but each table was different from the others), and wooden chairs made the dining room perfectly blend elegance and kitsch.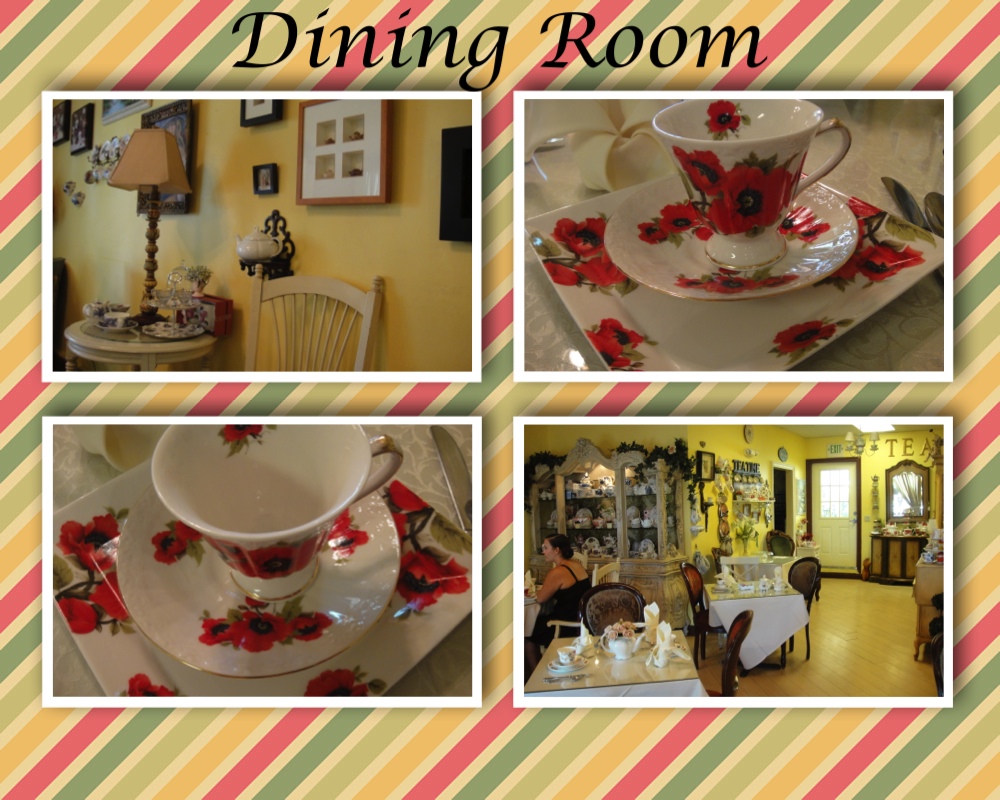 This tearoom's décor was more French inspired than garden or British, so that explains why it was classy but not overpowering. Many tearooms look like they were designed by the girliest five year olds, but The T Room was perfect. It was so a highlight to walk around and check out the tea sets, the decorations, and the little other surprises like candles shaped like cupcakes!
And all the decorations are for sale. I was sorely tempted to buy a new teacup, but I refrained.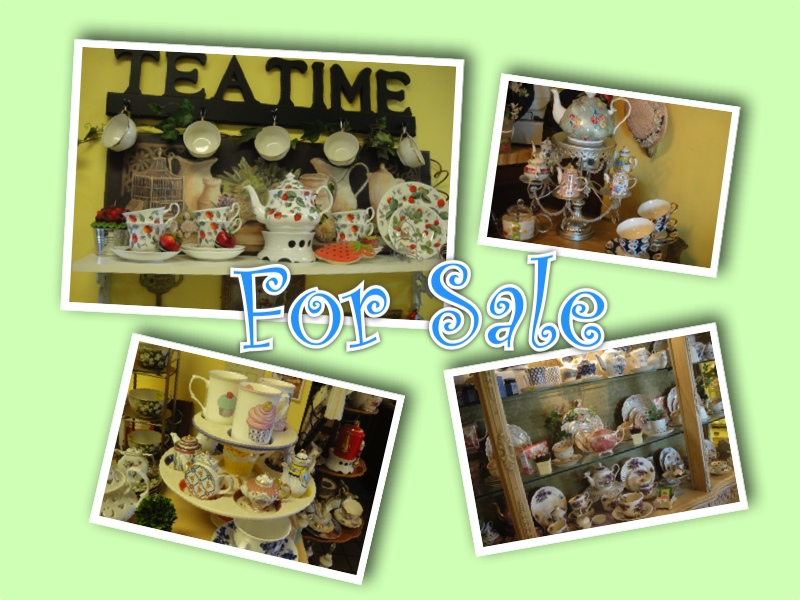 There was a stunning outside "garden patio" that is the perfect location for larger parties. If it wasn't so warm out that day I would've begged for an outside table. This hanging wall piece of a tea pot with cutlery and cups was a favorite for me and my friend. The outside was such a perfect little outdoor French café.
Tea Selection
When I said there is a focus on organic everything, that included the teas. They blend their own Earl Grey in house to ensure that the bergamot flowers and the assam tea are both organic! Their selection consists of a handful of each green tea, white tea, black tea, fruity black teas, herbals/decaf teas, and some extra exotic flavors. Every tea is blended in house from ingredients sourced directly from the tea plantations. So the coconut tea had actual flakes of dried coconut in it! We settled on three teas we picked out and one selection from the owner. All the teas were brewed loose leaf and tea leaves removed before serving so it was never overbrewed! Bonus points to The T Room.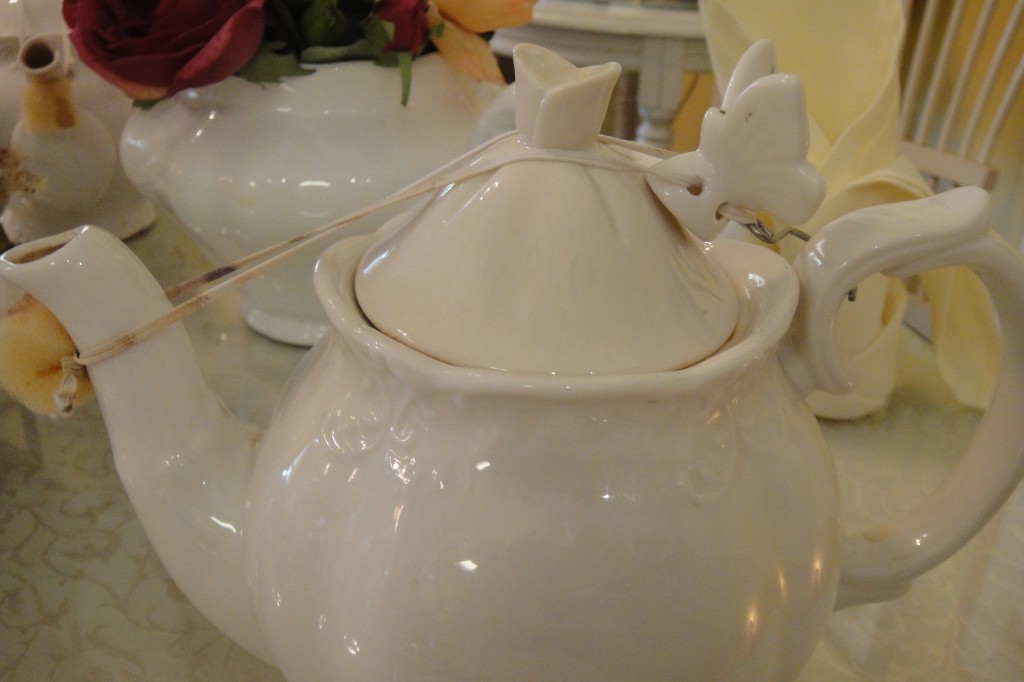 The Blue Earl Grey was definitely off. It had almost a coconut note to it, which Earl Grey definitely does not have, but when we smelled the leaves they smelled like legitimate Earl Grey. Brewed, though, it did not taste like Earl Grey in the slightest. I honestly think there was a mix-up in brewing that tea. The Coconut Black Tea was my friend's pick, and since this one was supposed to have coconut it was a great tea. Usually coconut is a flavor found with white tea, so it was a delightful change to have it with black tea instead. Once you added milk and a little bit of sugar, it had a delicious toasted coconut taste. Highly recommended.
My choice was the Strawberry Vanilla Black Tea, and please drink this tea plain! The vanilla didn't overpower the strawberry—so common in vanilla flavored teas—and it perfectly toed the line between light and strong. This was my favorite out of all the teas we tried. The last one, chef recommended, was one of the exotic teas: Mauritis. This was a smoked black tea with vanilla essence, and the vanilla came across really well. I don't like smoked teas usually, but this one was more subtle so I enjoyed it. It's really strong so add milk and sugar.
Food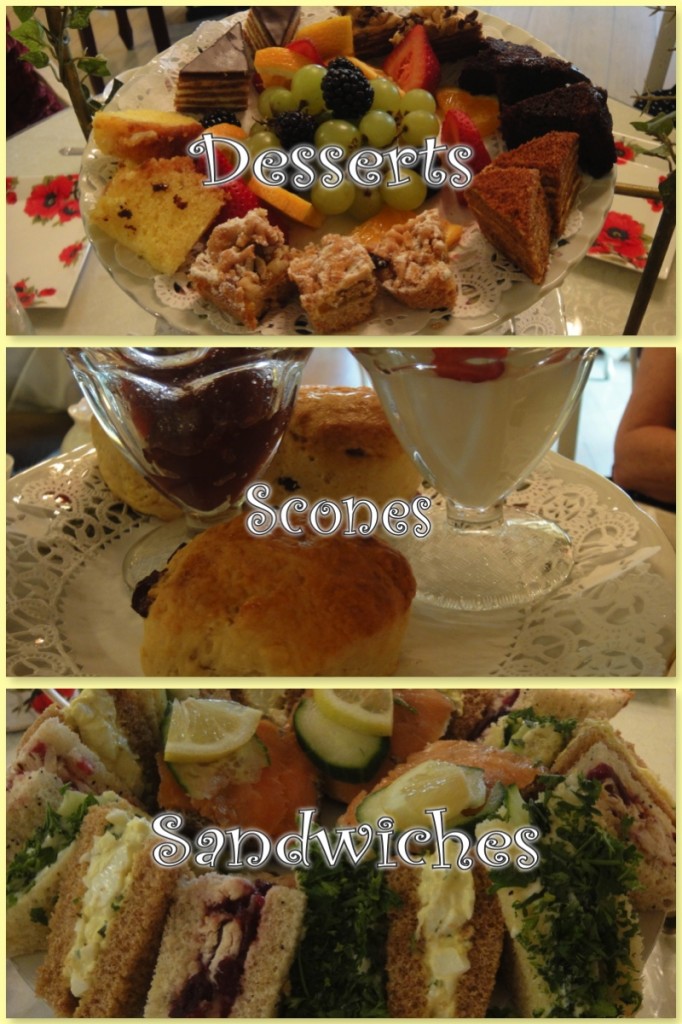 There are two options for a traditional afternoon tea: Queen's Tea geared for adults, and the Prince and Princess Tea aimed at children (think Nutella sandwiches and PB&J finger sandwiches). Soups, salads, sandwiches, desserts, and a kids menu are offered a la carte. One pot of tea is included. The menu is preset. Presentation deserves a gold star as everything was beautiful!
Sandwiches
First off, the sandwiches were a standout. Everyone agreed that they were probably the best sandwiches we've had at a tea. I'd come back just for them! Mom and my friend "took one for the team" and gave me notes on the egg salad on the fluffiest wheat bread you'll ever taste. The eggs are marinated in lapsang souchang before being mixed with the perfect amount of light homemade mayonnaise and chives. The tea added an interesting flavor layer to the egg salad as well as thinning out the mayo enough where it wasn't too much.
The chicken salad with lingonberry is a sandwich I would come back for by itself, and that's with it having a little bit of mayonnaise on it. This sandwich was amazing: all white meat, chunked not pureed, with the perfect amount of lingonberry spread. Lingonberry was a great choice, less tart and overpowering than cranberry, but a delicious complement to the chicken. And did I mention the bread is super fluffy and soft and to die for?
I could eat their smoked salmon on pumpernickel for the rest of my life. The salmon literally melted in our mouths. Everything on this open faced sandwich was in perfect proportion. The only way my friend and I could describe it: "It is stupid good."
This bread, again, oh my goodness! Fluffy potato bread, white wine marinated cucumber slices, whipped cream cheese, and a garnish of parsley and chives were gobbled up in two bites. The herbs added a wonderful herbaceous note that is so often lacking in cucumber sandwiches (you'd think they'd be simple and easy, wrong!). Too much cream cheese, but the cucumber slices were the perfect thickness.
Scones
Here, my heart broke. First we were instructed to eat the scones first because they had just come out of the oven and who could turn down a fresh baked scone? As a supporter of etiquette and the proper order of afternoon tea, that was an understandable but big no-no. Savories are always first, then scones, then dessert. We obliged though, and were still disappointed. The scones had no flavor. They were supposed to be cranberry and orange peel, but even my plain scone recipe has more flavor than these did. They were also too dry, thus requiring "clotted cream" and jam. The jam was great, but the "clotted cream" was more of a crème fraiche than even whipped cream. Now the tangy cream went great with some strawberries, and when smeared on a scone half with red fruit jam it was okay, but for a place that excelled so much at the sandwiches, I expected more from the scones. Breaks my heart.
Desserts
I was a little confused here because we ordered three full teas, but for some of the desserts only received two pieces. When I asked about it, I was told that we had received the correct number of desserts just some were cut in half. That didn't make any sense. If you order three teas, you should have three pieces of each dessert.
The lemon cake was our hands down favorite, unbelievably moist and the exact right amount of lemon flavor. Pound cakes and loaf cakes tend to be dry but not this one!
In order to call yourself an apricot bar, you need to taste like apricot. The fruit layer was so thin that you couldn't taste it between the base and the crumble topping. The bottom was a pleasing cross between a cookie and a cake layer, and the addition of walnuts to the crumble was a thumbs up. Add a little more apricot and this dessert would rival the lemon cake.
The little layered cakes all have the same note (except one but I'll write that separate): too chewy and a little too sweet. Because the layers are so thin, they were too chewy and not fluffy enough to be called a cake. All three fillings were too sweet as well.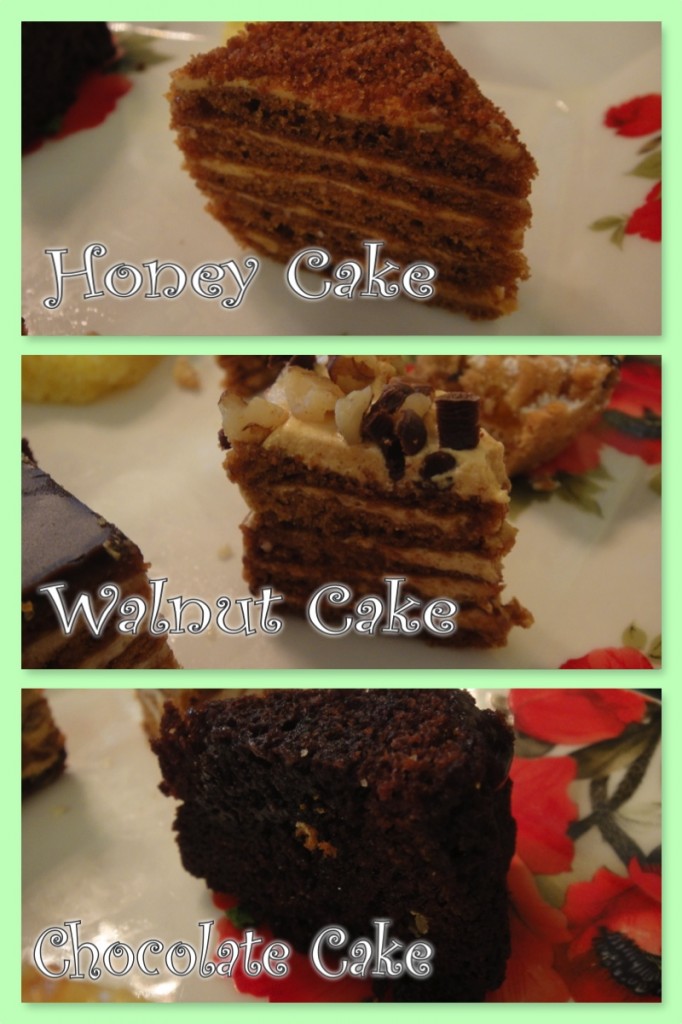 The honey cake had a nice toastiness to it and a strong honey flavor. Mom said it reminded her of a Bit-o-Honey. The walnut cake was better, but the cream was too sweet. The walnuts saved this cake from being our least favorite. Finally out of these three was the chocolate cake that was too crumby and cakey to be a brownie, but too fudgy to be a cake. The chocolate needed to be richer as well.
The Bavarian Cream layer cake was a standout though. It was like an éclair in cake form. And the chocolate glaze on top pulled everything together nicely. Nothing was too sweet or dry in this cake!
Extras
All the decorations, merchandise, and teas are for sale. This place is a test of willpower!
The T Room was a wonderful experience overall and my first place to recommend at the moment, if nothing else for the sandwiches alone! The owner is a delight and is so passionate about tea and food; her passion shows in every detail of the place. And if you are looking for a children's tea, this is the place to go!
The T Room
2405 Honolulu Ave, Montrose, CA, 91020
818-249-6677
$23.99 per person