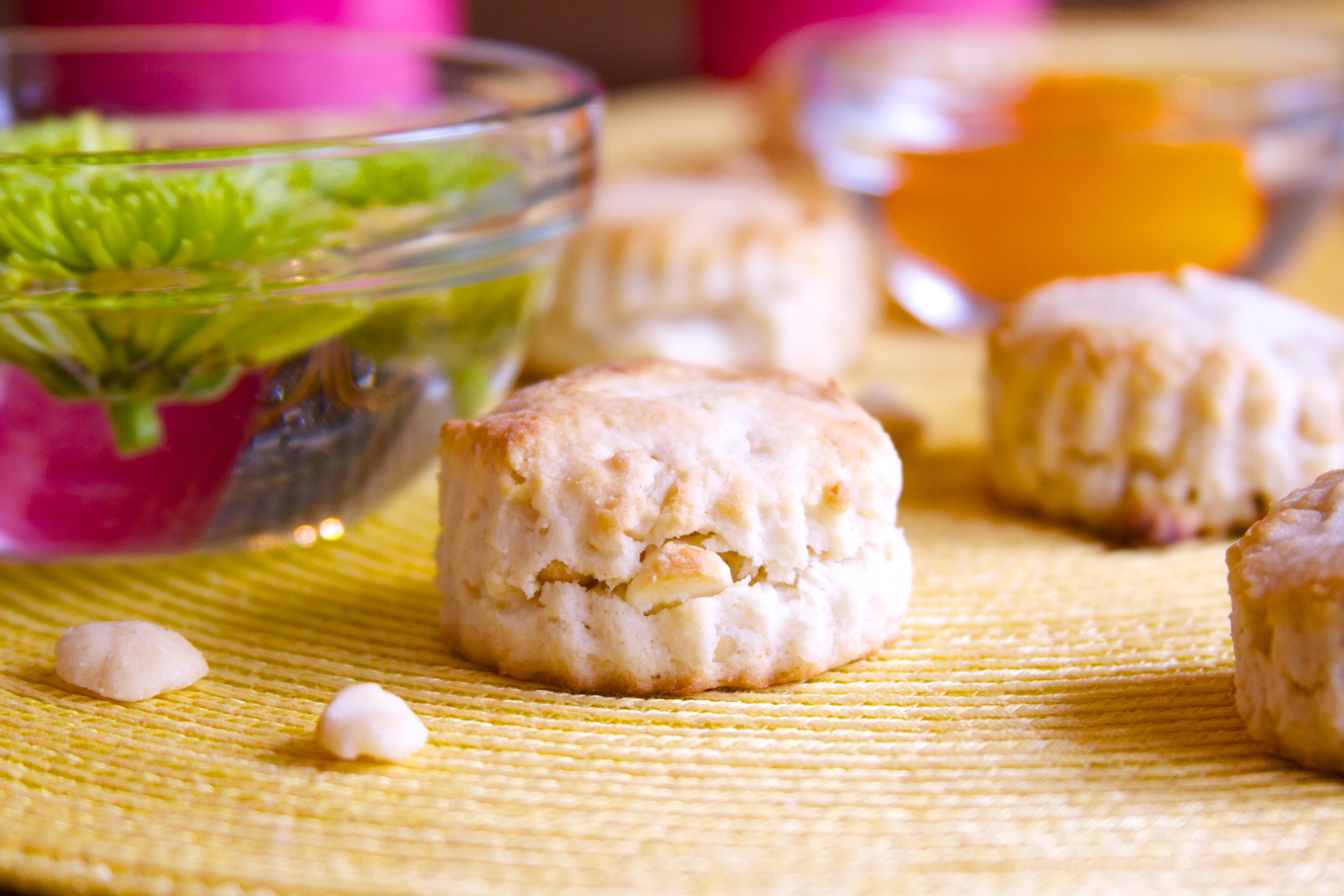 First let me send out a huge thank you to all my new readers! The past two days, this blog has gotten over 50 hits each day! Yay! And I've gotten some really nice messages and comments about my last review of Steampunk's Afternoon Tea event. Hearing from you always makes me smile, so keep the communication going!
To celebrate, let's make more scones. How else would we celebrate?
My mind has been on vacations a lot lately. No, not like I'm taking a mental vacation and becoming a space cadet, but like thinking about traveling and getting away from California for a little while. Maybe it's because all the schools are getting out right about now and people are heading out of town. Alas, I'm a poor, starving actress who has to subsist on the millions of scones in her freezer and can't afford to go on vacation just yet. So I guess I have to make a scone into a vacation! How about Hawaii?
I was never a macadamia nut fan until I went to Hawaii a few times and there was always a box of chocolate-covered macadamia nuts magically waiting in our hotel room when we arrived (and by magically I mean courtesy of our travel agent). But even then, I didn't appreciate the mac nut for what it was away from the gloriously thick coating of chocolate encasing it.
Side note: Did you know chocolate covered macadamia nuts are also known as "donkey balls"? And that there is a lovely little store on Maui called Surfin' Ass that sells donkey balls? So you can get Donkey Balls at Surfin' Ass? Yeah, it's awesome.
Pancakes changed all that. White chocolate macadamia nut pancakes, specifically. Oh my god were they the best pancakes I have ever had in my life? Topped with sliced bananas and shredded coconut…and a thick pat of warm butter…so fluffy…so thick…so droooooooool. Okay don't be surprised now if in a few weeks a recipe for replicating that stack of coma-inducing deliciousness shows up here. Pancakes can totally show up on a scone and afternoon tea blog. We don't judge, and by that I mean I don't judge myself.
In the meantime, make the scone version because I promise they are just as incredible. Toasty macadamia nuts and caramelizing white chocolate elevate my basic scone recipe to something worthy of replacing a Hawaiian vacation. And no, you don't physically toast the mac nuts or caramelize the white chocolate before you scone it up; that is just the natural result of mixing mac nuts and white chocolate chips in a scone dough and exposing it to Southern California temperatures in the oven.
Did I mention that these were given the title of "best scones I've ever made" by multiple impartial sources? Well, as impartial as my mom and my dad's office employees can get. They are also one of the only scone recipes that didn't have surviving leftovers and instead have multiple requests for another batch.
So if you can't afford a plane ticket, just go buy some mac nuts. A scone is kinda close to Hawaii, right?
white chocolate macadamia nut scones
ingredients
200 g self-raising flour
1/4 tsp salt
50 g ultrafine baking sugar
1/3 cup chopped macadamia nuts
6 tbsp white chocolate chips
150-200 mL heavy whipping cream (always start with the lower amount)
Preheat oven to 220°C (450°F). Place rack as high as possible in oven. Line a baking tray with parchment paper and set aside.
Sift flour and salt together in a medium sized mixing bowl. Add the sugar, macadamia nuts, and white chocolate, mixing until well distributed. If the macadamia nuts seem big straight out of the bag, chop them some more.
Add 150 mL cream then work in by hand by rubbing in the cream trying to incorporate as much air as possible until fully mixed. DO NOT OVERMIX. If the mix is too dry, now add the extra cream until the dough is wet enough to hold together.
Place dough on a heavily floured surface and knead a couple of times until relatively smooth. Pat down to desired height (we did 1 cm as usual). Cut out 5 cm circles with a crimped scone cutter and place on the baking tray. HINT: dip the cutter in flour before cutting out each scone. Knead the extras back together and repeat until most of the dough is used up.
Bake for 8-10 minutes (we did 8) until they have risen and are slightly browned around the edges and on top.
Topping suggestions: whipped cream, clotted cream, keep it simple the scones speak for themselves