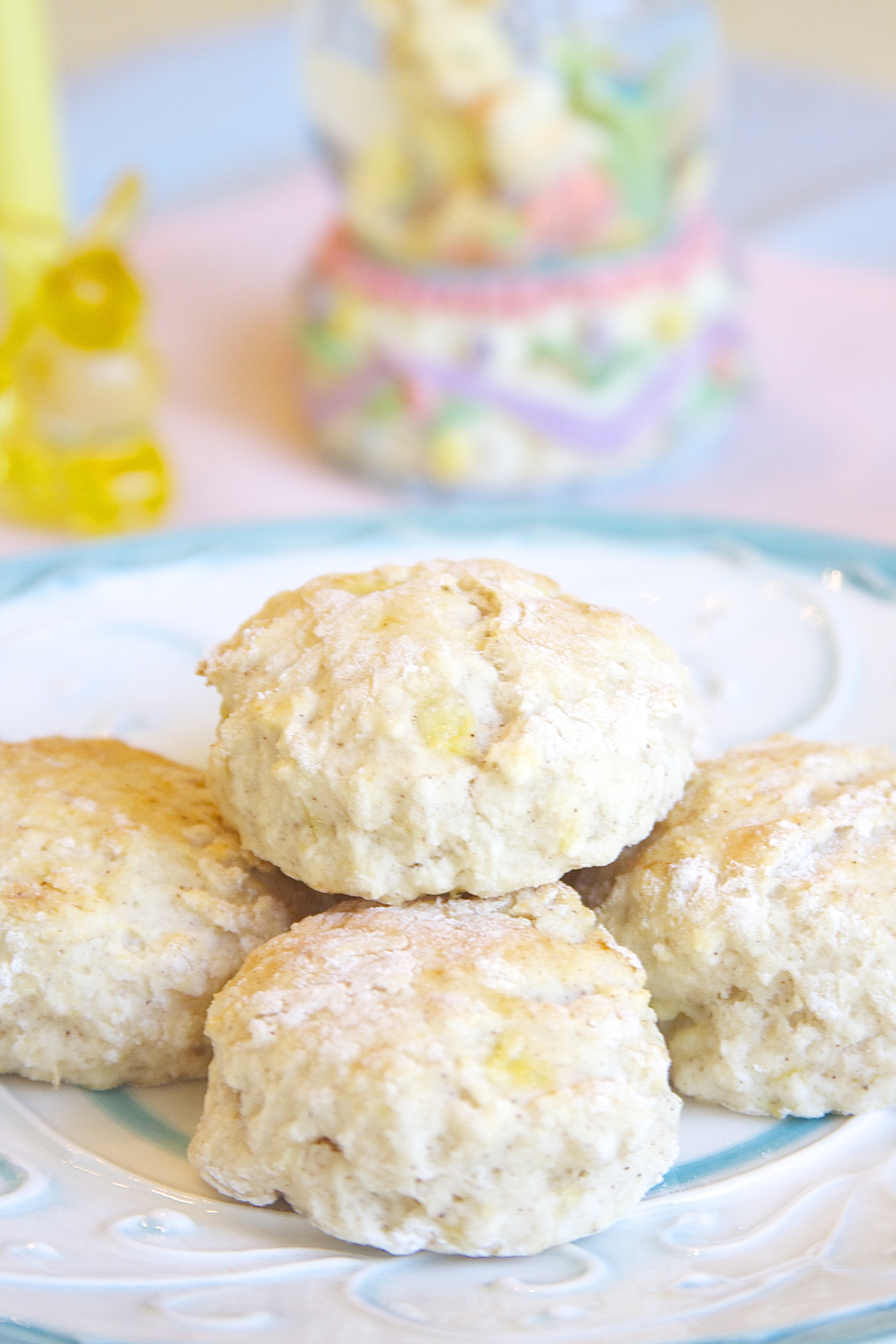 My parents shop at Costco. And when I was growing up, I loved going on Costco runs (free samples, awesome pizza, and yummy berry soft serve "sundaes" that proved my little eyes were bigger than my tummy). It wasn't until I grew up and started actually paying attention to what we were buying that I realized the ultimate Costco lesson: where are you going to store all those fruits and vegetables? And what are you going to do with them?
Fast forward to the phone call I got from my mom about a week before Easter. "We bought bananas at Costco (always a big mistake) and have a million about to go overripe (always the result of the big mistake). Can you come over and do something with them?"
SCONE BAKER WOMAN TO THE RESCUE!
About four recipes came from this bushel of bananas, but let's start with something nice and simple…plain banana scones. Plain is a misnomer here, because in terms of flavor these scones are FAR from plain. They are delicately sweet, sophisticatedly spiced, and elevate the humble banana fruit to a place of elegance. Plain only means that the bananas are unadulterated (roasted bananas will show up later) and there are no additional mix-ins. Just a light and fluffy delightful banana scone.
Why mess with perfection?
If you like dense banana flavored pastries that hit you over the head yelling "I'M A BANANA!", this scone is not for you. Yes the riper the bananas you use, the sweeter the scones will be, but these scones stay light and fluffy. These are definitely scones, not banana bread alternatives. And definitely not banana bread wannabes. (Like a scone would want to be anything but a scone?)
While perfectly lovely without any toppings, I know sometimes we all like to get a little crazy/creative. Some suggestions? The wonderfully diverse and traditional clotted cream is always a given, but strawberry jam, Nutella, butter, honey, honey butter, or peanut butter are perfectly acceptable alternatives. Just stay away from tangy toppings as they clash with the banana's sweetness.
banana scones
ingredients
300 g self raising flour
1 overripe banana, mashed (about 1/3 cup)
¼ tsp salt
2 tbsp ultrafine baking sugar
½ tsp ground cinnamon
100 mL heavy whipping cream
up to 160 mL whole milk
Preheat oven to 425°F/220°C and place an oven rack at the top third of the oven. Line a baking sheet with parchment paper and set aside.
In a medium bowl, combine flour, salt, sugar, and cinnamon. Give it a quick stir with a whisk to incorporate some air (you can also sift the ingredients together, but this is the cheating way). Make a well in the middle of the flour mixture and place the mashed banana there. Using a flat bladed knife, like the ones you use to frost a cake, cut the banana into the flour.
Add cream and continue cutting in the liquid until it starts to come together. Add milk gradually, lightly kneading the dough together with your hands. Dough should be soft and not quite smooth. If it is perfectly smooth, you may have overworked it. You want all the ingredients to have come together but not knead out all the air. You may not use all the milk; I used about ½ cup and my dough was very wet and sticky.
On a floured surface, pat dough down to desired height (1/2 in for me this time) with floured hands. This dough is sticky, so have extra flour on hand. Cut out scones with a 5 cm circle cutter and place on baking sheet. Bake for 10-13 minutes (mine were done at 11 minutes) and remove to cool on a wire rack.