Welcome to an alternative Victorian age, where the Industrial Revolution has permeated society's machinery and the supernatural may or may not exist. Welcome to the Steampunk Movement. Originating as a sub-genre of science fiction, steampunk has become an entire culture that combines Victorian styles with accents inspired by machinery and steam-powered anything. Think Sherlock Holmes (not the BBC version with the beautifully voiced Benedict Cumberbatch), The Time Machine, the 1999 Will Smith movie Wild Wild West, and the new stage show at Disneyland "Mickey and the Magical Map". Oh, and it's the name of one of my favorite local coffee shops that hosted its first afternoon tea.
First Impressions and Service
I've been to Steampunk in its usual coffeeshop/delicious brunch incarnation multiple times, so I already knew to expect very talkative, enthusiastic, and friendly people. Even though the tea was put on by an outside company, my expectations were met! All the servers and chefs were dressed in true steampunk fashion. Their costumes were incredible, and almost felt like a Hidden Mickey hunt because so many of them had Disney Steampunk pins as accessories. Steampunk and Disney is a much more common combination than you'd think!
The tea was scheduled to start at 4:30 and I arrived exactly on time. This may have been an event that it was better to arrive fashionably late as they weren't quite ready for tables to sit yet. A few of the tables in the back of the restaurant were still being used for sandwich assembly. It made it pretty confusing as to where to sit or what to do. There wasn't a hostess and no assigned seats despite the tea being a ticketed event. Things felt a little chaotic. Easy solution for next time is to preassign tables or have one employee play hostess once people arrive to direct/explain things. Other than that, throughout the two hour event (and after it was officially over but we all stuck around talking) the servers were amazing and engaging and seemed genuinely happy to be there.
Décor
Steampunk (if it's capitalized assume I mean the coffee shop not the style) already has a very distinctive décor every day. The walls are a bright blue that somehow manages not to blind you or be too obstrusive and serve as an eye-catching backdrop for works by featured artists. On a non-tea day the artwork alone serves up hours worth of talking points for you and your friends over Mexican Mochas. The tables are mixy-matchy complete with pipes for legs. Lots of that bright blue, lots of bronze, lots of brass, and lots of fun. There was no added décor for the tea event, but the patrons dressed up in their finest steampunk attire alongside the employees almost felt like extra decoration! It also can get pretty loud in there (all that metal doesn't really absorb sound) but that actually made it feel more exciting and fun and you can still hold an easy conversation.
Steampunk is very much a coffee shop and café, not a tearoom. But as long as you aren't expecting a ton of lace doilies and floral arrangements, you will find it a fun location. Remember, this is a themed tea! I'd have been really disappointed if they had broken away from their roots in the steampunk movement.
Tea Selection
Chef Justin Bastian (owner and head chef of Midsummer Night's Confections) creates his own tea blends and served five of them throughout the event. Tea is brewed loose leaf (1 point!) and the servers walked around with fresh pots of all different teas, ready to immediately refill your cup. If the server at your table didn't have the tea you wanted, they went and got a fresh pot of the one you did! A few times the teas were overbrewed and the servers would tell you it was one tea when it was really a different one (quite a shocker to drink a lemongrass tisane when you were anticipating a raspberry black tea). Those are just kinks that will be worked out at the next event. As for flavor, the teas were all amazing! I tried all five and had a hard time making up my mind as to my favorite. I might have had 12 cups of tea over the meal. Each tea was a unique twist on a traditional tea flavor and were made up of tea leaves, dried fruits, herbs, and other flavorings. Nothing was artificial. Everything was delicious.
A quick rundown of the teas:
Lavendar Grey: Earl Grey Moonlight, Irish Breakfast, Assam, Lavendar, Marigold flowers, a very robust black tea that was one of my favorites. Lavender is a very pronounced flavor in this tea.
Gaslight Floral Chai: Pu-erh Tahiti, Chocolate Chai, Spearmint, Hibiscus, Cornflowers, another robust tea, strong chai notes are mellowed out with the spearmint and flowers, excellent with a touch of sugar.
Viscount's Strawberries and Cream: Assam, Wild Strawberry, Cream, Rosehips, another favorite, more mellow black tea, strawberries and cream flavor very pronounced. The chef said some people actually mix the clotted cream into this tea! I wasn't adventurous enough to try that. Excellent dessert tea!
Minerva's Raspberry Caramel: Ceylon Sonata, Caramel, Rooibos, Jasmine, Orange Peels, Raspberry, an unexpectedly delicious combination, great option for a dessert tea, enjoy as is or with cream and sugar.
Chamberlain's Tisane: Chamomile, Lemongrass, Lemon Verbena, a good caffeine free option, but I don't like chamomile so personally didn't like this tea.
Food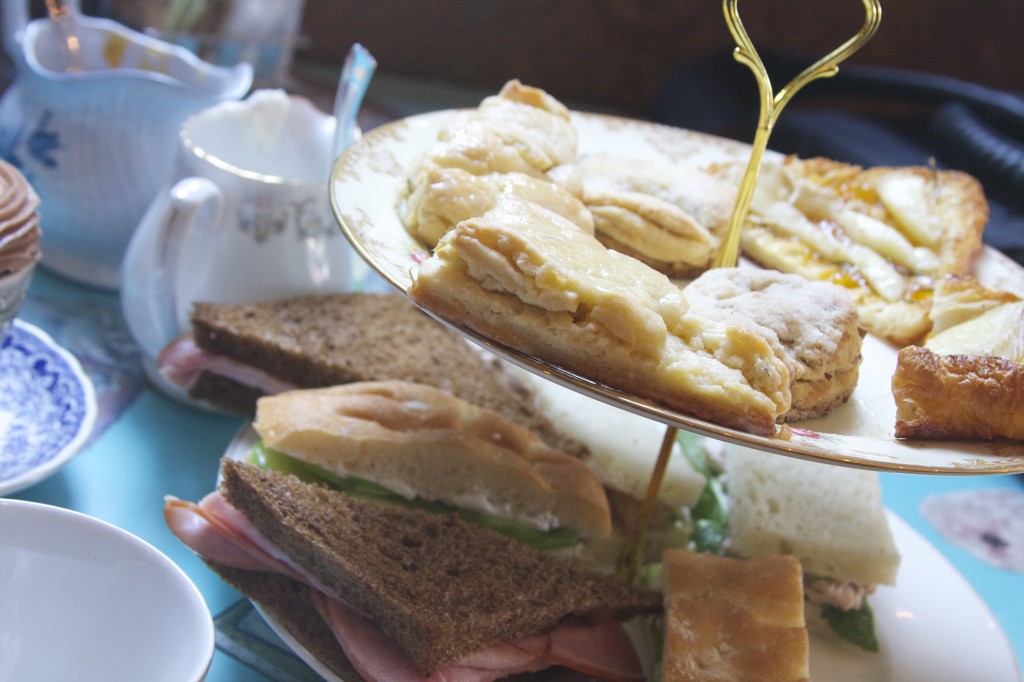 When I say everything on this menu was homemade, I mean everything, down to the mayonnaise in the chicken salad. The theme of the food seemed to be "Slight Twist on Tradition" mixed with "What Flower Can I Put In This (insert food item)". Everything was well balanced in flavor, fresh, and well-portioned. This tea was a set menu of savories, scones, and desserts. All the food was brought out at once and it was up to your discretion as to which order to eat everything.
Sandwiches
The ham and apple jam on squaw bread was a nice change from the more common pairings of ham-and-cranberry-sauce and ham-and-cheese. The apple jam stood up to the heartier ham slices and the squaw bread was soft with the right amount of flavor. Personally, this sandwich felt too large, but really that is only because it was a pure half of a sandwich instead of two fourths. Mathematically the same, presentation not so much. While tasty, this was the most forgettable item on the menu. It was more of a standard fare that just filled up a slot on the menu.
Every tea has to have a cucumber sandwich, right? This cucumber sandwich was perfection. There was the perfect ratio of cream cheese to cucumber; the cucumbers were cut into thick slices so you actually felt the freshness and taste of cucumber instead of those watery shreds so many tea sandwiches use. The bread was a beautiful, thick French bread that had an actual crust to it! Yes tea is supposed to be a light food affair, but sometimes the airy white bread that is normally used with cucumber sandwiches makes you feel like you are eating…well…air. This sandwich had substance and therefore has my approval. Oh and the cream cheese, I could eat it all day. In the flower theme, the cream cheese was a rose-mint cream cheese that wasn't too floral or too herbaceous or to tangy, just well balanced and not overpowering to the cucumber.
Alert the presses because I had chicken salad, with mayonnaise, and LIKED IT. With so many examples of my anti-mayo rants in these reviews, I am as shocked as you that I had no problem with this chicken salad. The mayonnaise is a housemade olive oil-based mayo which probably explains why I liked it. Strawberries added to the chunky chicken salad was an inspired touch, and the fresh basil leaves add that floral plant note more sandwiches should have. The bread was a white bread, but it had more weight to it than a Wonder Bread. It was still light enough to let the chunky chicken and fresh chopped strawberries shine. I would have liked more strawberries though!
The coup de grace was the warmed croissant with thick slices of fresh brie and homemade apricot jam. I can't describe the cheesy, tart, sweet, buttery fantasticness (a new word I am coining only for this sandwich) with enough justice. They broiled or baked the croissants before they delivered them so the cheese was all melty and the jam was beginning to caramelize and now I'm craving it all over again. This was the standout savory options by far!
Scones
Out of the three courses, the scone course was the weakest, though still better than some of the other places' I've been to that shouldn't even call what they serve a scone. The first was a small currant scone that was a little overbaked. The bottom was too brown and the rest was a little too dry, but the flavor was spot-on British. There were nice layers to the scone as well. Bake a little bit less and it would be perfect. The second scone was a pretty big lemon-lavender scone that I know my dad would have loved. The lavender was almost too subtle (I really like floral flavors though) and the lemon was robust both in the scone itself and the lemon glaze poured on top.
This texture was better, lighter, and not overbaked—a good combination of dense and light. The clotted cream is the closest thing you are going to find to authentic, British clotted cream in an American kitchen. It was thick, creamy, not sweet, and a perfect accompaniment to the scones though the scones didn't need it. The chef's partner is Welsh and wouldn't let him use the sweetened whipped cream so many teahouses claim is clotted cream. I approve of her, and of his clotted cream. Gold Star!
Desserts
Cutest thing ever was the Neapolitan cupcake baked directly in a teacup.  One of the moistest chocolate-vanilla swirl cupcakes I have ever tasted, swirled through with fresh strawberries and topped with the perfect amount of chocolate-vanilla-strawberry frosting. I have nothing to say about this other than pure perfection that I could eat everyday.
The second dessert was a butterscotch shortbread sandwich cookie with salted caramel frosting. The cookie softened over the course of the meal so by the time you bit into it it was soft and firm at the same time. And the frosting wasn't too sweet at all! In fact, considering the main flavors were butterscotch and caramel, this cookie wasn't a cavity-inducing sugar high in the slightest!
Steampunk and Chef Justin did a phenomenal job with their inaugural afternoon tea event. The food was fantastic, the setting eclectic and fun, and the people were so personable and friendly that I walked out of the tea feeling more like I was family than a customer. I can't wait to see this event continue to improve and become one of the must-do events of Los Angeles.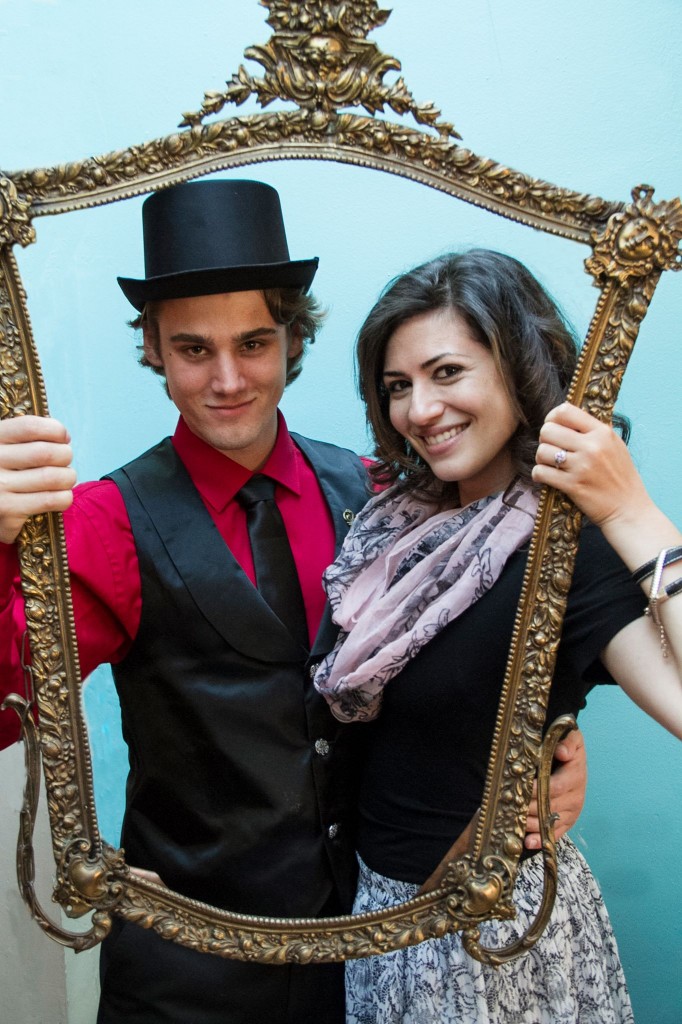 Steampunk Coffee and Kitchen
12526 Burbank Blvd., Valley Village, CA 91607
818-508-1276
$25 per person, but prices subject to change with the event's popularity