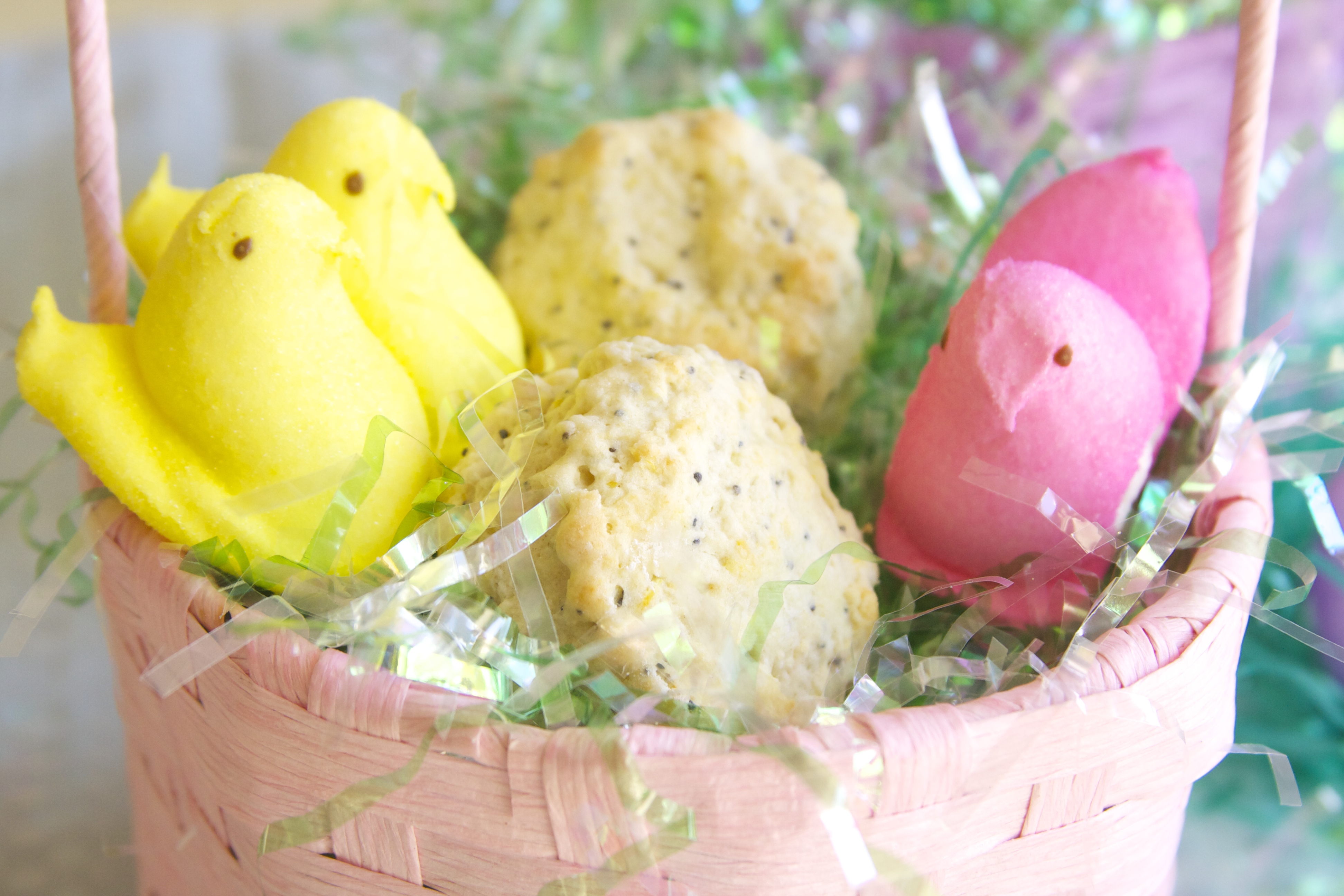 Don't judge me for my Easter decorations in photos that are posted after Easter. In my defense, I was inspired by Easter and spring to make these scones and made them and photographed them before Easter. So even if I didn't post the recipe until after Easter, it is still perfectly acceptable, nay necessary, to have Easter decorations in my photos. I probably intended to post this recipe before or on Easter but was distracted by these. Have you made them yet? If you have, you can't blame me. You completely understand.
I was never a lemon poppyseed person growing up. I think it was a combination of the poppy seeds looking like little things that should not be in baked goods, the word "seeds" being associated with savory in my head, and the episode of Mythbusters that showed that you can fail a breathalyzer test by eating a huge amount of poppyseed bagels. I'm the ultimate good girl so I probably was afraid that of what would happen if a cop happened to pull me over after the one time I would have ever eaten poppy seeds. Still have never been pulled over by a cop though so I'm just being a little overzealous.
There are literally thousands of recipes for lemon poppyseed scones, so why do I feel it is necessary to add a thousand and first? What makes my scones different from all the others? Well let's start with the lemon flavor. You won't find any extracts in this recipe! Nope, all the lemony fresh goodness is from pure, natural lemon. You'll use both the juice and the rind here. Juice for flavor; rind for flavor and aromatic. They perfectly toe that sweet/tart line that is so essential to lemon flavored anything.
There is no glaze. Can you add a tasty vanilla or lemon glaze here? Can you go crazier with a lemon vanilla glaze? Yes, but you won't see that in the recipe. Because here at Once Upon an Afternoon Tea, we trend towards the British scone style and I have never seen a British scone with a glaze. If you have a glaze there is no reason to top a scone half with a lashing of clotted cream. And we will NEVER turn down a lashing of clotted cream. Sacrilege right there.
Finally these scones are unusually fluffy and light. Lemon poppyseed scones tend to be of the stick to the roof of your mouth pastry variety, delicious but dense and very sweet. Meaning these are more traditional tea scones and less coffee shop scones. My lemon poppyseed scones are the same wonderfully airy texture of my classic cream scone. But they are definitely sturdy enough for some of that clotted cream I've been talking about…
These lemon poppyseed scones are anything but ordinary, and totally worth getting a DUI ticket over.
lemon poppyseed scones
ingredients
250 g all-purpose flour
¾ tsp baking soda
¼ tsp salt
50 g superfine baking sugar
75 g unsalted butter
zest of 1 giant lemon
¾ tsp fresh lemon juice
2 tsp poppyseeds
125 mLs buttermilk
Preheat oven to 220°C/425°F and place oven rack at top 3rd of oven. Line a baking sheet with parchment paper.
In a medium-large bowl, whisk together flour, baking soda, salt, and sugar. Grate the butter into bowl, then rub it in until the texture resembles fine breadcrumbs. Add the zest, juice, and poppyseeds. Slowly add the buttermilk, working the mixture together with either a fork or your hands (I used my hands, but I believe making scones regularly should be a dirty business). Knead dough a few times to bring everything together. Dough will be pretty wet and sticky!
Transfer dough to a floured surface—and grab that baking sheet to have nearby—patting the dough down to about ¾ inch thickness. Use a 5 cm biscuit cutter dipped in flour to cut scones and transfer them to the baking sheet. Knead scraps back together and repeat until all the dough has been turned into scones or eaten.
Bake for 6-8 minutes (mine took 7) until edges are lightly browned. Transfer to a wire rack to cool.
Topping suggestions include that Greek yogurt cream that I promise to post eventually, clotted cream as always, lemon curd, strawberry jam (surprisingly delicious), and a vanilla or lemon glaze if you wanted to go more American. Tangy or slightly tart toppings work best here. Too sweet will overwhelm the delicate lemon flavor.