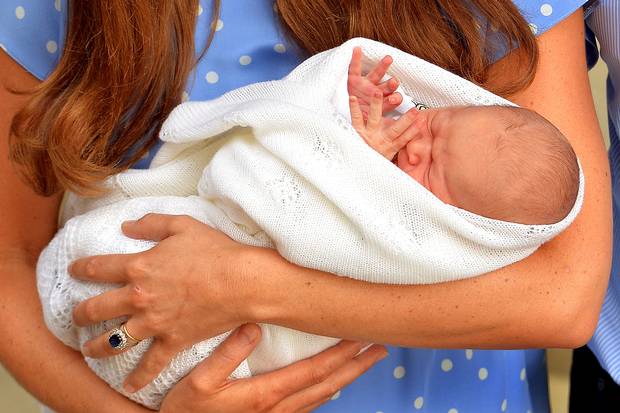 British baby fever has hit! Quick, grab your thermometer, your fuzzy sweaters and woolen socks, and let's sweat this fever out of our bodies before Kate Middleton gets pregnant with baby #2.
With what seems like the whole world utterly obsessed with the British Royal Family right now, I have a hunch that afternoon tea parties will have a brief flaring of popularity. After all, everything British is fashionable for the next few minutes and what is more British than afternoon tea?
So no matter in what country you find yourself partaking of afternoon tea, here is how to at least pronounce your favorite beverage in their native languages:
Afrikaans: tee
Albanian: caj (pronounced chai)
Arabic: chai or shai
Armenian: te
Azerbaijani: caj (pronounced chai)
Basque: tea
Belarusian: harbatu
Bengali/Bangla: cha
Bulgarian: chai
Catalan: té
Chinese (Cantonese): cha
Chinese (Mandarin): cha (second tone / pronounced with the "a" in a rising tone)
Croatian: caj (pronounced chai)
Czech: caj (pronounced cha-i)
Danish: te
Dutch: thee
English: tea
Esperanto: teo
Filipino/Tagalog: tsaa
Finnish: tee
French: le thé (masculine)
Galician: té
Georgian: chai
German: der Tee (masculine; the "T" is capitalized because all German nouns are capitalized)
Greek: tsai
Haitian Creole: té
Hebrew: teh
Hindi: chai
Hungarian: tea (plural: teak)
Irish: tae
Italian: te (pronounced teh)
Icelandic: te
Indonesian: teh
Japanese: o-cha (o- is used as a prefix meaning "honorable" and -cha is used to mean "tea" in various tea names, such as matcha, sencha and hojicha)
Korean: cha

Latvian: teja (pronounced tay-ya)
Lithuanian: arbata
Luxembourgish: Téi (like in German, all nouns are capitalized in Luxembourish)
Macedonian: chaj (pronounced chai)
Malay: teh
Maltese: te
Norwegian: te
Persian: chay (pronounced chai in most areas)
Polish: herbata
Portuguese: cha (pronounced shah with a Brazilian accent)
Romanian: ceai
Russian: chai
Serbian: caj (pronounced chai)
Sinhalese (Sri Lanka): thé (The word for teapot is actually a Dutch loanword. It is theepot.)
Slovak: caj (pronounced chai)
Slovenian: caj (pronounced chai)
Somali: shaah
Spanish: el té (masculine; pronounced tay)
Swahili: chai (pronounced cha-i)
Swedish: te
Taiwanese: de (boba naicha refers to Taiwan's popular "tapioca pearl tea")
Tamil (Sri Lanka): tea
Thai: chah (chah yen refers to Thai iced tea)
Tibetan: cha or ja
Turkish: cay (pronounced chai)
Ukrainian: chaj (pronounced chay)
Urdu: chai
(North) Vietnamese: che
(South) Vietnamese: tra (sometimes pronounced cha or ja)
Wolof: achai (pronounced uh-chuy)
Welsh: te
Yiddish: tey
Zulu: itiye
So drink up me hearties, yo ho, no matter where in the world Carmen Sandiego is!
Let's blame that close out on sleep deprivation shall we?