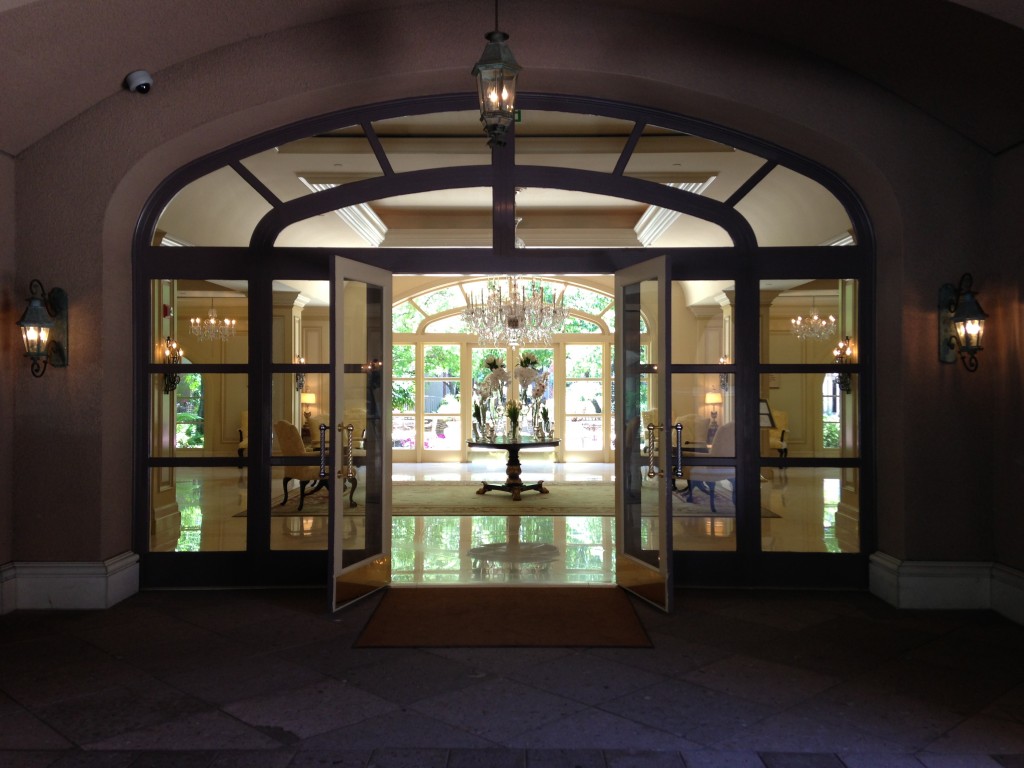 Today we take our first step away from the quaint and "Mom and Pop" tearooms and branch out to a whole new field of tea service: the high end hotel afternoon tea. Some of the most famous afternoon teas are served at hotels, like The Ritz-Carlton and The Waldorf in New York and The Claridge in London. These teas focus less on tradition and originality and more on…swanky. So attending tea at The Langham was guaranteed to be a different experience than we've had thus far, but in no way less enjoyable.
First Impressions and Service
We drove up to the valet and were immediately surprised and impressed by the employees. Although the hotel is quite upscale, the employees were not snooty but rather the epitome of friendliness. That may not sound all that shocking, until you learn that we were driving a Honda Odyssey that has seen nearly a decade go by. But always remember, you can never judge a family by the outside of their car.
Once inside we made our way to the tearoom and lounge, as always early for our reservation. So far every place we've been to has been able to accommodate us showing up half an hour early to our seating, and here was no exception. But we did have to wait until the lounge opened at 1:00 so until then we relaxed in chairs in the garden and courtyard. I could have lived in this garden. I wish I did. Can I?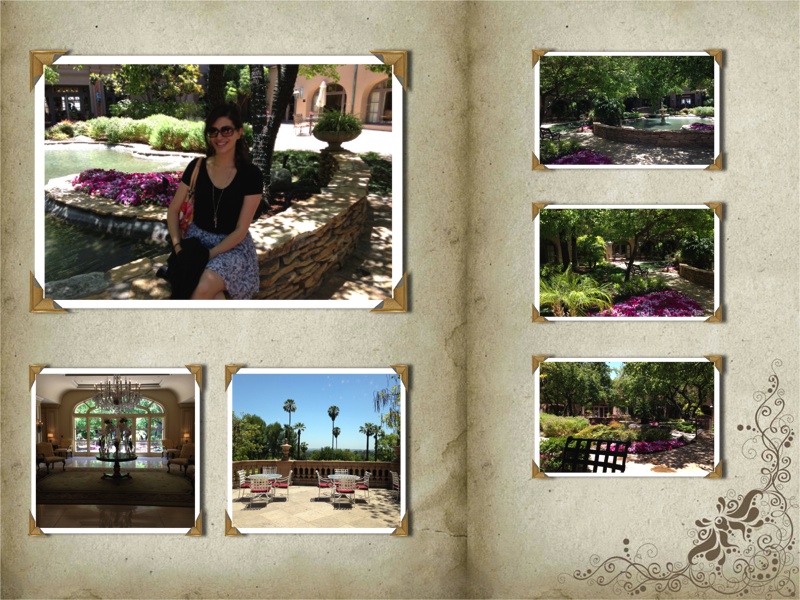 The waitress inside the lounge was nothing special but nothing terrible. Her tea recommendations were obviously those of someone uneducated in tea, but hotel teas do not focus on knowledge of tea, they are all about the upscale experience. We never had to wait long and our cups were never empty, though we felt a little self-conscious pouring our own tea when occasionally she would do it for us. Sorry, but tea waits for no waitress!
Décor
Think swanky: open, airy, white tablecloths, silver utensils, floor-to-ceiling bay windows, perfectly landscaped courtyards. I was half surprised that there wasn't a harpist or pianist in the corner. Every piece of furnishing, from the lounge area to the tea settings, was crisp and clean, with an obvious show of wealth. The room was so open that you could just drink in huge gulps of air. As many tearooms are cramped and trying to fit as many customers and flowers into one space as possible, the immense free space felt like quite the luxury.
Tea Selection
There are a fair number of teas and very descriptive tasting notes below each tea's name to help you make a decision. The bar area is topped with all the teas in glass jars, which is a fun way to display them all.
But seeing the teas won't help you make a selection. As always we went with one pot of the Earl Grey (The Langham's is organic). The server—whether by experience, customer opinions, or employer's policy—recommended we taste the Langham House Blend. This blend is a combination Assam and Darjeeling Black, and it was a good standard black tea that was very smooth thanks to the Darjeeling, but for Earl Grey lovers it still didn't steal away the tea crown. For those who usually choose an English Breakfast or other plain black tea, even I recommend trying the Langham Blend. It is a worthy black tea (though how could it not as a Darjeeling blend?). The Earl Grey was a great choice as well.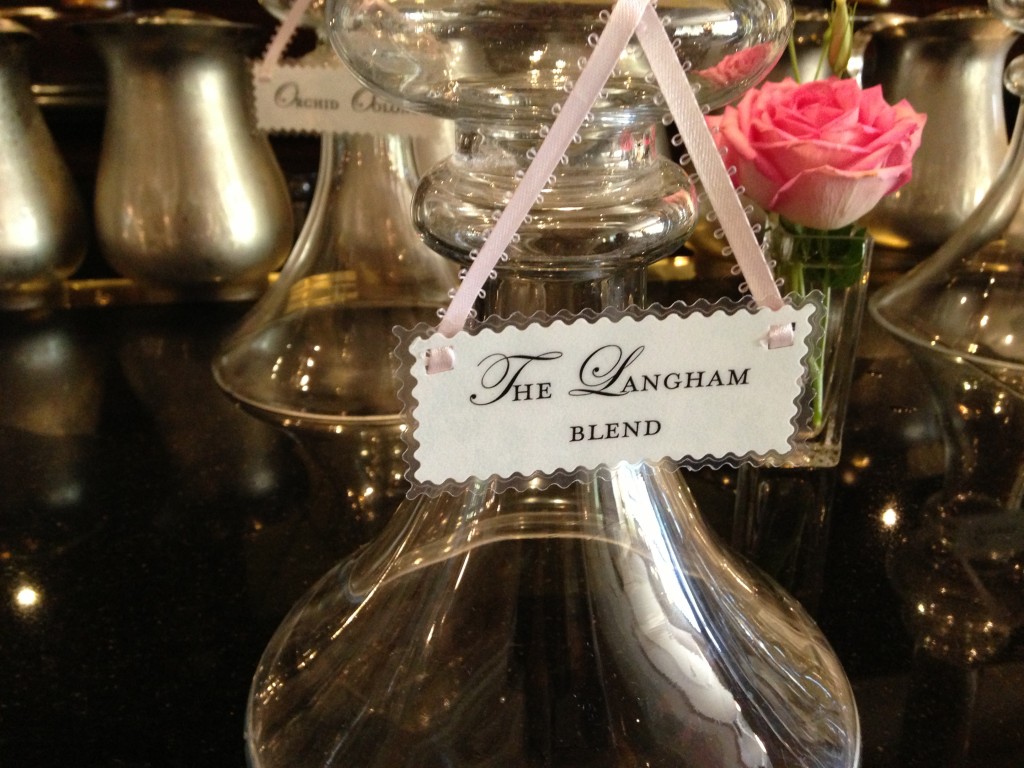 All their teas are brewed loose leaf, and then the pot is topped up with more water once your second cup is poured. Apparently this is supposed to make it less bitter? We didn't trust that, so poor Jenny bless her heart had to suffer some confusion. What did we mean that we wanted our teabags taken out of our tea? Did we want her to brew a new pot? She was a little unsure of what we wanted, but she did her best to accommodate what seemed like a weird request to her. The pots were nice and thick to keep the tea warm and she did brew us another pot once one became too lukewarm.
Food
Afternoon tea comes as a set menu, the only difference between the two options being an upgrade to a glass of champagne and strawberries with whipped cream.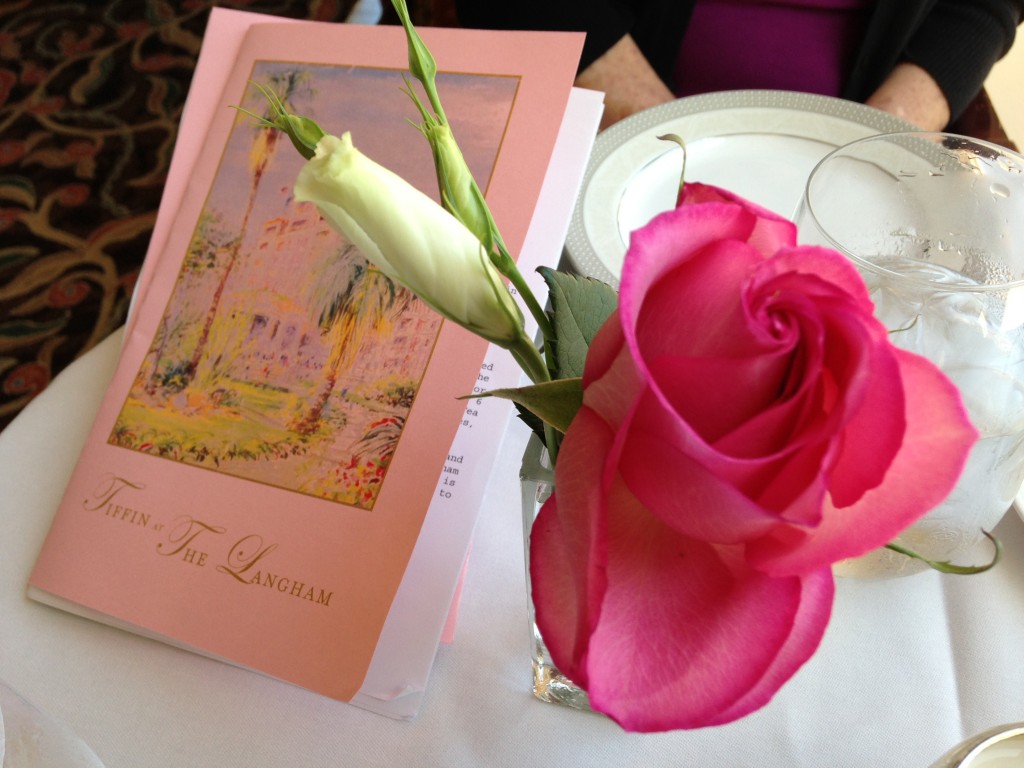 We were already not starving, so we went with the lower of the two services consisting of only sandwiches, scones, and dessert.
And even then there was more than enough food, particularly the desserts. Everything was a wonderful gourmet twist on traditional offerings with some unique additions that I wish we could have every time.
Sandwiches
My biggest confusion on the sandwiches came from the menu description seemingly not matching the actual sandwich. Some ingredients were missing, I swear, or else were so minimal that they added no flavor and were only listed in order to increase the ingredient list and gourmet sound. But they were almost all fantastic, and oddly all open faced so the presentation was great.
The cucumber watercress had the thinnest slices of cucumber that I have ever seen on a sandwich. The "mascarpone mousse" topping the delicious squaw bread tasted more like plain cream cheese than mascarpone. And there did not seem to be any watercress nor crispy shallots as promised on the menu. This one was a bit of a disappointment based solely on the menu description, but taken as is was mildly refreshing.
My favorite sandwich was an amazing pesto shrimp on herb garlic bread. The herb combinations of watercress pesto, cilantro, and lemon zest really brought out the intended Caribbean flavor. And the herb garlic bread? Let me tell you it was probably some of the best bread I have ever tasted. Everything tasted fresh and refreshing. Absolutely fantastic in my eyes.
Mom's favorite, on the ironic contrary, was the egg. Unlike most egg sandwiches, this one was not egg salad with mayonnaise but rather a hardboiled egg slice over a prosciutto slice on a potato peppercorn bread. As Mom said: anything is better on potato bread. But her favorite element was the addition of a green onion and a red pepper slice. She loved the different taste and texture it brought. "It all complements each other," she said.
Much like I refuse to eat egg, Mom refuses to eat smoked salmon, so tasting this profiterole topped with "caramelized shallot caper cream" that tasted exactly like the "mascarpone mousse" as on the cucumber sandwich (making me think that both are simply plain cream cheese), smoked salmon, and caviar fell to only me. It kind of looked like a bread-based version of sushi. The profiterole part was crazy light and the salmon wasn't overly fishy like some are. It was a disappointment though based on what was promised on the menu.
Last and pretty much least was the Asian pear and raspberry on pistachio bread. The bread was excellent. The pear not so much. Like the cucumber, it was sliced too thin to bring flavor rather than texture and the blue cheese mousse was nothing more than a little dollop on top of…more plain cream cheese. The half a raspberry was only part of one bite so it didn't do much.
Scones
The cranberry and blueberry scones didn't taste like a cookie, and didn't taste like a pound cake! Revelation to American scone makers everywhere! Scones are a flavor not a shape! Both had the correct texture and stayed together well when dollops of cream and lemon curd were added. But neither needed a topping to enhance the taste.
We just used the cream because it tasted like clotted cream should taste, only was more whipped, and the lemon curd was so good that I'd be entirely happy to have it injected into my veins via an IV drip.
It was lemony and creamy, almost like a lemon cheesecake, but better because it goes on a scone. The preserves offered were Bonne Maman, basically guaranteeing that the jam was going to be good even though it wasn't homemade. The lemon curd on the other hand…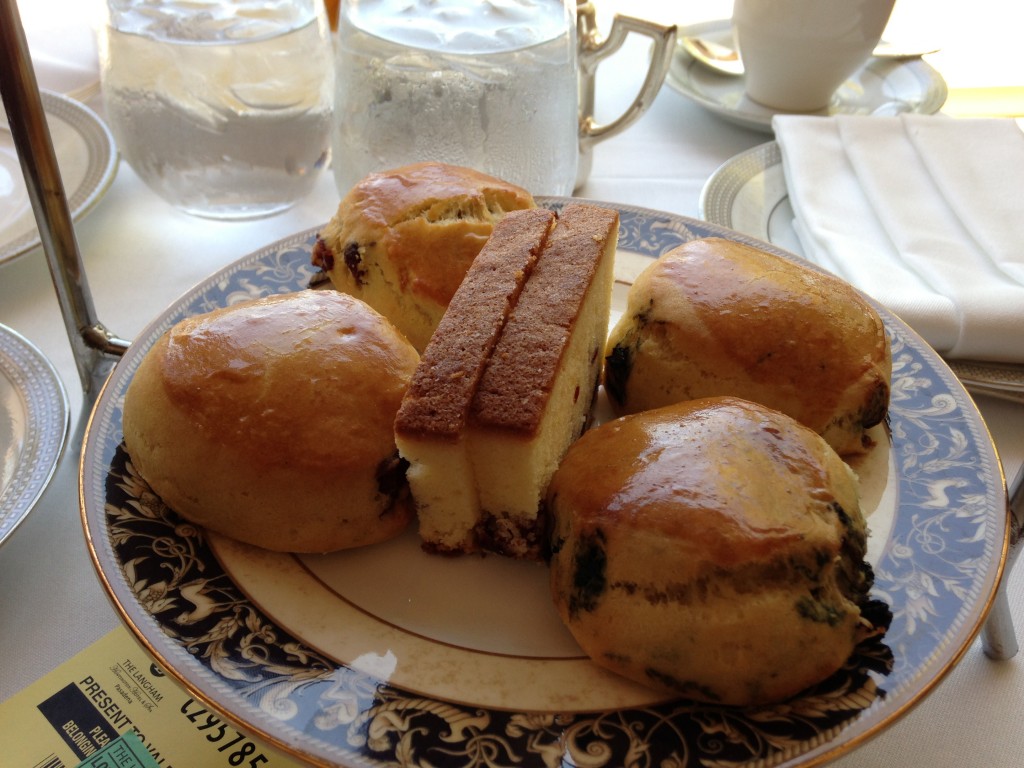 Oh and speaking of pound cake. On the same tier as the scones was a Cranberry Orange Tea Cake, which did taste like a dried out pound cake. Pass on that.
Desserts
I have never seen so many desserts on one afternoon tea plate before. If this review breaks the 2000 word mark, it will be because of the numerous dessert options. Come here on a day that you have a massive sweet tooth to get the fullest experience.
The ice cream cone look alike was the best dessert. It was a vanilla cone filled with passion fruit mousse. The mousse was then topped with a dried apricot compote and edible gold leaf. The cone stays nice and crispy because you scarf it down so fast, but then you wish you had slowed down and savored it because there is only one golden cone on this stuffed plate.
The Strawberry Pistachio Gateau has a good layering of the flavors. You get a hit of strawberry flavor followed by true pistachio (not the ice cream pistachio that tastes nothing like the nut) followed again by strawberry and so on. The strawberry is more mousse and the pistachio is more cake and the whole thing is more deliciousness.
The chocolate raspberry financier cupcake was the weakest link here. My best description is a glob of sticky raspberry jelly in a mini cupcake liner, topped with a decent chocolate brownie, and a swirl of raspberry buttercream. Remove the raspberry jam and rename it to a Raspberry Frosted Brownie and it may redeem itself.
The crème brulee tart is fantastic for anyone who loves the taste of burnt sugar. Anyone? Hands raised? Hmm. Because it is such a small tartlet, the primary flavors are butter, flour, and burnt sugar. There is basically no taste of the crème part of crème brulee. Sometimes mini may be cuter, but full sized tastes better.
The checkerboard chocolate and vanilla cookie may not have had an overwhelmingly strong flavor beyond plain shortbread, but it was too cute not to gush over.
French Macarons! One of my all time favorite desserts, and this coffee macaron was almost a perfect one. In terms of taste it was excellent. The coffee wasn't overdone and the cacao nibs brought a nice bitter note to contrast the sweetness. The execution wasn't the best as the macaron cookie dome was hollow. Bad batches can't always be avoided, even by the best of bakers.
Finally, the white café torte was my second favorite dessert and I would've eaten two of them had I not been stuffed and seconds away from a sugar overdose. Take a tiramisu and combine it with a subtle spice coffee cake and give it the perfect texture and taste balance. That was this dessert. Heavenly for any tiramisu or spice cake lover, I promise.
Extras
There really weren't any extras here to speak of, no merchandise or florists shop attached, the usual loose leaf tea available for sale. All I can say is skip the jam on your scones since they don't need them and pocket the little jars of jam and honey for later use on your peanut butter and jelly sandwiches—or your scones with cream and jam—since you definitely paid enough for them.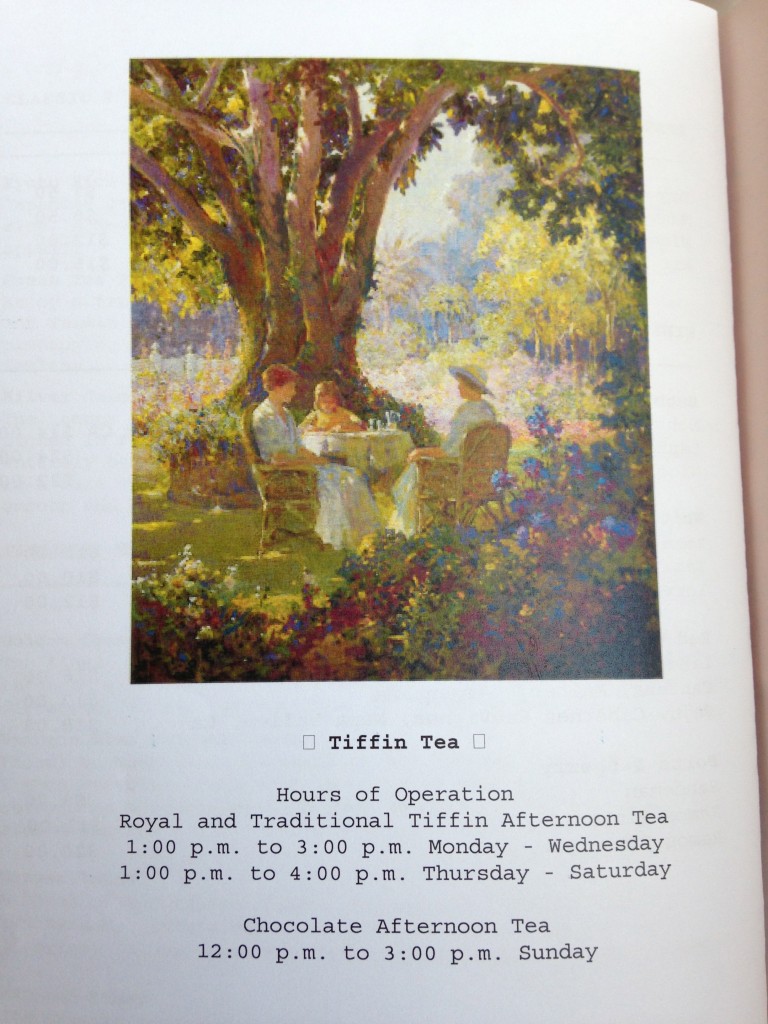 The most important thing to be aware of when attending the Tiffin Afternoon Tea at The Langham is that this is not a tearoom, not a teahouse, not a bakery, but a fancy hotel with a dress code and a valet. If you anticipate an experience in line with its reality, then you are in for a delightful afternoon. Strolling through their little garden makes it wonderful, particularly if the weather is nice. But you will be sorely disappointed if you are looking for a place with expert tea brewers and homestyle fare. The Langham is decadent and stunning, but that is after all what you are paying for. And it is an investment well worth making.
Visit The Langham Huntington Hotel, Pasadena at 1401 South Oak Knoll Avenue, Pasadena, CA, 91106. (626) 588-3900. Reservations required. Upscale casual dress. Cost per person: $39.00