It's a Sunday, which means I have a new recipe for the afternoon tea party I know you are throwing your mother or mother-in-law today. Mother's Day is the perfect occasion for an afternoon tea, and it's a great way to get the men in our lives hooked on one of our favorite pastimes. Because since it's Mother's Day, they have to go along with whatever their mothers want, and every mother should want afternoon tea. More importantly, every mother should want these scones at their afternoon tea.
Cherry and almond extract is a traditional combination; cherry and chocolate is a traditional combination. Chocolate cherry almond should be a required combination. The flavors just complement each other perfectly in a delightfully sweet scone. Baking fruit enhances and concentrates its natural sugars, so the cherry flavor really pops against the almond extract. Almond extract is a tricky ingredient. It seems that any recipe that uses even the slightest bit of almond extract tastes overwhelmingly of marzipan (anyone else notice that almond extract tastes nothing like the almonds we snack on?). So the fresh cherries and the semisweet chocolate are necessary contrasts to the strongly sweet almond.
I made these scones two ways as part of my fresh fruit vs. dried fruit experiments. You can use either, but the verdict around the house was that the fresh fruit was a small margin better than the dried fruit. But the dried cherries were tart, adding an new flavor profile to these sweet scones that cut through the saccharine almond extract taste.
As for the scones themselves, they don't rise much, yet they aren't dense so they retain their "sconeness" instead of becoming like a pound cake. The three flavors are wonderfully sophisticated and well-matched. The key to the flavors working is good, fresh, ripe cherries. When baking with fruit, your result really is only as good as the produce you use. So investing in sweet cherries is definitely worth it. Dad LOVED them. If we served them at afternoon tea, he'd be there every time.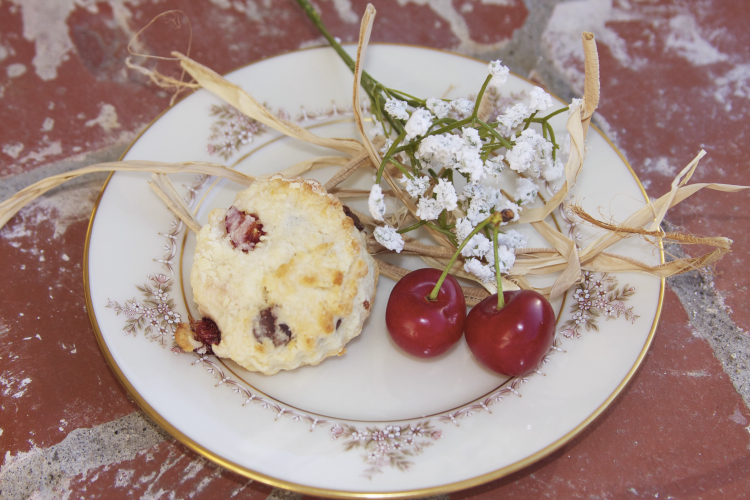 These are best served with only an unsweetened whipping cream or traditional clotted cream (everything is improved served with clotted cream). Jam is a big no-no since there are already three flavors and a fourth would just overpower your taste buds and drown everything else out.
Happy Mother's Day! So go make these incredibly delicious scones to make up for all the missed phone calls over the last year; you may even make up for some future ones!
Rustic Chocolate Cherry Almond Scones
Recipe adapted from Scones & Tea from TeaTime Magazine
Ingredients
2 1/2 cups all-purpose flour

1/2 ultrafine baking sugar
2 tsp baking powder
1/2 tsp salt
1/2 cup unsalted butter, cubed (1 stick)
3 ounces cream cheese
3/4 cup chopped fresh cherries or dried tart cherries
1/2 cup semisweet chocolate chips
1/3 cup heavy whipping cream
1 tsp almond extract
almond slivers to top
Preheat oven to 425F. Place oven rack at the top of the oven. These scones don't rise much, so don't worry.  Line baking sheets with parchment paper and set aside.
In a large bowl, sift the flour, sugar, baking powder, and salt together. Cut in the butter and cream cheese (the recipe says use a pastry cutter, but I use a different method that'll be coming up in another post) until mixture resembles coarse crumbs. Add cherries and chocolate chips, mixing until evenly distributed.
In a measuring cup, combine cream and almond extract. Add to flour mixture, folding it in until dry ingredients are moistened. (When doing the dried cherry version, the dough will be drier without the moisture from the fruit, so add more cream 1 tbsp at a time until the dough comes together. I only needed one additional tablespoon.)
Knead dough a few times until most of the ingredients are incorporated into a single ball of dough. Be careful not to overwork it. Turn out onto a lightly floured surface. Roll or pat out to desired thickness (my standard is 1-1.5 cm). Cut out scones with a floured 5 cm scone cutter. Place on parchment paper. Optional to sprinkle with slivered or sliced almonds.
Bake 11-13 minutes until scone edges are beginning to turn a golden color. Immediately let cool on a wire rack.
Serve with clotted cream, your favorite black tea, and a hug for Mom.